Internet of Everything
For Canada, How Big is "Everything" in The Internet of Everything?
Big: adjective \ˈbig\: a obsolete: of great strength b : of great force <a big storm> 2 a : large or great in dimensions, bulk, or extent <a big house>; also : large or great in quantity, number, or amount <a big fleet> b : operating on a large scale <big government>

– The Oxford English Dictionary
I like this definition of "Big" from The Oxford English Dictionary. It's a common word most of use on a regular basis and it is a good descriptive word when measuring quantity and scale. When we think about the Internet of Everything (IoE) that connects people, processes, data and things, how can we begin to measure what those connections mean? How big is "Everything"?
At Cisco, we have several perspectives on how to measure the growth and development of the Internet of Everything. We are all familiar with the explosion of the mobile Internet and according to the recent Cisco Visual Networking Index study, we know that by the end of this year, the number of mobile-connected devices will exceed the number of people on earth.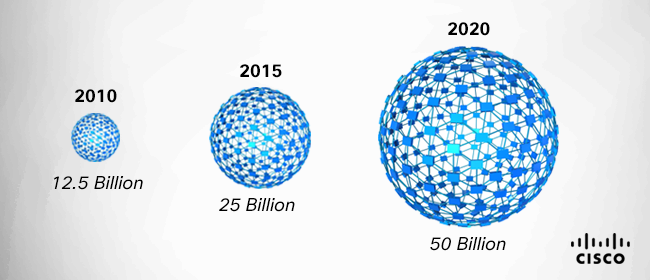 An even more staggering assertion is the growing number devices that connect to the Internet. In 2010 there were over 12.5 billion devices. Cisco's Internet Business Solutions Group (IBSG) predicts some 25 billion devices will be connected by 2015, and 50 billion by 2020.
Based on Oxford's definition, we can also define "big" as a "great force." When the definition is applied to the Internet of Everything, we can discuss the connective force of IoE to improve innovation, productivity, efficiency and customer experience. By measuring this value at stake, we can have a better understanding and another form of measuring the impact of the Internet of Everything.
In Canada, the Internet of Everything Value at Stake – the combination of increased revenues and lower costs that is created or will migrate among companies and industries over the next 10 years – is estimated to be a total of $400 billion. There are five main factors that fuel IoE value at stake:
Asset utilization (reduced costs)
Employee productivity (greater labor efficiencies)
Supply chain and logistics (eliminating waste)
Customer experience (addition of more customers)
Innovation (reducing time to market)
For 2013, the value at stake is estimated to be $57 billion and these five factors account for approximately $30 billion of value realized leaving Canada with a large gap to fill before we are able to fully reap the benefits the Internet of Everything offers.

One of the greatest benefits and challenges of the Internet of Everything is the drive to innovate.  Recently, I had the opportunity to listen to Kevin Lynch, Vice-Chair of the BMO Financial Group as he discussed the need to increase innovation and productivity in Canada. For years he has worked to advocate the importance of Canada investing in our future through innovation. In a 2010 Globe and Mail article, he stated:

"Innovation allows you to create new products, new processes, new markets, ways of doing things differently… It actually creates really dynamic economies. It actually uses intellectual property. It creates brand value. It really does drive things dynamically. It's important for productivity, it's important for growing, to have innovation for a growing economy."

The importance for Canada to lead innovation is crucial. As Canada ranked 14th for a second year in a row on the World Economic Forums' ranking of most competitive economies, we are at a point in time that Canada can innovate through the Internet of Everything and realize the value at stake.

When it comes to whether or not the Internet of Everything is big, the most distinctive type of measurement is how big of a benefit IoE can be to Canada. Through the Internet of Everything, we not only have the opportunity to raise our productivity world ranking, but improve our lives. There is nothing more important, or bigger than that.

Tags: