Cisco
Meeting of the Minds convene in Toronto
In September 2013, Toronto will open its arms to the world when the 2013 Meeting of the Minds annual leadership summit comes to the Evergreen Brick Works. This three-day event is significant for two reasons: first, it marks the first time Meeting of the Minds (MOTM) will be held outside of the United States. Second, it means that more than 300 of the world's brightest minds on sustainability, innovation and urban planning will descend on our city to share ideas, collaborate and network.
And we want you to join us. Add your voice to this already powerful chorus discussing the future of our cities and talk to industry leaders from Schneider Electric, Toyota, Phillips Lighting and IBM. Listen to notable Canadians: Senator Art Eggleton, former Toronto mayor David Miller and Ryerson president Sheldon Levy on topics ranging from potential uses of Information and Communication Technologies (ICTs) for a greener Canada to changing post-secondary education around the world.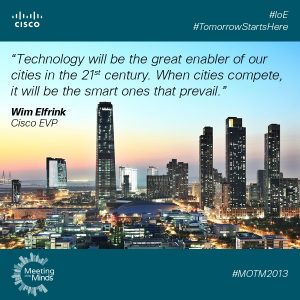 At MOTM I will be on a panel discussing creative funding mechanisms for revitalizing cities along with Karen Clarke-Whistler from TD Bank and Stephanie Miller from International Finance Corporation.  The topic is complex – what is the solution or new partnership model for the private and public sectors to follow when looking to implement smart technology? – but I look forward to sharing my thoughts and experiences in this area. You can read the complete list of MOTM sessions here.
One session I am particularly excited for is Cisco EVP and Chief Globalization Officer Wim Elfrink's keynote on The Internet of Everything – Connecting the Unconnected on Thursday, September 11 at 8:35 am:
The next wave of dramatic change will come through the confluence of people, process, data, and things. The Internet of Everything makes networked connections more relevant and valuable than ever before — turning information into actions that create new capabilities, richer experiences, and unprecedented economic opportunity for businesses, individuals, and countries. Cisco estimates that 99.4 percent of physical objects in the world are still unconnected. With only about 10 billion of the 1.5 trillion things currently connected globally, there is vast potential to connect the unconnected via the IoE. Between 2013 and 2022, $14.4 trillion of value (net profit) will be "up for grabs" for private-sector companies and industries globally — driven by IoE. The IoE Economy is about enabling people to be more productive and effective, make better decisions, and enjoy a better quality of life.
If you can't join me in person to hear Wim's keynote, a live webcast of his presentation will be broadcast online – and viewable from any device – at http://cityminded.org/webcast.
Some of the best minds on Urban Innovation are in the City of Toronto and focused on productivity and innovation. We've seen it in the leaps made by Waterfront Toronto and in buildings like George Brown College's new waterfront campus. This has made it possible for the GTA to become a world leader in technology, finance, manufacturing, tourism and education. And we're just getting started. As the official technology provider for the TORONTO 2015 Pan Am/Parapan AM Games, we hope to bring a new level of connectivity to sports and entertainment.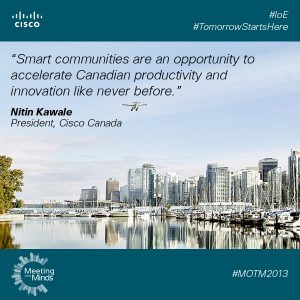 Register for Meeting of the Minds online and follow the event on Twitter using #MOTM2013. And follow me on Twitter at @CiscoSCRE for live updates from Meeting of the Minds 2013.

Tags: