Cisco
The Internet of Everything comes home: the NEST Thermostat
By Shaun Guthrie, Director, Information Technology, FOCUS Corporation
I picked up a NEST Thermostat this spring and as much of an unnecessary gadget this was, I'm sure glad I bought it. But more on that in a moment. The NEST thermostat is just one of many "Internet of Things" or "Internet of Everything" devices that have begun to appear as companies realize the value in adding intelligence (via the Internet) to the everyday items around us.
In fact, more and more devices like the NEST are being connected through our home Internet connections and controlled by our smartphones. While my original reason for picking up the NEST was for the cool factor, it actually turned out to be a device I wish I had years earlier. And here's why:  this isn't just your typical programmable thermostat with a slick interface and sexy design, because of its connectivity to the Internet it actually learns your habits. It's proven to be vital to controlling the temperature in our house and based on what I've seen, we are going to be saving a few dollars over our previous programmable thermostat.
Here are the highlights of this thermostat, and all Internet of Everything-connected devices, for me:
All the automation and settings:  We don't have air conditioning in our house and rely on a circulation fan to cycle the cooler air from the basement through the house.  With our previous thermostat we couldn't program this, so it was either on or off (which if you forget ends up costing a fortune on electricity). With new Internet of Everything-connected devices like this, the customization options are almost limitless. We have the ability to turn the fan on at scheduled intervals every hour and night, adjust the temperature and even program temperature limits.
All the mobility: Because these devices are connected to the Internet, these settings are available online or through a mobile app on the iOS, Android or Windows Phone platforms. Why is this great? If I'm at work on a warmer than usual day, I can turn the fan on before I get home.  Once I get home, everything has cooled off and the house is comfortable.
All the intelligence:  As I've already noted, the NEST's connection to the Internet makes it intelligent and gives it the ability to learn your habits. This is the Internet of Everything in action, and it's incredible. For instance, the NEST can determine if you're home or not.  If after two hours it doesn't detect you're home it will set itself to "Away" so as to not waste electricity. 
One fact is certain: the Internet of Everything keeps growing, and more and more devices are becoming Internet-enabled and controllable via our smartphones. Wearable technology, which in its first iteration typically needed to be paired with a smartphone or connected via USB to a computer to download its information, will soon mean devices with small LTE or GPS receivers that can transmit data into the cloud.
The next 2-3 three years are going to be very interesting as these technologies continue to mature, are made cheaper and more accessible to the masses. The future in which we talk to our house like in Back to the Future Part II is quickly becoming a reality, and I for one am looking forward to embracing our technology overlords.
---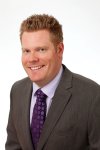 Shaun Guthrie, director of information technology at Focus Corporation, is responsible for leading and inspiring a dynamic group of IT professionals that utilize cutting edge technology to advance his organization's innovation and service delivery.  He is also responsible for the enterprise's IT strategic planning, development, implementation of innovative technology and service delivery to support the organizations overall operations and direction. Shaun is an avid outdoor enthusiast; during the winter he can be found Skiing the Canadian Rockies and during the summer he's hiking or climbing them.

Tags: