Canada Perspectives
How Cisco technology is helping the NHL® enhance its fan experience
Here's a fact you probably didn't know. As the Official Technology Partner of the NHL®, Cisco technology plays a pivotal role in the delivery of NHL Network™ content. So with the Stanley Cup® Playoffs underway and hockey's popularity at a fever pitch across Canada and the United States, I invited Lyndsey Read, an NHL Network Producer, to talk about how technology helps the NHL enhance the broadcast experience for fans.
Mark Collins: Lyndsey, welcome and thank you for discussing the role of technology in your broadcast. First things first, let's talk about the fans and how Cisco technology is helping them get closer to the game. Outside of the actual delivery of the broadcast, how is technology – products or applications – impacting the end product that fans experience at home?
Lyndsey Read: When you think of television, you think of a visual experience. However, hiring camera crews, setting up interview shots and literally getting people in front of a camera can be a very expensive and complicated process.  Cisco has simplified that process for our daily 2-hour show, Cisco NHL Live™, by providing the technology and integration of cost effective and mobile video solutions. What does this means for fans? Simply put everything.
Cisco TelePresence (TP) puts the equipment right into the homes of our weekly reporters so they don't need to leave in order to join our program lives. This creates a truly dynamic experience for us and for fans because we can call upon any reporter at a moment's notice to provide insight into breaking events. And Cisco also provides the technology to bring our fans closer than ever to the action, with Cisco NHL® Arena Cameras located in 29 of 30 arenas equipped with the technology to do live remote interviews.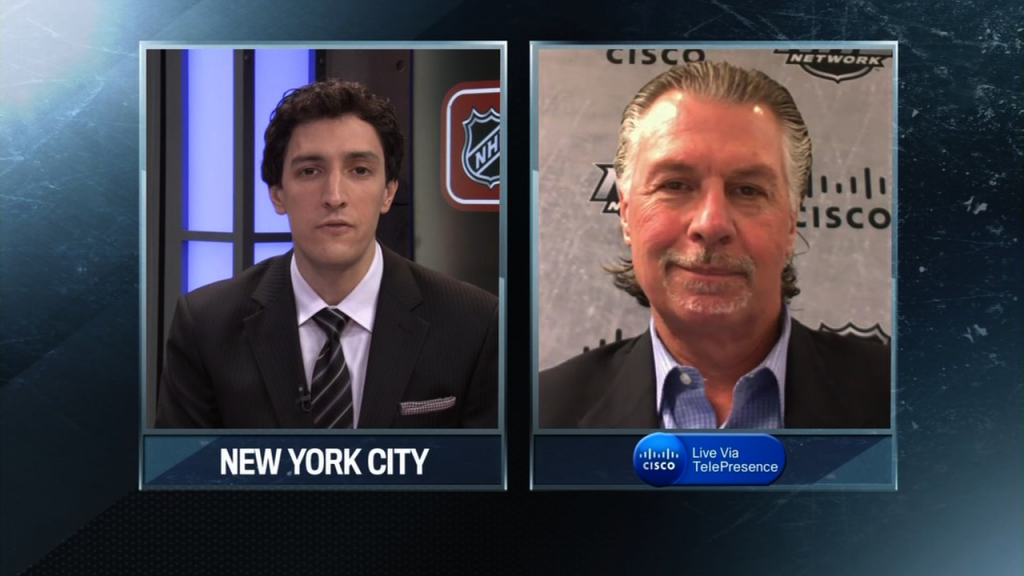 MC: That makes sense – the more, and easier, access you have to video content helps you tell a better story to fans across the globe?
LR: The access absolutely helps us tell a better story. Putting a player or coach on camera creates a fuller experience on many levels. First, the fans at home benefit, and they are our priority. Seeing a player's expression and body language can help our fans interpret tone and unspoken cues.
Second, the technology also helps our show hosts and their interview subjects. There's an increased sense of self-awareness that comes with being on camera. Our weekly experts are more focused and tend to speak with a more commanding tone when they are on camera. Additionally, our show hosts are more comfortable and engaged when doing interviews where they can see the subject. And of course these ties back to our fans and how video gives them the best experience we can offer.
And finally, it helps with production. Cisco TelePresence is more reliable and consistent than using a phone line.  Plus, it just plain looks better.  With an audio-only interview, technically speaking, there are no moving pictures. There's just a graphic that explains who is on the phone.  With Cisco TelePresence and the NHL Arena Cams, the fans, subjects and hosts all enjoy a more entertaining and informative experience.
MC: Over the past three seasons Cisco and the NHL Network have integrated Cisco TelePresence into the Cisco NHL Live! set and worked to make this a valuable production tool. Can you explain how you use TelePresence and how that's impacted the production for the NHL and fans?
LR: We literally delivered Cisco TelePresence right into the hands of our news makers and storytellers, our reporters and analysts.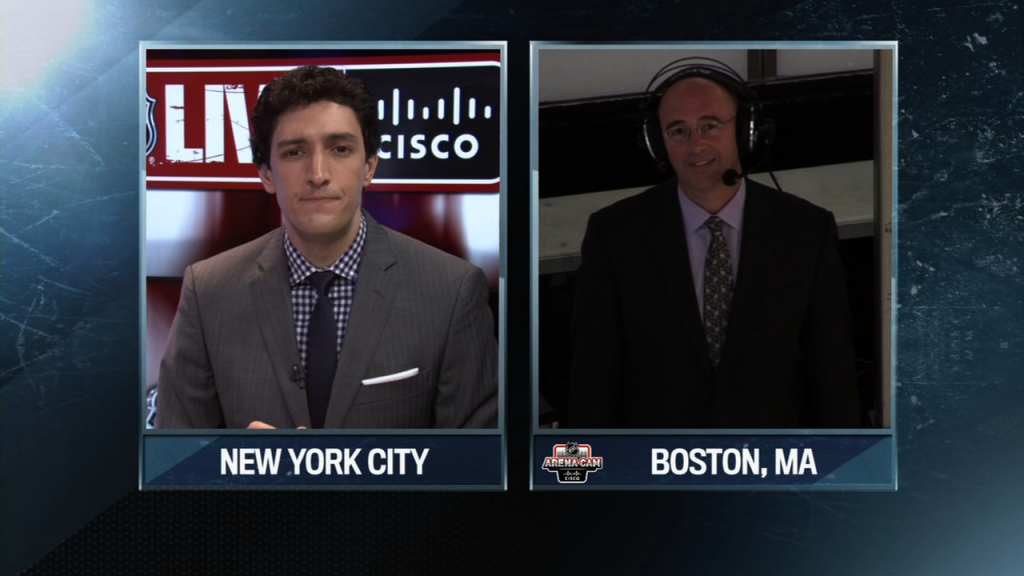 Their weekly segments account for much of our regular content, where they weigh in on hot topics, news headlines and game previews. We've established a system where several reporters have TP right in the comfort of their homes and dial into our control room for their weekly feature. Since they're often on the road, the mobility of TP is also a huge advantage. For example – one system is currently set up for use in a hotel conference room during the Playoffs. In that case, we actually tape several packages of daily content with a former coach and distribute it across all of our platforms.  It's incredible, and a huge bonus to offer our fans this content.
There are endless opportunities. We don't simply use TP for talkback interviews. Additionally, we also have a system in the office to use as a secondary camera when shooting alternative programming such as interviews with our NHL.com writers and fantasy experts. We hope the fans love the increased access to experts and video content this gives them. We couldn't have delivered this level of access and engagement with our hosts and reporters before we started using TelePresence.
MC: So, TelePresence provides you greater flexibility for content, connecting previously unconnected talent via broadcast quality video remotely and efficiently. The fans must love it. Is this a trend you see impacting broadcasting and production moving forward?
LR: Video production has dramatically grown and changed over the course of the last decade. Traditionally, a live remote interview demanded several puzzle pieces including a producer, camera crew, audio technician, and even an engineer, truck and satellite signal. Today, with the help of products like TP, we are able to do a similar interview with one piece of equipment. It's great for us and for our fans because we can set up and deploy video from anywhere.
There's no doubt that the trend will continue in this manner. You can see examples of it everywhere, starting with the cellphone video that news networks turn around for breaking stories. It's also reached cable talk shows where hosts are joined for a quick interview with reality show celebrities via mobile software. These products give show producers more freedom and creativity since their cost is miniscule in comparison to the amount of content you gain.
Watch for part two of my conversation with Lyndsey tomorrow, where we talk more about NHL Arena Cams and Cisco technology.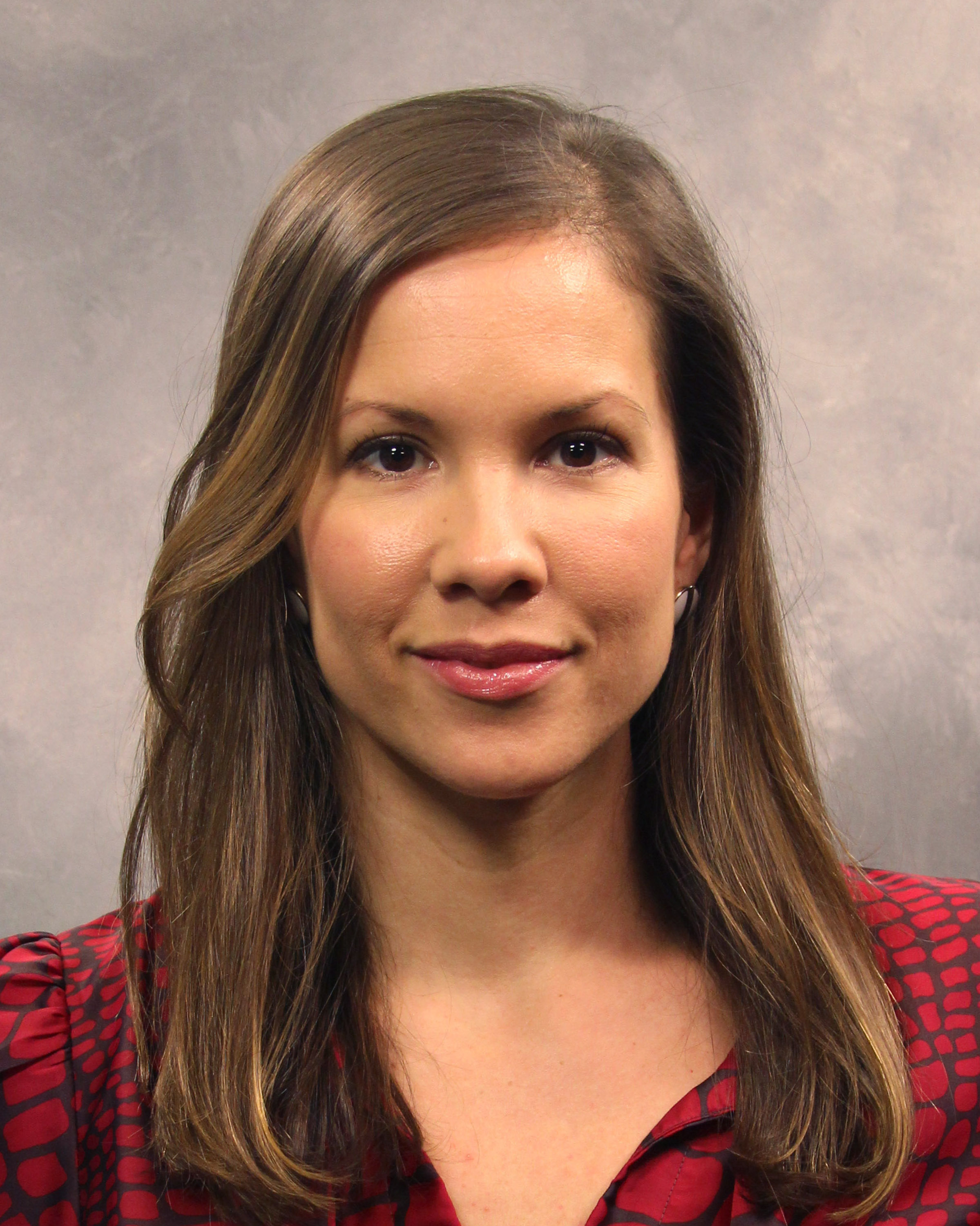 As a Producer at the NHL Network, Lyndsey Read oversees the station's daily preview show, Cisco NHL Live. The show airs Monday through Friday, live from 5-7ET from the NHL Store in the heart of New York City. The 2-hour program informs and entertains hockey fans as they get ready for the nightly matchups across the National Hockey League. Lyndsey makes editorial decisions on news stories, produces guest interviews and designs the overall content for each production. During the show, she serves as the leader in the Control Room alongside the show Director. As the Producer, Lyndsey guides the co-hosts and a team of trained professionals through a complicated sequence of show elements – from remote interviews to feature packages to live pregame warmup skates. In addition to Cisco NHL Live, Lyndsey also assists in the management of NHL Studios original content and helps integrate those creative assets with other league brands including programming from Toronto, NHL.com and on-site in Arenas.

Tags: