Canada Perspectives
Connecting Canadians to the Internet of Everything
If you work in IT, or with Cisco technology, chances are you've heard about the possibilities of the Internet of Things.
Cisco's own Futurist, Dave Evans, is adept at seeing the possibilities of emerging trends and realizing the potential of technology that is still on the horizon. And, in true form, just as the world begins to notice the power of connections in the Internet of Things, Dave is already on to the next big thing – the Internet of Everything.
[youtube http://www.youtube.com/watch?v=etGg2ob77dA&w=560&h=315]
But what does this all mean?  What exactly IS the Internet of Everything? Simply put, the Internet of Everything is about everyday objects talking to other everyday objects in meaningful ways.
This isn't about your car communicating to your car dealership when your oil level is low just because it can, but because it can then schedule a service appointment for you too. The ability to recognize when action is required (in this case, to alert your dealership about your oil level) is called context awareness.
Let's have some fun and break this down with a very Canadian example.
Using that most prominent of Canadian symbols – maple syrup – ­as an example, we can further demonstrate context awareness and connectivity in the Internet of Everything.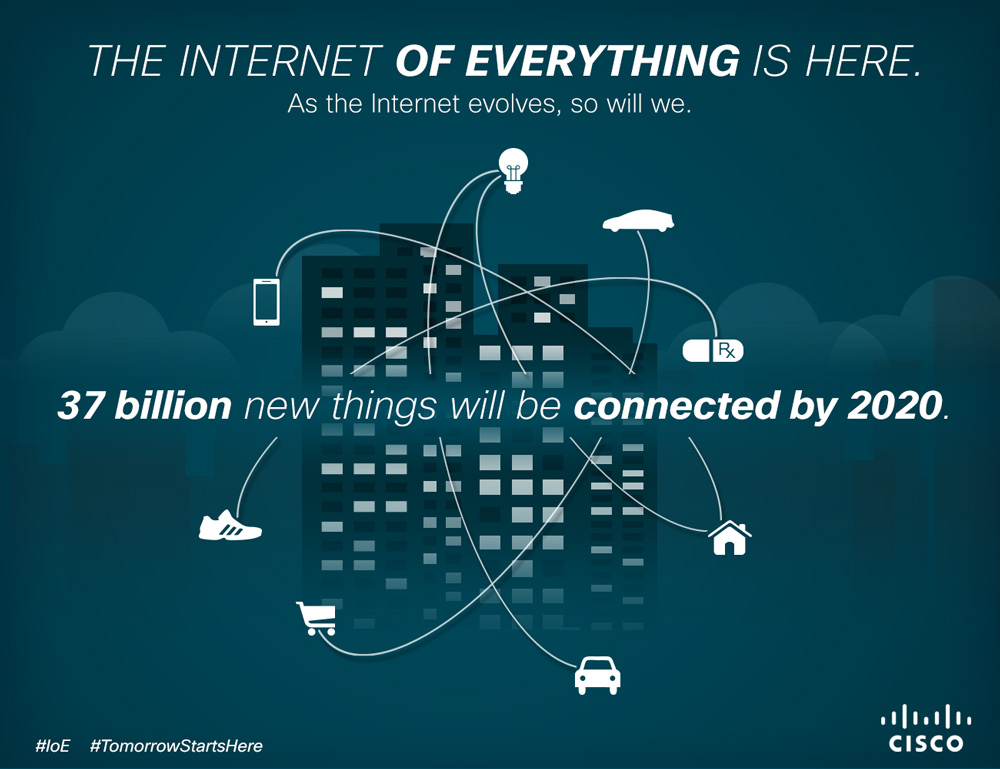 In maple syrup production, sap is collected by placing a small tap in the maple tree in the spring and catching the sap in a bucket or bag. By placing sensors in the tap, producers could know when the highest flow is happening. By placing a sensor in the bucket, a producer would know exactly when to collect the sap. All the data being collected could then be processed to give producers a big-picture overview of their operation.

But that's just a taste of what the Internet of Everything has to offer: connected to the Internet of Everything, distributors could use that same data to know when to start clearing space for new stock as production ramps up or even begin scheduling pickups from producers. Grocery stores could even be involved in the mix, using the data to decide when to clear out old stock as fresh syrup arrives.

What about the average Canadian home? Connected to the Internet of Everything, sensors in your fridge could update an electronic grocery list on your smartphone when you're running low on syrup before you sit down to eat those pancakes.

We have already seen some very unique and Canadian examples of the Internet of Everything at work, and it's not only up to us to build this connected future – it will take the innovation of Cisco Canada partners as well. In the next blog in this series, Mike Ansley, vice president, partner organization, will look at how partners can begin to leverage the power of the Internet of Everything.

What Canadian staple would you like to see connected (connected poutine anyone?)

Leave a comment below.

Tags: