Canada Perspectives
Take Our Kids To Work: Cisco parents help children prepare for the future
This blog was written in collaboration with Genna Cargill and two of our student friends, Zach Zima and Claudia Babin-Pereira.
For parents around the world, there is nothing better than spending time with your child. And at this year's Take Our Kids to Work Day (TOKTW), some parents in our Cisco office in Toronto were privileged to share a day of meaningful learning experiences with theirs. Canada's next generation will be critical to keeping our country innovative and competitive globally. This was a perfect opportunity to get students interested and excited about careers in technology and IT, and hopefully dispel some common myths along the way!
November 7th was anything but an ordinary school day for 43 ninth-graders. These students chose to spend the day away from bus rides, routine classes, lugging books to lockers, racing through crowded hallways and listening to noisy school bells.
Cisco parents and volunteers gave a warm welcome to students and gathered in our Customer Briefing Centre to kick off the day. With an immense amount of energy, the CFO of Cisco Canada woke up the group by sharing Cisco's revenue numbers, history and fun company facts. Most students were blown away by the dollar amounts!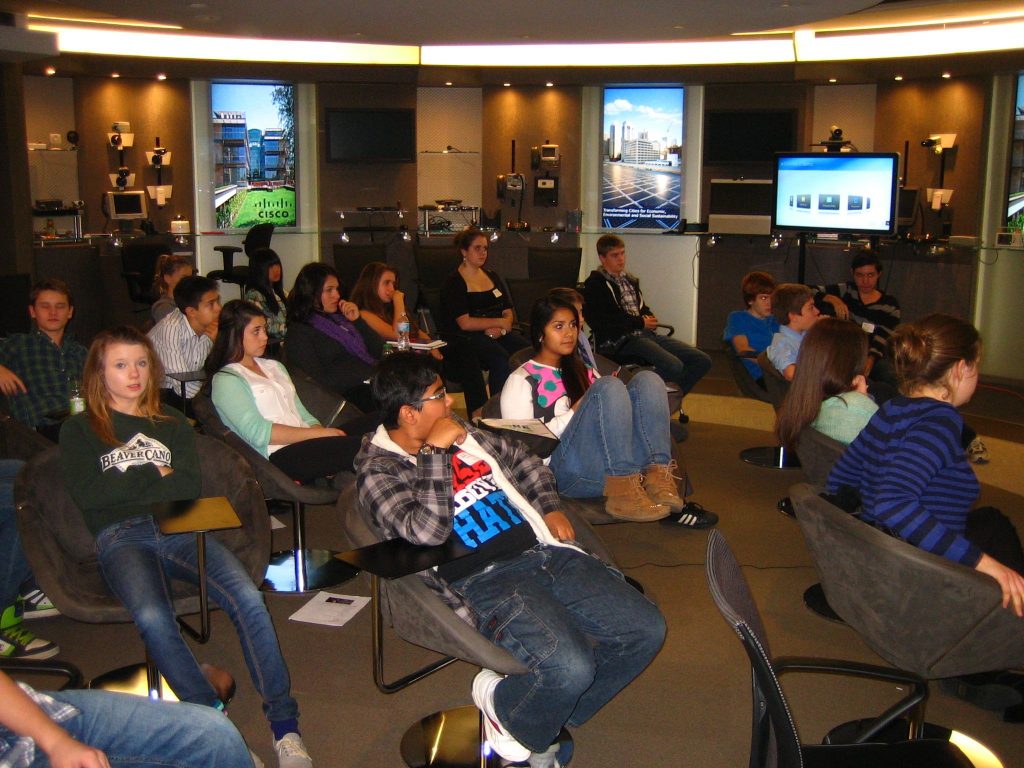 The day continued to unfold successfully (even the pizza was a hit). We used the day to show off the side of Cisco that most people, even our children, don't see. Our partnership with the CFL and the 100th Grey Cup Tour presented by RONA, interactive demonstrations of our social tracking and Connected Home devices and examples of how Cisco gives back to communities across Canada.
We also talked about the technology industry and gave impactful advice on technical career paths and opportunities!
Student Claudia Babin-Pereira said, "I really thought Cisco was just about hardware; I just figured it was computer stuff.  I kind of expected a lot of guys sitting behind computers and it's not that at all; it's so much more.  I didn't expect the social aspect of it and all different technologies and the social aspect.  The people at Cisco were so nice!"
When asking Zach Zima to describe the most interesting part about spending the day at Cisco, he responded, "The demonstrations of all the cool technology Cisco sells was amazing. The coolest thing I saw was the Man Cave (Cisco's Innovation Center), especially the different alarm systems. I'll be getting one when I have a house. I had a great time making new friends while learning a lot."
Aside from showcasing the latest and greatest tech gadgets and gizmos, a fundamental goal of the event was to encourage students to start exploring career opportunities in technology.
We asked Zach what he thought about careers in technology: "After this experience I see how hard my dad works and I appreciate every bit of it. In the future I would love to join the wonderful Cisco family and sell some of these amazing products."
Claudia followed up by saying "I always picture men in IT, and it seemed kind of dull and I didn't really understand what they did.  The career path presentation made it seem really interesting and not just sitting behind a computer all day. I'm really good in math and science but I also like arts.  I think this is something I could do and not be bored because I would still be able to be creative; I really like the fact that it changes all the time. "  
Zach thanked us for a great day and said "Cisco's TOKTW Day gave me a greater understanding of what my dad and everyone at Cisco does on a daily basis. For example, lots of meetings.  It is amazing that having just celebrated its 25th anniversary Cisco has already done so much for the world. Cisco really does follow the motto in changing the way we work, live, learn and play."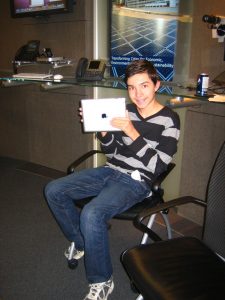 The same way Cisco values and appreciates customer feedback, we were pleased to hear that students enjoyed themselves overall while learning and making friends. A round of applause to all the Cisco folks involved for enabling a successful, fun-filled day and for our recognition as a Learning Partnership's 2012 Canada's Outstanding Employer for our involvement with Take Our Kids to Work day. Here's to the next generation of technology talent, right here in Canada.

As the proverb goes…"It takes a village to raise a child." 

Tags: