Cisco
What does the bank of tomorrow look like?
By Sebastien Ruest, Advanced Services Organisation, Cisco Canada
In the midst of a push for the financial services industry to keep up with the pace of change, banks are asking how they stay relevant in a world dominated by mobile technology, increasingly connected individuals, and immediate access to information. That's exactly the question we're going to ask when Cisco and industry thought leaders connect in Toronto in February 2013 for "What Does the Bank of Tomorrow Look Like?"
There's no doubt we're living in an increasingly connected world. The power of smartphone technology is helping to change the way people interact with each other and the world around them. It's also changing the landscape of the financial services industry. A recent Canadian poll found 44 per cent of respondents owned smartphones and of that group, 47 per cent would consider using the device to make a mobile payment.
No matter how customers take advantage of new advances in banking, be it mobile or otherwise, never before have they had around-the-clock access to their banking information like they do now. Gone are the days of banker's hours ­– now, consumers can access and update their accounts right from their connected devices. But with these advances comes many questions for the industry, such as how relevant the local branch remains – the reality is that retail bank branches will either need to evolve or disappear. And, with technology changing the way consumers interact with their local branch, the pressure to understand the best way to engage customers has never been greater. Personalization of the banking experience through tools like RFID and location aware technology will allow branches to improve the customer experience.
Adapting to a new, more connected approach could also allow banks to better reach an aging customer base. Using technology, banks can better target and understand these needs and customize their offerings to be more personal. For instance, banks can leverage solutions like TelePresence at local branches to bring their services and expertise to the customer by connecting them remotely to financial experts.
As retail banks adopt new connected solutions, it poses another challenge: bankers, and even branch tellers, will now need to be well versed in different kinds of solutions available for their customers.
At Cisco Services, we understand the impact of these trends. By leveraging our wealth of experience, both from an advisory perspective and from our many successful engagements, we can help banks get a handle on how the trends will impact their business. It's also why I want to emphasize the roundtable format of this event, and why it's crucial to attend. We want to engage with you to formulate a technology strategy and help you integrate these requirements into a single technology stream for your environment.
Watch this space in the coming days for more insights on this evolving industry and then join us on February 5th, 2013 at The Ritz-Carlton in Toronto for insight and discussion on how customer behaviour and technology will change the future of financial services. Bob Meara, Senior Analyst with Celent's Banking Group; David Morland, Director of Cisco's Internet Business Solution Group; and expert Yvon Audette, Partner at KPMG, will all be hand to share their knowledge.
If you're in the financial industry, you don't want to get left behind. I encourage you to register now for this event to see what the bank of tomorrow holds.
---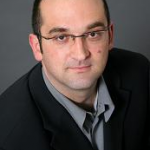 Sebastien Ruest is a Consulting Solutions Executive for Cisco's Advanced Services Organisation. In his role, he works with major financial institutions to build strategies for mainstream technology-specific solutions, and business-wide frameworks for solid strategic growth, using creativity, technology, and proven business practices.

Prior to joining Cisco, Mr. Ruest had over five years of consulting experience as Vice President of Services and Technology Research for International Data Corporation. Mr Ruest also spent over 10 years in corporate strategy, sales & marketing and research at IBM.

Mr. Ruest holds a Masters of Business Administration from the Edinburgh School of Business. He also holds a Masters of Science degree and a bachelor's degree, both from McGill University.

Tags: