Digital and Social Media
By 2016, Almost 8 Billion Devices Will be IPv6-Compatible
By Rachel Foster, expertIP

Summary: expertIP is running a series that highlights key statistics and global technology adoption trends from Cisco's latest Visual Networking Index Forecast. This post explores current and future IPv6-compatibility rates in fixed and mobile devices.  
According to the latest Cisco Visual Networking Index (VNI) Forecast, 40.3% of all fixed and mobile devices (or 7.6 billion devices) are expected to be IPv6-compatible by 2016. This represents an increase from 10% of all devices in 2011.
Meanwhile, the amount of IPv6-compatible fixed business devices is expected to increase from 91 million in 2011 to 1.12 billion in 2016. This rapid increase shows that global businesses are taking the switch to the new Internet protocol seriously.
With the global depletion of IPv4 addresses, many businesses are preparing their networks for the new Internet protocol. The World IPv6 Launch occurred on June 6, during which the Internet Society rallied businesses to permanently enable IPv6 on their networks, as this will ensure that the Internet has room to grow and support the many ways that businesses and consumers prefer to share information.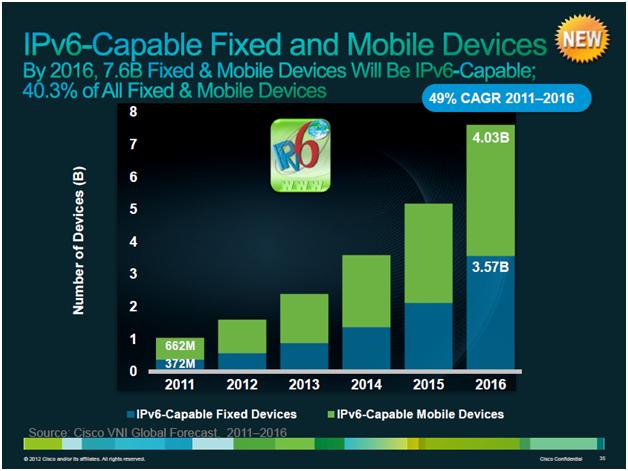 Many organizations are actively preparing their network for IPv6 and a great source of detailed technical information can be found in the IPv6 Cisco Design Guides. The design guides provide design fundamentals and best practices, IPv6 transition mechanisms and IPv4 / IPv6 feature comparisons.
Interested Canadians can keep track of global IPv6 usage and adoption trends through Cisco's IPv6 Lab website, an interactive tool that provides real-time data broken down at the country level.
Some of the current Canadian data highlights include:
– More than 45% of all web content in Canada is accessible over IPv6 networks
– The overall IPv6 deployment rate in Canada is among the highest worldwide
– An estimated 28,000+ Canadian Internet users are connected over IPv6 networks
Cisco's VNI Forecast is part of its ongoing initiative to forecast and analyze Internet Protocol (IP) networking growth and trends worldwide. The latest VNI Forecast update covers 2011-2016 and quantitatively projects the amount of IP traffic expected to travel public and private networks, including Internet, managed IP, and mobile data traffic generated by consumers and business users.
For more information and to download the complete report, visit the Cisco Visual Networking Index home page.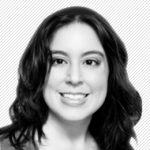 Rachel Foster is an award-winning B2B copywriter who shares her insights on technology marketing in articles for the Content Marketing Institute, Chief Content Officer magazine, Business 2 Community and her Fresh Marketing Blog. One of Rachel's blog posts was recently picked up by MarketingProfs. Rachel gives seminars on B2B copywriting, technology marketing and content marketing.She spoke at MagNet, Canada's Magazine Conference, and will hold a session on technology marketing at Content Marketing World 2012. In her free time, Rachel enjoys Lindy Hop (swing dancing), Pilates and baking French macaroons.

Tags: