Canada Perspectives
Looking for a career? Why the Cisco Sales Associates Program could be right for you
A Q&A with Cisco Canada Account Manager Vanessa Beauparlant
It's that time of year again. Cisco is once again recruiting top university graduates for the Cisco Sales Associate Program (CSAP), a hands-on educational and experiential training program designed specifically for future field Account Managers and Systems Engineers.
This week, we'll be sharing the stories of three graduates of the Cisco Sales Associate Program. Each will give you the inside scoop on what their experiences in the program were like. For this installment, we caught up with Vanessa Beauparlant, a Partner Account Manager at Cisco Canada who started her career as an Associate Sales Representative (ASR) in the CSAP program.
Cisco Canada: Where did you go to school and what did you study?
Vanessa Beauparlant: I took Communication Studies (Honours) at Wilfrid Laurier University.
CC: Tell us a little about what motivated you to apply for CSAP.
Vanessa: It was a combination of things. Firstly, my own research about the program, as well as speaking with past associates about their experiences, and my own previous job experiences which exposed me to the world of IT. It seemed like the perfect fit for where I wanted to take my career.

CC: Describe a 'day in the life' during the Cisco Sales Associates Program.
Vanessa: The first half of the program was just like being in school. We had class during the day, held for the most part over TelePresence which connected us to our peers in North Carolina and other parts of the world. We also had a number of tests, assessments, and assignments that we would have to complete on a regular basis.
For the second half of the program we were placed on the virtual sales team.  Within this time we had a base of accounts and were responsible for meeting our numbers by driving revenue within that base. Our typical day would consist of calling out to our customers, closing deals, opening new opportunities and working closely with our partners in order to drive business within our territories.
CC: What was most valuable aspect of the program?
Vanessa: There are a couple things. One was being able to use our own technology as tools to connect us to our peers and instructors around the world in order to learn about Cisco's solutions, technology and culture. It helped us experience firsthand what Cisco solutions can really help businesses accomplish. And, of course, the quality of education we received throughout the year was excellent and critical to allow us to give a successful representation of Cisco to our customers and partners.
CC: Would you have been able to get as far as you have in your career without the Program?
Vanessa: I think the program was definitely a necessary stepping stone in order to get to where I'm at in my career today. It gave me the knowledge foundation needed to do well in my job throughout the past couple of years and help me transition to new places within Cisco.
CC: How far along are you in career in relation to your colleagues from school? Did CSAP give you a leg up on your peers?
Vanessa: I would say the CSAP program definitely gave me a leg up amongst my peers and it also gave me the direction that a lot of my peers from school didn't have. It helped me build out a roadmap of where I wanted to go within Cisco, what my options were and it provided me the tools to get there, which is definitely an advantage over many other companies.
Cisco Canada: Finally, what advice would you have for students considering applying to CSAP?
Vanessa: Do it! You won't regret your decision! It's a world class program and will open up many doors for you in the future.
If you'd like to learn more about the Cisco Sales Associate Program and how you can apply, visit http://www.cisco.com/go/universitycsap. Don't forget to check back in with the Cisco Canada blog later this week to hear from other CSAP graduates!
The Cisco Sales Associates Program will be accepting applications until October 12, 2012.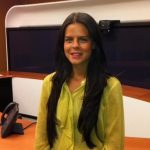 Vanessa Beauparlant is a Partner Account Manager for Bell Canada in Cisco's Toronto office. She joined the Cisco Sales Associate Program in 2010 as an Associate Sales Representative, and since graduating the program in the summer of 2011 she has held different roles within the Cisco Canada virtual sales team working with both Cisco partners and end-user customers.

Vanessa is an active member of the Cisco Canada Civic Council where she works with her peers to develop Cisco Canada's national and local community initiatives. She is also actively involved with SickKids Hospital in Toronto as a weekly volunteer and works to raise funds for the hospital's foundation.  She also works with an organization called Career Mash, where she is involved in a role model program which promotes careers in IT to high school students in the GTA.

Vanessa graduated in 2010 from Wilfrid Laurier University where she earned a degree in Communication Studies. Outside of work she loves playing and following tennis.

Tags: