Canada Perspectives
Cisco and the CFL bring the Grey Cup to Canadians on 100 Train Tour presented by RONA
Cisco is proud to be the official technology partner of the Canadian Football League (CFL) and the Grey Cup 100 Train Tour presented by RONA.  We are enabling the ultimate fan experience by providing the train's core network, wireless and collaboration technology. In fact, Cisco StadiumVision technology will allow fans to connect and share in the experience, with dynamic HD Video content delivery, interactive touch-screen stations in the Grey Cup car (developed with Jibestream Interactive Media) and a fan-powered photo mosaic.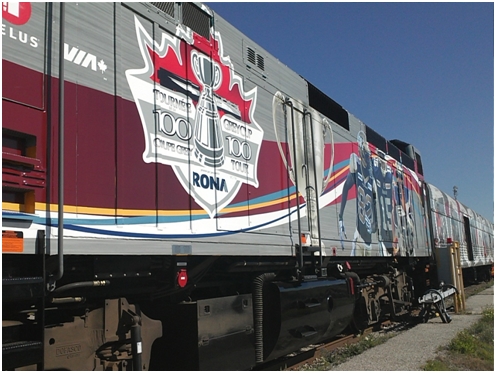 The Train Tour will make 100 stops across the country after departing Vancouver on September 9th. This will provide CFL fans and Cisco customers an exclusive chance to see Cisco technology being used in a unique and memorable venue.
This partnership has allowed one of our best, Vince Mammoliti, Director, Strategic Investment Group, to take the helm and coordinate the technology experience on the train. We sat down with Vince to hear his insights about what you can expect to see in the train.
Cisco Canada: Hi Vince, looks like you've had a lot of fun working on this project with the CFL. What are you most excited for the fans to see?
Vince:  It's really about the fans and all Canadians coming together to take part in the 100th Grey Cup celebration. This new fan experience allows everyone to see the past, present, and future of the CFL's long and rich history.
CC: Powering a train seems like a daunting task; tell us about the process of installing technology onboard. What Cisco technologies are being utilized to help power the train and how was this accomplished?
Vince: Moving trains bring on many challenges, limitations, and unknowns. Each car is a usable passenger car with the seats removed and the museum constructed inside it. We weren't allowed to screw or drill any new holes into the cars and each car is self-sustained. There's no wiring connecting the cars, so that's where wireless comes in really handy! What wires we have used are actually hidden in the plumbing system of each car.
The main system we're using is our Cisco StadiumVision and Wi-Fi wireless mesh network. The Wi-Fi wireless mesh network is extremely helpful and showcases our unified communications capabilities. The UC technology allows the team, whether they are in the cars or on the ground, to be in constant communication and ensures that everything runs smoothly.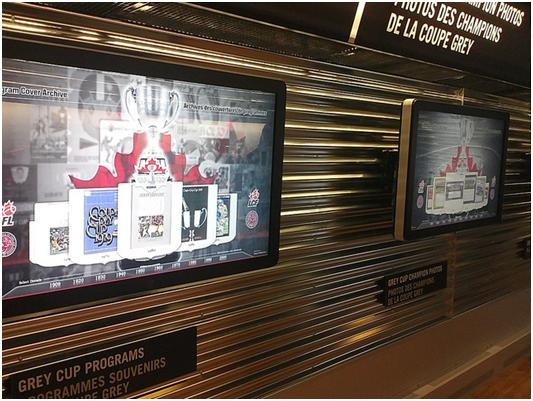 CC: How does this experience differ for fans of all ages from the typical CFL experience?

Vince: The trains will provide the fans the ability to see the past, present, and future of the CFL. Fans will start with the museum car which reveals the history of Canadian football, with countless facts and artifacts displayed. The second car is the Grey Cup Car. Through Cisco technology fans are allowed via touch screens to see past championship team photos, Grey Cup plates, tickets and programs. Fans are also shown a Mosaic wall which is populated by fan snapshots along the tour. In this car the fans are even allowed to touch and take pictures with the Grey Cup! Lastly, in the final car – called the Team car – Cisco technology displays team highlights including actual pre-game team inspirational speeches.

CC: What's the one thing that you want the fans to take away from the Grey Cup 100th Train Tour presented by RONA partnership between Cisco and the CFL?

Vince: Cisco had the pleasure and privilege to work with the CFL to help bring the past, present and future of the Grey Cup together. This has allowed us to showcase our technology to Canadian football fans in a new and innovative way.

CC: Last but not least, who's your favorite team or who will you be "routing" for in the Grey Cup this year?

Vince: My hometown team – Go  Argos!

In accordance with Cisco's commitment to supporting Canadian communities, Cisco will donate some of the technology used to local children's hospitals to facilitate collaboration. To learn more about the Grey Cup 100 Train Tour presented by RONA, visit http://www.greycuptour.ca/.

We encourage you to visit the train when it's in your city – and send us your pictures and comments.

Tags: