Borderless Networks
A Cisco wireless network and your new iPhone 5: A match made in wireless heaven
Last week Apple dominated tech headlines when it announced details of the iPhone 5. With its release today, thousands of fans will line up across the globe to be the first to try the new smartphone.
We've all heard about the iPhone 5's improvements and new features; however there hasn't been a conversation around how the iPhone 5 will affect business users, and how the right network can improve the performance of the device.
Which is odd, because we know that come Monday September 24, there are going to be a lot of iPhone 5's walking through your office door.
With this in mind, I wanted to share how a Cisco wireless network will help your business get the most out of the iPhone 5. Cisco senior Technical Marketing Manager Jameson Blandford prepared this top 5 list to illustrate how an optimized Cisco network will allow your iPhone 5 to work to its full potential.
Jameson's Top 5 Reasons to Choose a Cisco Wireless Network for the Apple iPhone 5:


1. BandSelect for Clean 5GHz Operation
The BandSelect feature keeps previous generation iPhones on the legacy 2.4GHz spectrum while enabling the new dual-band iPhone5 to utilize the cleaner 5GHz spectrum, which has less interference and higher speeds. This allows your employees to take advantage of all the features of the new iPhone while still providing a reliable network for older generation devices that other employees bring to work.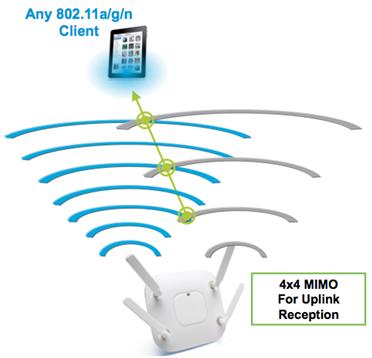 2. ClientLink Beamforming and Cisco CleanAir for High Data Rates
The ClientLink 2.0 feature on the Access Point utilizes per-subcarrier ODFM beam forming for any 802.11n client, which means that the iPhone5's 40MHz capable chipset can remain closer to its maximum data rate of 150Mbps. In addition, Cisco's CleanAir feature automatically detects and avoids devices like cordless phones, microwave ovens and video cameras that can cause interference and reduce data rates.  What does this mean for your business? Your iPhone 5 will have less radio interference and can transfer data faster and more reliably – a must-have for any business when employees are trying to access documents through their devices, or using their new phones for business calls.
3. Airtime Efficiency for Multiple Clients
Cisco's custom packet scheduler allows the Access Point to serve multiple clients fairly using a round-robin algorithm. In order to ensure that airtime is used most efficiently, the system will maximize the number of packets that can be aggregated to each client. Simply put, it's like house league soccer, everyone (and every device) gets fair playing  time.

4. 5GHz Dynamic Frequency Support for Capacity
Cisco allows the use of all possible 5GHz channels as permitted by the regulatory domain by supporting 9x 40MHz-wide channels in the 5GHz spectrum. Without DFS, alternative WLAN infrastructures only support 4x 40MHz-wide
5. Bonjour Services Directory with Device Discovery*
In Q1/FY13 the Cisco Bonjour Services Directory functionality enables cross-subnet service discovery for devices like an Apple TV or AirPrint-capable printer. The feature also includes packet optimization capabilities that reduce Bonjour traffic.  This enables your home office to be more efficient so you can Work Your Way, just as the above enables your business office to provide the most efficient, reliable network for the iPhone 5.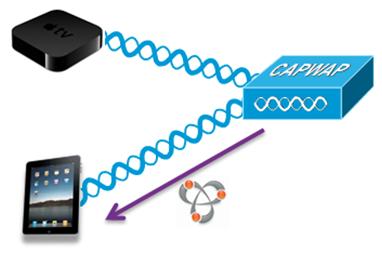 Now the million dollar question: Will you line up for the iPhone 5?

If so, or if you already reserved your iPhone, had you considered how your network can affect the performance of your device before ordering?

To learn more about Cisco Wireless Networks visit http://www.cisco.com/web/CA/products/wireless/index.html and follow us on Twitter and Facebook for the latest news from Cisco in Canada.

*Bonjour Services Directory to be release in Q1CY2013.

Tags: