Canada Perspectives
How AMA is bringing "anytime, anywhere" to its members
By Jim Gladden, Director of Technology Services, Alberta Motor Association
Over recent years the Alberta Motor Association (AMA) has continued to grow with the Alberta economy.  What was once purely a motor association is now a 2,200 employee organization which runs a large Insurance Company, Bank, Travel operation and RoadSide Assistance operation.  As our business continues to grow, change and evolve we have looked for technology solutions to help us deliver enhanced member tools and better experiences.
We strive to provide the best member experiences in every interaction.  With almost 1 million active members across Alberta, we use technology to bridge the gap and provide services over this large geographic location.
We have standardized on the Cisco Nexus platform for our network operations across 18 centres, which includes wireless and switching technologies in many of our buildings. Perhaps most importantly, the Nexus platform is helping our IT team think beyond the racks – focusing on how we can better serve our members and employees instead of just 'keeping on the lights.'

In particular we are using the massive data capabilities Cisco's Nexus 5000 products give us to focus on innovative project launches which enhance our online and mobile capabilities. This means giving our customers the ability to interact with our services however, and whenever, they want, on any device.
One mobile app we have developed gives customers who are stranded on the side of the road the ability to track their tow truck service in real-time via GPS. Users can locate their tow trucks on a map as well as see an estimated time of arrival for their towing service.
In the future, we're looking at building out custom apps that run on iPhone and Android devices. One idea is to create a bandwidth-intensive app that delivers streaming video via Wi-Fi to customers in AMA's driver education centres. Users would be able to view informational videos as they wait to take their test.
As we move in this direction our data centres and network become even more critical to our operation. Our goal is to give all members the ability to access AMA services via the web and their smartphone devices – something which can be incredibly taxing to a company's data centre when you consider the high volume of mobile data traffic and security requirements of online banking and insurance operations.
But over the past year we have continued to redesign our core network to align with Cisco validated designs and combat these issues.  This will ensure we have the best network capabilities possible, and the best user experience. 
Throughout this project however we discovered a number of other innovative ways to build on our Cisco network. Things like social media monitoring, retail space applications, mobile device platforms for integration into our contact centre and improved data center management.  We are looking at implementing a number of these innovative solutions – such as the ability to integrate social feeds into our systems and respond to members over Facebook – over the coming months.
In the end, enhancing the member experience, providing customers will the highest level s of network security and delivering these services in a cost effective manner are crucial elements of our work.
Using Cisco to help reach these goals is a wise investment for us. We know our investments are safe and secure for years to come. We know the technology is ensuring our organization's security requirements are being met. And we know that our technical folks are very comfortable with Cisco technology.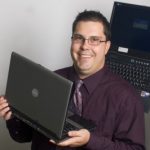 Jim is an IT Executive with over 15 years of experience managing large enterprise IT environments in Health Care, Oil and Gas and Retail organizations.  Jim holds an MBA, BBA, PMP and ISP designations as well as being ITIL certified.  Jim is also completing his Doctorate in Business Administration with a specialty in Innovation and Social Media.  Jim instructs Business Analysis, Project Management, IT Strategic Planning and Ecommerce with the University of Alberta and Athabasca University.  Jim has also been active in a number of community boards and has owned several technology companies.

Tags: