Canada Perspectives
Canada 3.0: Creating a dialogue for innovation across Canada
What a week for innovation this has been for Canadians.  Two simultaneous events took place, Canada 3.0 (@can3_0, #CDA30), in Stratford and the Saskatchewan 3.0 Summit (#sask3summit) in Regina.  Both events provided a platform for great creative dialogue on Canadian innovation.
Cisco Canada (@CiscoCanada) had the privilege of being the official technology sponsor for Canada 3.0. We provided the conference's network infrastructure, both wired and wireless, as well as video conferencing capabilities to the two day event. If you aren't familiar with Canada 3.0, this annual event gathers representatives from the private sector and public sector, as well as citizens, to exchange ideas around digital innovation in Canada.  This was the first time the conference had pervasive wireless access.  And what a success! Our wireless solution proved imperative, as attendees tweeted the conference hashtag #CDA30 all the way to the top of Canada's trending list. I'm so pleased we were able to power this conference by providing the network platform for this rich dialogue. 
[tweet https://twitter.com/ookiedesigns/status/194834945536045057]
One of the highlights was hearing from Governor General David Johnston (@GGDavidJohnston) and Minister of State Goodyear from the Canadian Embassy in Brazil via Cisco TelePresence, our high definition video conferencing solution.  The pair was in Brazil to collaborate and share best practices with members of the Brazilian Government on new advances in learning and innovation.  The Governor General emphasized the Government's commitment to digital innovation and encouraged people, and companies, to not sit back but lean forward to actively participate in our nation's future.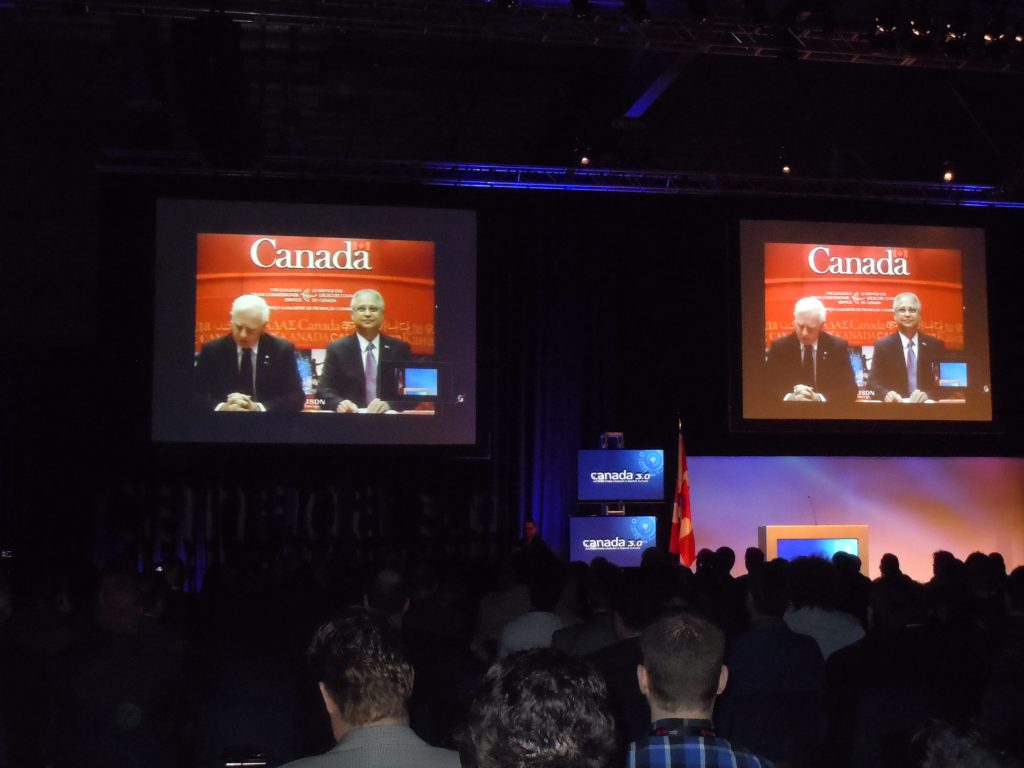 We were also able to use TelePresence to connect Minister Tony Clement in Ottawa to the Saskatchewan 3.0 audience in Regina, allowing him to share his thoughts on the direction of Canada without ever leaving our capital. We've discovered that TelePresence is a great way for government officials to reach their constituents and interact with each other across the nation. Our huge Canadian landscape simply makes it difficult for our leaders to visit all our cities and ensure all interests are being met.

Being in Ottawa and working for a technology company, I am surrounded by a culture of innovators. Whether they are from our Research and Development Centre or the engineers who work with our customers to help advance their businesses, we are constantly working on new and better ways to work and collaborate. So I'm excited by the commitment from the Canadian government to invest in innovation, drive awareness of this issue and encourage Canadians to lean forward and take part.

Be a part of our conversation and share your thoughts on innovation on Twitter.

Tags: