Canada Perspectives
Girls, are you ready to expand your horizons?
With the help of Canada's volunteer committee – Genna Cargill and Francis Gotopo – I'm proud to share how Cisco Canada is participating in an exciting event for girls interested in technology.
As mentioned in my last blog, Thursday, April 26, 2012 is Girls in ICT Day, a day to invite young girls to experience, learn and celebrate Information Technology. This international event was established by the International Telecommunications Union (ITU) to promote the global development of girls and women. The celebration takes place across the globe and Cisco is an active participant internationally.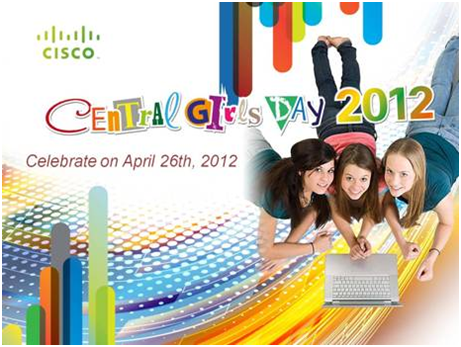 Together with local schools, partner companies and especially Cisco's own Networking Academy, we aspire to bridge the gap between girls and information technology by raising awareness, creating education, and providing a positive influence for girls internationally.  

Why is it so important to bridge the gap between girls and the IT industry? Simply put, women are a huge, but largely untapped, resource to the IT industry. Consider these stats:

– Only 25% of IT tech jobs are held by women, yet women make up 56% of our workforce
– Teams that have at least one female member outperform all-male groups in collective intelligence tests
– 56% of women that enter the IT field leave their career for another industry

If these figures aren't enough to convince you to get involved, then think about this: the return on investment is 34% higher for technology companies with more women in management. That's a fact which can't be ignored.

This year to celebrate Girls in ICT Day, Cisco Canada has invited girls from Cardinal Leger Secondary School in Brampton, Ontario to visit our Toronto office. Through job shadowing, the girls will have the opportunity to glimpse into the daily responsibilities of some of our engineers and Cisco leaders. They will have the thrill of a lifetime being "in the same room" with other girls in Raleigh, North Carolina, and Vancouver, British Columbia, thanks to Cisco TelePresence. Yes! They will have a virtual meeting and a chance to share their experience!

But most importantly, through their day in our office these girls will be exposed to the incredible careers and futures they can have if they choose an education in IT.  And that's what Girls in ICT Day is really about – showing girls that technology isn't a man's world, but one where they can have every opportunity to excel.

So we hope that the girls from Cardinal Leger are ready to expand their horizons, enhance their passion for IT, build their connections and develop their early career network. Girls in ICT Day only happens once a year, and as Monique Morrow (Cisco Vice President and Distinguished Engineer) says in her blog, "Geek is definitely Chic!"

For more information about Girls in ICT Day and to find out how your company can get involved, visit http://girlsinict.org/what-girls-ict-day.

To learn how we've brought young girls to the forefront of IT in the past, watch and read about how we connected a class at Cardinal Leger with female students in Nairobi via TelePresence.

Tags: