Canada Perspectives
Cisco, NHL leave All-Star Legacy at the Children's Hospital of Eastern Ontario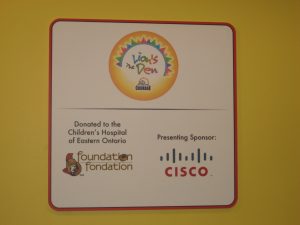 This morning I had the privilege of attending the unveiling of the new, state-of-the-art "NHL All-Star Legacy Playroom" at the Children's Hospital of Eastern Ontario (CHEO) in Ottawa to commemorate the 2012 NHL All-Star Weekend.  As an Ottawa native, I was especially pleased that the NHL and Companions in Courage Foundation are giving back to our community.
Cisco is proud to be the presenting sponsor of the CHEO Legacy Playroom, and to lend a hand by providing the ability for young patients to connect to family, friends, schools and teachers anywhere in the world during a hospital stay through Cisco WebEx.  Patients are also able to connect to other "NHL Legacy Playroom and Classrooms," such as the one in St. Justine Hospital in Montreal, using WebEx for a collaborative learning experience during school hours and – perhaps more importantly  –  for fun afterwards.
Standing next to Pat Lafontaine and NHL Commissioner Gary Bettman and watching the faces of CHEO's littlest, and bravest, patients light up as they saw friends and family appear on screen was a humbling experience.  It was a reminder of how technology can truly connect us, even when we are hundreds of kilometers apart, and how powerful something as simple as a laugh can be to the healing process. 
The Companions in Courage Foundation was founded by NHL Hall of Famer LaFontaine in 1997. Their mission is simple: that no child in the fight for life or health should ever have to go through it alone, and we agree.
To date the Foundation has opened more than a dozen interactive playrooms/classrooms throughout North America, all utilizing Cisco technology, including three in Canada – Ottawa, Calgary and Montreal.  It means a lot to myself and our local Cisco team that we can give back to a community that has supported us.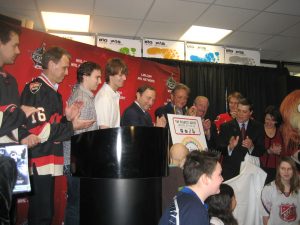 If you would like to learn more about the Companions in Courage Foundation, please visit www.CiC16.org.

Tags: