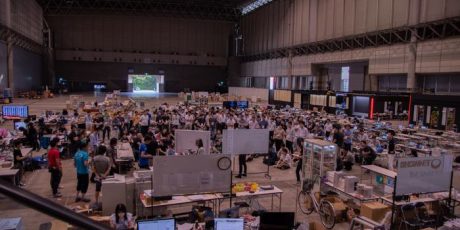 Interop Tokyo
"Interop Tokyo 2018" ShowNet Last-Minute Report
This Article is the transalted version of "「Interop Tokyo 2018」ShowNet 直前レポート" (June 12, 2018).

The 25th anniversary of "Interop Tokyo 2018" will be held this year starting tomorrow, June 13 (Wednesday). Cisco will be providing a number of their latest products and solutions to ShowNet as a top-class contributor this year as well. Many Cisco SE will participate in the local environmental construction and will contribute to ShowNet's success, so I would like to introduce the outline as a last-minute report.
HotStage
In ShowNet, there is an environment construction period called "HotStage". In HotStage, which is an INTEROP event that begins about 2 weeks prior, ShowNet construction tasks are performed from scratch at the local Makuhari Messe. During the HotStage period, interconnection tests and various verifications, including ShowNet's constructions, are implemented with multiple vendors. Cisco will be providing devices and having its SE participate in HotStage. It will support the construction tasks with the help of people from NOC, which is a core member of ShowNet, and volunteer staff (STM) from the public.
Furthermore, it will also prepare the wireless environment necessary for the construction tasks during HotStage, and will also provide solutions that support collaborations between construction members.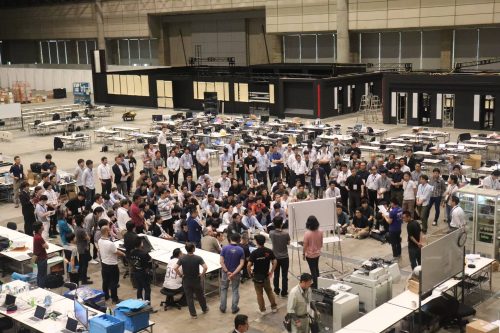 General meeting during HotStage – Everyone is focusing on Webex Board.
<Source of photo: ShowNet Facebook>
Now I will introduce the devices and solutions Cisco is providing to this year's ShowNet for each technology area.
Core Networks
From the carrier aggregation router Cisco Network Convergence System (NCS) 5500 series, NCS5508 is used as an external connection router for ShowNet AS, and NCS55A1 is used as a WAN aggregation router via a high-density 100G connection in the Core Networks.
In addition, it will be providing a fixed-type NCS5501 to the segment routing interconnection verification testbed, and NCS5502 to the aggregation router of the data center.
From the edge and core router Cisco ASR 9900 / 9000 series, ASR9904 was used last year as well as this year. It was operated as a BGP FlowSpec-compatible gateway for Function Pool, which is the centerpiece of ShowNet, and it enabled flexible routing to various network services.
Additionally, ASR9001 was used as an external peering router that required reliability and stability, and ASR9901 was used as an edge router that holds the aggregation switches used by exhibiting companies.
This time, the number of products provided by virtual Form-Factor also increased. The Cisco IOX-XR virtual router version, the Cisco XRv 9000 router, operates as a route reflector with a full route. Furthermore, for segment routing interconnections, it provides VPP [Vector Packet Processing] (https://fd.io/: a high-performance and high-speed virtual forwarder promoted by Cisco as open source) and is involved in interconnection verification for the latest segment routing IPv6 (SRv6).
Management
Just like last year, it will be providing Cisco NSO (network services orchestrator) as ShowNet's only network orchestrator.
Furthermore, it will work together with solution plus partners Netrounds and attempt a live demonstration in which the active monitoring of network quality up to layer 7 is implemented. The monitoring agent will be installed in the  Cisco ISR 4000 series router, which is located in each pod subgroup.
Data Center
The Cisco Nexus 9000 series will be exhibited as data center network switches at each location. As servers,  Cisco UCS, and the HyperFlex series which is Hyperconverged infrastructure and also the flash stack which is a collaborative solution with Pure Storage will be exhibited. In addition, it will also provide Cisco Intersight in order to centrally manage ShowNet's server system all together from a cloud.
Security
Cisco Stealthwatch will be provided for traffic flow analysis. However, one of the highlights of the newly added ETA (Encrypted Traffic Analysis) function is that, unlike traditional technology, it can sense malicious communications without decoding communications.The metadata for the ETA function extracts the necessary information from the traffic that goes through the Cisco ASR 1002-HX router, which is located in the function pool. The key point is that it sends this to Stealthwatch via Netflow and co-work with  network devices.
Cisco Firepower 9300 provides next-generation firewall/IPS functions as well as signatureless malware detection and sandbox features (Threat Grid) , and implements a 100G connection inside the function pool.
The cloud service Cisco Umbrella provides cache DNS services as well as secure Internet access for all vistiors.
Enterprise Network
Catalyst 9300 and 9500 will be offered from the new Cisco Catalyst 9000 series . In particular, two physical Catalyst 9500 switchs will be deployed as one logical switch with its StackWise Virtual technology, and it is used as a switch that aggregates traffic from the hall.
Wireless
A wireless network environment for NOC members and contributors is securely provided using the Cisco Aironet Series, a controller-type wireless LAN solution, and WiFi is provided to those in the second-floor hall through Cisco Meraki, a cloud-based wireless LAN solution.
Collaboration
Cisco will provide not only infrastructure devices, but also Cisco Webex Teams and Cisco Webex Board in order to promote communication and collaboration among ShowNet members.
Final thoughts
This year, be sure to visit ShowNet, where many Cisco products will be in operation, as well as Netrounds and Cisco's joint booth (Booth No.: 5C20), where SDI/NFV showcases will be exhibited. You can hear explanations and see demonstrations for a few of the products introduced earlier.
This report was just an outline; the people in charge of the each technology areas will also upload articles onto their blogs as well. For details, please refer to those as well.
Exhibit equipment list
Cisco Network Convergence System 5501
Cisco Network Convergence System 5502-SE
Cisco Network Convergence System 55A1
Cisco Network Convergence System 5508
Cisco Aggregation Services Routers 9904
Cisco IOS XRv 9000
Cisco Network Services Orchestrator
Cisco Orchestrated Assurance powered by Netrounds
Cisco Aggregation Services Routers 9901
Cisco Integrated Services Routers 4331
Cisco Vector Packet Processing platform powered by FD.io
Cisco Firepower 9300
Cisco Firepower Management Center Virtual
Cisco Stealthwatch Management Console Virtual
Cisco Stealthwatch Flow Collector Virtual
Cisco Aggregation Services Routers 1001-HX
Cisco Aggregation Services Routers 1002-HX
Cisco Catalyst 3850
Cisco Catalyst 3750X
Cisco Catalyst 2960X
Cisco Catalyst 3560CX
Cisco Catalyst 9300
Cisco Catalyst 9500
Cisco Nexus 93180YC-EX
Cisco Nexus 93108TC-EX
Cisco Nexus 9364C
Cisco Nexus 9348GC-FXP
Cisco Nexus 31108TC-V
Cisco Nexus 31108PC-V
Cisco Nexus 93180YC-FX
Cisco Unified Computing System C240 M4
Cisco HyperFlex HXAF220c M5
Cisco Unified Computing System 6332-16UP
Cisco Unified Computing System C220 M4
Cisco PureStorage FlashStack
Cisco HyperFlex Series
Cisco Meraki MR34
Cisco 5520 Wireless Controller
Cisco Aironet 3802E
Cisco Webex Teams
Cisco Webex Board
Tags: