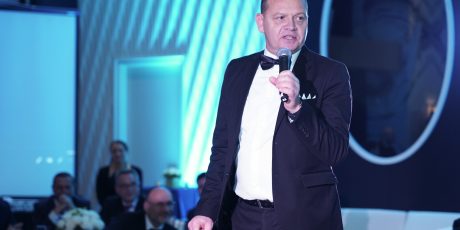 Partner
Und der Preis geht an… – die deutschen Partner Awards beim Cisco Partner Summit 2022
Für ihr Engagement und die starke Vertrauensbasis zeichnete Cisco seine erfolgreichsten Partner bei den diesjährigen Partner Awards in unterschiedlichen Kategorien aus. Die Preisverleihung war Teil des 27. Partner Summit, der wieder live und persönlich in Las Vegas stattfand.
Cisco hat bei den deutschen Partner Awards 2022 deutsche Unternehmen aus dem Channel in Deutschland und EMEA ausgezeichnet. Den begehrten Titel "German Partner of the Year 2022" – die höchste Auszeichnung auf der deutschen Veranstaltung des Cisco Partner Summit – konnte sich Computacenter bereits zum dritten Mal in Folge sichern. Zu Recht – denn Computacenter misst nicht nur dem Thema Security größte Bedeutung bei, sondern sorgt zugleich für die bestmögliche User Experience. avodaq, Bechtle und Telekom sind weitere top-platzierte: Sie holten sich in jeweils zwei Kategorien erfolgreich den Titel: Mass Scale Infrastructure und Enterprise (Telekom). Enterprise Networking & Meraki und Public Sector (Bechtle). Social Impact und Collaboration (avodaq). Ebenfalls mit zwei Awards wurden NTT, SVA und Logicalis ausgezeichnet
Die Tradition der jährlichen Preisverleihung der Partner Awards wird auch nach der Pandemie weitergelebt. Auch 2022 haben die Experten der Cisco Global Partner Organization zusammen mit regionalen Führungskräften Preisträger aus 28 Kategorien gewählt. Die Preisträger gelten als Vorbild für die gesamte Cisco Partnerlandschaft. Zu den Auswahlkriterien zählen dabei zukunftsweisende Vertriebsansätze in punkto Sicherheit und Customer Experience sowie ein Engagement für nachhaltiges Wirtschaften.
"Cisco wächst in der Zusammenarbeit mit seinen Partnern. Wir werden durch sie jeden Tag besser. Das macht enorme Freude und beflügelt uns. Darum bleibt es auch im Fiskaljahr 2023 dabei: Partner sind ein strategischer Teil unseres Erfolges", so Rüdiger Wölfl, Channel-Chef Cisco Deutschland. "Bei den Partner Awards möchten wir für diese Zusammenarbeit Danke sagen und gratulieren. Allen Preisträgern einen herzlichen Glückwunsch."
Auch auf EMEA-Ebene wurden deutsche Partner ausgezeichnet. Zu den vier Gewinnern gehören Computacenter AG & Co. oHG (Security), Infosys (Managed Services), Bechtle (Public Sector) und NTT Ltd. (Cisco Capital.
Die Preisverleihung ist Teil der jährlichen Cisco Partnerkonferenz. Sie fand dieses Jahr im Mandalay Bay Resort in Las Vegas (Nevada, USA) statt.
Bilder der Preisverleihung und vom deutschen Teil des Partner Summits finden Sie hier.
Bilder vom globalen Programm finden Sie hier.
Die deutschen Gewinner der Partner Summit Awards 2022:
| | |
| --- | --- |
| Kategorie | Gewinner |
| German Partner of the Year | Computacenter AG & Co. oHG |
| Collaboration | avodaq AG |
| High Growth Partner of the Year | Cancom SE |
| Cloud Partner | Advanced UniByte GmbH |
| Mass Scale Infrastructure | Deutsche Telekom AG |
| Security | Computacenter AG & Co. oHG |
| SMB and Commercial | SVA System Vertrieb Alexander GmbH |
| Enterprise | Deutsche Telekom AG |
| Customer Experience | Computacenter AG & Co. oHG |
| Service Provider | Pan Dacom Networking AG |
| Managed Services | xevIT part of conscia |
| Distributor of the Year | Comstor Deutschland |
| Marketing | ethcon GmbH |
| Software | NTT Ltd. |
| Social Impact | avodaq AG |
| Value Extend | NetApp Deutschland GmbH |
| Transformation | SWS Computersysteme AG |
| IoT/Industry | Logicalis GmbH |
| Application Experience | SVA System Vertrieb Alexander GmbH |
| Enterprise Networking & Meraki | Bechtle |
| Public Sector | Bechtle |
| Cloud Marketplace | ALSO Deutschland GmbH |
| Cisco Capital | NTT Ltd. |
| SASE | Damovo Deutschland GmbH & Co. KG |
| Sustainability | Atos EcoAct |
| API Innovation | NTS Deutschland GmbH |
| Global Enterprise | Logicalis GmbH |
| Newcomer | nicos AG |
| Services | Controlware GmbH |
Die EMEA-Gewinner aus Deutschland der Partner Summit Awards 2022:
| | |
| --- | --- |
| Security | Computacenter AG & Co. oHG |
| Managed Services | Infosys |
| Public Sector | Bechtle |
| Cisco Capital | NTT Ltd. |
Tags: