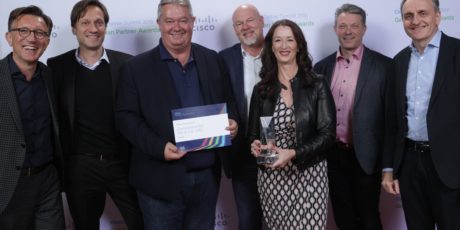 Partner
Cisco Partner Awards 2019: Das sind die Sieger aus Deutschland
Cisco hat bei den Partner Awards 2019 deutsche Unternehmen und Niederlassungen aus dem Channel mit insgesamt 23 Preisen ausgezeichnet. Mit vier Awards zählt Computacenter zu den großen Gewinnern aus Deutschland. Die Preisverleihung ist Teil der jährlichen Cisco Partnerkonferenz. Sie findet dieses Jahr im ARIA Resort & Casino in Las Vegas (Nevada, USA) statt.
Auch in diesem Jahr hat eine Jury aus Experten der Cisco Global Partner Organization sowie regionalen Führungskräften Preisträger aus 23 Kategorien ausgewählt. Die Awards zeichnen deutsche Channel-Partner für herausragende Leistungen aus. Die Preisträger gelten als Vorbild für die gesamte Cisco Partnerlandschaft. Zu den Auswahlkriterien zählen dabei zukunftsweisende Vertriebsansätze sowie nachhaltige Geschäftsentwicklung.
Comstor und Logicalis erhalten neben der deutschen Auszeichnung auch einen EMEAR Award 2019.
Die höchste Auszeichnung auf dem Cisco Partner Summit ist der German Partner of the Year 2019. Wie bereits im Vorjahr geht dieser Award erneut an Computacenter.
"Unsere Partner sind strategischer Teil unseres Erfolges. Daher möchte ich mich bei allen Preisträgern und besonders bei allen deutschen Partnern für ihren Einsatz und ihre Leidenschaft  im abgelaufenen Geschäftsjahr bedanken", sagt Jutta Gräfensteiner, Direktor Channel und Partner Organisation bei Cisco Deutschland. "Cisco transformiert sich, und wir nehmen die Partner mit. Deshalb stehen diese Awards auch für Veränderungsbereitschaft, Neugier und Optimismus."
Die deutschen Gewinner der Partner Summit Awards 2019 sind in diesem Jahr:
| | |
| --- | --- |
| Kategorie | Partner |
| German Partner of the Year | Computacenter |
| Architectural Excellence: Enterprise Networks | Controlware |
| Architectural Excellence: Collaboration | Bucher + Suter |
| Architectural Excellence: Data Center | SVA |
| Architectural Excellence: Security | Bechtle |
| IoT/Industry Partner of the Year | Logicalis |
| Meraki Partner of the Year | Cancom |
| Software Partner of the Year | SWS |
| Social Impact Partner of the Year | avodaq |
| Managed Services Partner of the Year | Deutsche Telekom |
| Distributor of the Year | Comstor Deutschland |
| Ecosystem Partner of the Year | NVIDIA |
| Transformatiom/Innovation Partner of the Year | xevIT |
| Customer Experience Partner of the Year | avodaq |
| Marketing Partner of the Year | Bechtle |
| Newcomer Partner of the Year | NTS |
| Services Partner of the Year | Computacenter |
| Architectural Excellence: SP Architectures | NTT |
| Commercial Partner of the Year | Logicalis |
| Enterprise Partner of the Year | Computacenter |
| Global Enterprise Award | T-Systems |
| Public Sector Award | Computacenter |
| Cisco Capital Partner of the Year | NTT |












Tags: