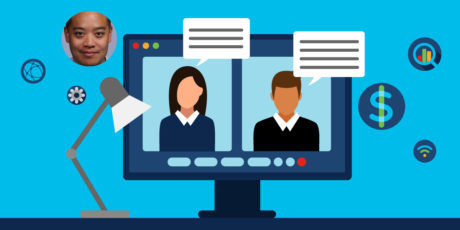 Digital Transformation
North Star Stories: The power of empathy in virtual sales
In any sales training worth its weight, you learn about the skills and techniques needed to make a sale. You might hear about must-have CRM software or a can't-miss lead generation tool.
But during a time where businesses have faced extended lockdowns, a shift to remote work and general hardships during the pandemic, customers have turned to us as strategic advisors, seeking out solutions to ease the transition. Through a screen, we were meant to understand our customers' challenges, build relationships and provide solutions while understanding that, as people, our customers were feeling overwhelmed by what was happening outside of work.
Whether you think you have the best solution, sell the best product or have the best team, at the end of the day, you are doing business with people. This means that, maybe surprisingly, no tool, skill or technique quite measures up to being an empathetic salesperson, especially when selling virtually.
The power of connection
As salespeople, we understand the importance of relationships with our customers. Without in-person interactions, however, we often think that building relationships virtually may be more challenging. While we may be missing client events, conferences and lunch meetings, there is an opportunity to get more personal and build even stronger relationships with customers virtually than we ever could in-person.
As many businesses are facing the unknown, building relationships with customers can be as simple as showing you care. Keeping in mind the challenges that customers are facing today, here are some of the ways you can harness the power of connection to make the sale:
Stay in touch: Whether you're asking how their solution is working or what shows they're currently binging, start a conversation with your customers that ensures you keep in touch. Not only will this build your relationship, but it will further encourage them to look to you for solutions.
Listen up: If you often find yourself talking your way through most calls, you may miss the chance to understand just what your customer is looking for. Instead, give your customer the floor. Not only will this lead you to better understand what your customer needs, but it will demonstrate to your customer that you care about their challenges and that you will offer a tailor-made solution.
Ask great questions: Asking great questions takes great skill. It may also mean the difference between understanding your customers' needs and missing the mark. When meeting with a customer virtually, be sure to listen and respond to their physical or emotional cues to ask the right questions. These questions should reveal more information about what they are looking for beyond what they communicate.
Be yourself: As video is central to virtual selling and the world has gone home, we've seen great effort in the form of home office transformations. Today, your expensive suit may not matter as much as a high-quality webcam or home decor that expresses exactly who you are. From books, posters, plants or artwork and anything in between, your background can say more about you than you think.
Beyond caring
In the before times, we may have looked to what technology trends will be shaping business priorities in years to come, but if this year has taught us anything, it's that people come first.
Before being the first to provide a new bleeding-edge networking or security solution, or even before thinking about technology as a business priority, we need to better align with our customer's overall priorities. Instead of rushing to be first of anything, we need to be the first to be relevant and on hand for our customers.
At Cisco's GVSE organization, we're constantly adapting our perspective to meet the needs of our customers as virtual sales continue to evolve. To learn more about how to ensure success in your virtual sales organization, visit the Virtual Sales Vantage Point series here.
About the North Star program
In a year unlike any other, Cisco's Global Virtual Sales and Engineering (GVSE) team have risen to the challenge of remote work, developing out-of-the-box solutions to solve our customers' challenges.

To recognize the true teamwork that the GVSE organization has demonstrated this year, we're highlighting outstanding work from team members every month as part of our North Star Club. From winning a tough deal to going the extra mile for their teammates, North Stars have adapted their approach to virtual selling to best suit the needs of our customers and their team.

This month, we'd like to acknowledge and recognize Nicolas Tann, who has gone above and beyond as a North Star over the past year in so many ways.

Nicolas' commitment to the East team, his customers, and the GVSE Canada team more broadly has been instrumental in leading the team to growth this past quarter. He jumped in and pulled up his sleeves as the interim leader for the East Commercial Mid Team, and has demonstrated that making an impact goes beyond just hitting sales numbers.

Tags: