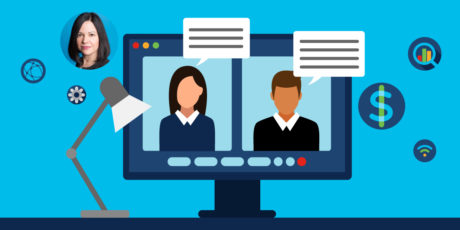 Digital Transformation
Virtual Sales Vantage Point: Tracking the evolution of virtual sales
For an industry that was built on in-person connections and networking, the sales industry was dealt a heavy hand of change over the course of the pandemic.
Shelter in place orders and a shift to remote work forced both buyers and sellers to completely overhaul their tactics, but the reality is this has only accelerated a broader shift that was already underway in sales. A study by Gartner found that B2B buyers have already been spending less time with sales reps — only 17% of the total purchase journey is spent in such interactions.
But this isn't a reason to fret; it's time for a perspective shift. In a world that's become digital-first, reimagining the role of sales has become crucial. Having been at the forefront of virtual selling for many years, we've found the most successful organizations navigating these changes have embraced a seamless digital model, merging marketing and sales to create more intelligent and harmonized touchpoints for potential customers.
When done right, the benefits of virtual sales can outweigh any tactic that in-person — or even remote — selling can offer.
Virtual selling, remotely
In a rush to enable remote sales teams as they transitioned to working from home, some of the major benefits of virtual selling appeared to be lost in translation.
Many sales teams previously working in offices essentially shifted their method of working to a new, at-home setting. But virtual sales isn't remote selling. For a team to truly embrace all of the benefits that this new landscape has to offer, they'll have to adopt more than just a video conferencing solution.
Instead, a properly integrated virtual sales team can transform the entire sales process of an organization and accelerate growth, efficiency, scalability and effectiveness, while also offering buyers the speed of response and experiences they demand.
Personalizing the sales experience
Nearly 33 per cent of buyers would prefer to have a seller-free sales experience. That number only rises among millennial buyers, of which 44 per cent prefer to skip over the middle man. In fact, a recent study from Gartner found that customers equally rely on a supplier's website as they do sales reps to complete the most common buying jobs.
As the pandemic has shifted consumer habits and customers increasingly look to learn and buy digitally, virtual selling becomes even more important. Sales teams must be able to sell to customers based on this preference.
A virtual selling infrastructure gives sellers a unique opportunity to differentiate the buying journey. We've seen both video and virtual experiences standing in place of in-person sales meetings, which have not only increased the effectiveness of a sale but have also given sales teams the ability to tailor the experience for their prospective customer.
Whether relying on video introductions and how-to's, utilizing social media to share relevant information, or simply connecting with a prospective customer through video conferencing, leveraging these tools are now more important than ever.
From cold calling to coordinated customer engagement
As we become more comfortable with connecting digitally, there is also an opportunity to better leverage data from a customer's digital footprint to close a sale. Marketing and sales leaders can start a more meaningful conversation with customers from around the world — creating highly tailored messages, marketing content and timely seller recommendations by leveraging data analytics and AI.
This of course means we must rethink the skills our sales teams need. Data and data analytics should not be considered a black box by sellers, but instead are vital tools that can drive growth by better qualifying opportunities, providing insights into a customer's readiness to buy and even when to engage a customer.
The future of virtual sales
Virtual selling has become fundamental to survival and growth as customers are migrating from in-person channels to digital alternatives. Gartner's Future of Sales research shows that by 2025, 80% of B2B sales interactions will occur digitally. While the pandemic has obviously accelerated the virtual sales process, sales teams have an opportunity to leverage the tools at their disposal when making the sale virtually.

Whether or not the involvement of sales representatives in the process remains relevant, selling must still happen one way or another. To adjust this new means of selling, sales leaders must begin to learn from their customers by building out new digital, purpose-built sales channels in order to drive performance.

Our Global Virtual Sales & Engineering (GVSE) organization is one of Cisco's fastest-growing sales teams. We're constantly reinventing our approach to suit the needs of both customers and our teams to thrive as sales continue to evolve. That's why we've launched our new Virtual Sales Vantage Point blog series, sharing our insights and expertise to ensure success in your virtual sales organizations.

Tags: