Collaboration
When Harry met Sally? The best coupling in 2017 is when AI met Collaboration
Whenever anyone mentions the film 'When Harry met Sally' there is an instant conjuring of that restaurant scene. I'm a child of the '80s though, so that means I was brought-up on 'He-man' cartoons, owned a Cabbage Patch doll and Glow-worm, listened to music on cassette tapes and watched 'Morph' after-school. It also means that the 1989 romantic comedy classic was a staple film in my house as my Mum and Aunt would ceremoniously watch it together as I was growing-up, something they would usually do over a very bottle-of-it's-time plonk: a Beaujolais nouveau.
Consciously coupling 
And as we know, some things just go together: strawberries and cream in the British summer, fish and chips (anytime, usually on a Friday or definitely after a night out!), Lennon and McCartney – oh how I could dream of an endless list of perfect pairings!
One thing that is emerging as a very well-matched and modern tech coupling though are two things that we haven't necessarily regarded as obvious bedfellows: Artificial Intelligence (AI) and collaboration.
In his recent blog, Rowan Trollope, Cisco SVP & GM of Internet of Things (IoT) and Applications Division, notes that the growth we are currently seeing in machine intelligence is inevitable. He observes that AI will be joining our collaborative business communications and how we work together as teams.
Meet my friend, Mr AI
At first, AI meeting bots will be able to reduce the cognitive load we put into the mechanics of actually being in a meeting. People will be able to focus on what's important: the meeting, its content and outputs. This will just be the start, however. Meeting bots will begin to do things for us that we can't do ourselves.
Eventually, they will anticipate our needs, and understand interpersonal and even company-wide dynamics. And at Cisco, we're already doing it.
Cisco Spark Assistant is the world's first enterprise-ready voice assistant specifically designed for meetings. It leverages the deep-domain conversational artificial intelligence (AI) technology from our acquisition of MindMeld earlier this year. With the MindMeld team's technology and expertise, we're enabling cognitive capabilities within the Cisco Spark platform. This makes Cisco Spark a comprehensive AI-powered collaboration solution.
Bigger, better, bolder – and built for AI
Recently, we made the announcement for our latest flagship collaboration device: the Cisco Spark Room 70. The shiny new Room 70 brings together people, content, and AI to help teams be more effective and is the largest offering in the Cisco Spark Room Series portfolio. Cisco collaboration customers in the know can think of it as an MX800 replacement with some amazing new capabilities ('Pimp my Ride' the Collaboration Edition, essentially!).
With "built for both" investment protection in the Room 70, you can register it on premises today with an easy migration to Cisco Spark for the workflow benefits of cloud collaboration and many of the new AI features. For more information, check out Snorre Kjesbu's blog.
In it, our VP & GM for the Cisco Collaboration Endpoints Technology Group (CETG) gives a detailed overview of all the features of our next-generation, intuitive meeting experiences powered by AI. We're now talking seriously about AI in the workplace – next stop, the future! Speaking of the future office – why don't you give your place of work the litmus test with our totally scientific quiz to measure it!
Is AI the key to unlocking happiness at work?
Advanced technology is having a growing impact on our everyday lives with virtual assistants such as Amazon Echo's Alexa and Google Home's Assistant becoming more mainstream in our homes.
Concurrently, organisations worldwide are increasingly looking at how to implement similar technologies that improve productivity, speed-up workflows and increase collaboration among employees, business partners, and even customers.
Until now though, there has been little known about the perceptions of advanced technologies, such as AI and virtual assistants in the workplace and how they will impact the way we work in the future.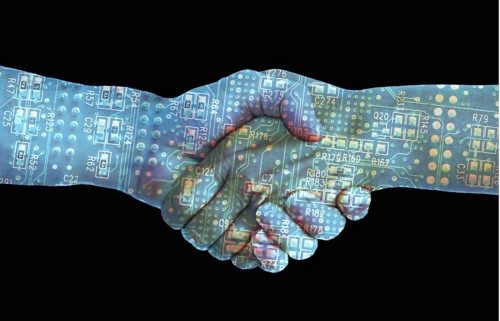 Earlier this month, a Cisco study has begun to shed some light on the subject and reveals that people around the world are ready to work alongside virtual teammates.
In fact, adding a virtual teammate might even make workers happier. We surveyed 2,270 workers in 10 countries, including the UK, US, Australia, Canada, France, Germany, India and China to find out how people feel about advanced technologies in the workplace.
The 52-question survey provides many intriguing (and some surprising!) insights: for example, 94% of respondents said they dread meetings: so clearly, it goes without saying that anything we can do to make meetings more enjoyable should be a positive game changer!
As such, our findings indicate that workers are ready, willing and – perhaps somewhat surprisingly – eager, to work with artificially intelligent assistants, with 77% expecting them to make meetings more productive and 78% believing they will become more productive personally. 59% globally (51% in the UK) also agree that technological advances will create more jobs, rather than eliminate them. Whodda thunk it, eh?
You can delve deeper into the survey and it's findings here.
Man vs Machine
Ultimately, although technologies such as AI, VR (virtual reality), ML (machine learning) are not ostensibly new, it does seem that now really is the time where all of the stars seem to align for us to finally create a true platform for this futuristic tech. The Cisco Emerge team of engineers and designers is one example with the work they are are doing by exploring the future of work and collaboration. Cisco Spark in VR is just one of their exciting, innovative projects in this space.

Of course, there are rightly the familiar concerns around security, data protection and (perhaps at the slightly more hysterical end of the spectrum) a dystopian view that the robots might ultimately take over.

Yet, as our latest research shows, there is an overriding optimism about  the usefulness of bots, AI integrations and virtual assistants as helpful technology in our organisations that augment our individual, human abilities as knowledge workers. And who doesn't need to get a little more out of their day with ever-increasing demands on us during working hours – and sometimes beyond?

Particularly if in the UK we're to solve our puzzling productivity predicament, as the recent Autumn Budget just highlighted.  The inevitability of AI, as well as it's seeming explosive growth in the current tech market means there must be a way of harnessing the good for us mere mortals, the humans working in our AI-enhanced workplaces.

Rowan Trollope perhaps puts it best as he states a positive outlook for AI and the future of work:

"…we'll have more opportunity to succeed, and more flexibility to do the work we find rewarding. It's not a sure thing that the AI tools we build will make our lives better, but if we build technologies with that in mind, they certainly can."

And let's face it, whatever the technology that underpins our lives, be it work or play, there's nothing more human than a bit of hope.

Tags: