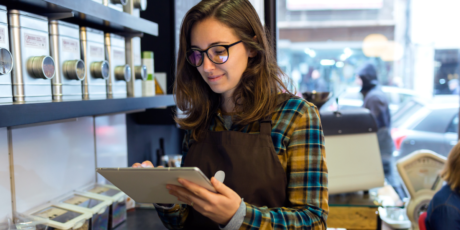 Digital Transformation
The Future of Work: what about non-office jobs?
From the conveyor belt to the first computers, technology advances enabled industrialisation and the emergence of the service industry. These technologies typically required people to gather in large places – factory halls, warehouses or department stores – to do their work. Today, digitization creates whole new industries and new jobs. It also gives people more choice as to where they work.  Work becomes, once again, an activity, rather than a place.
In a recent blog series (see part 1 & 2 here), I explored how the tech spectrum may evolve in the next 30 years and how some of the upcoming technology trends will shape the future of healthcare, manufacturing, our offices and our homes.
It has been an exciting experiment to think about the pathway to 2050, but I am well aware that we will most likely see important shifts and changes even on a much shorter timescale, in almost all walks of life. During 2020, as we experienced the fast-paced and often unsettling changes brought along by the global pandemic, we spoke a lot about the immediate and profound impact on people working in offices. By now, we see that the resulting strategic and cultural shifts – often referred to as the "next normal" – are here to stay.
But what about those who do not work in an office environment – on average over 60% of the working population? Although the pace of change in the sectors outlined in this paper will not be as fast as the shift to home office, the long-term impact is likely to be just as significant.
Education
From schools shut all over the world and 1.5 billion children out of the classroom, education has changed dramatically with the distinctive rise of e-learning. Whilst countries are striving to re-open schools again, the current situation forces us to be ready for distance and hybrid learning. Yet, education faces even more challenges, the acute shortage of teachers, especially in science, technology, engineering and mathematics (STEM), being one of the most severe. In the future, teachers delivering lectures to multiple schools and classes at the same time via video technologies is a viable option to tackle this challenge. It also has the added benefit of better access and inclusiveness for children living in rural areas.
Agriculture
With a history of more than 10,000 years, agriculture is one of mankind's oldest professions. However, digitization is also making an impact in this area. Whether it's sensors sending information to automated watering systems, autonomous vehicles preparing the soil or collecting crops – the job of farmers is likely to change with technology. In the UK, for example, we've built testbeds for rural 5G trials and explored how 5G technologies can improve the way farms grow crops and look after livestock. With 5G connectivity, wearable tech and brand-new apps, farmers can keep track of their livestock's health based on data. A gamechanger for the future of farming.
Insurance
Whether it was a damaged car or a broken waterpipe, insurance companies traditionally sent an expert to inspect and assess the damage. As a consequence of the pandemic, the insurance business is changing their way of working. Now, clients have the option to process claims based on digital evidence, in the form of photos or a video. In the near future, insurance experts will likely consult customers via video conference – or just send a drone to examine a damaged roof.
Entertainment & Culture
Theatres, cinemas, concert halls, museums closed, festivals cancelled – a sad year for artists. Yet, many started to connect with their audiences in the digital space. Today, theatres are offering performances via video streaming, museums invite for virtual tours and musicians are playing for fans via social media. Given all the virtual performances, we have added Music Mode to Webex – ensuring those all-important musical sounds are captured in all their glory. Whilst we all hope to be able to enjoy the arts we love in the traditional places, new forms to connect with audiences, and the funding models that evolved, will be here to stay.
Retail
The trends from offline to online were already here, COVID-19 just accelerated everything. For the future, businesses that want to remain competitive will figure out ways to have online services even if they maintain a brick-and mortar location, and there will be enhancements to the logistics and delivery systems. For those working in retail, this might mean a change in job profiles: online retail requires more administrative staff to process orders, work in customer care or warehouses and of course in delivery.

One of the more light-hearted moments of the last few months was when an Internet meme went viral about a pilot who welcomes passengers saying: "This is your captain speaking. I'm working from home today". Whilst that scenario might still take a while, as a society, the time has come for us to embrace digitization and understand its true impact – far beyond the home office.

Tags: