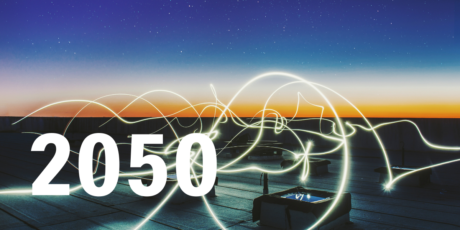 Digital Transformation
A pathway to 2050: how the tech spectrum may evolve in the next 30 years – part 2
In my last blog, I explored how 2020 was a year of seismic change, with a particular focus on the healthcare sector. It is an industry that had to respond to extreme stress incredibly quickly, pushing through digital transformations in weeks and months – a process which would traditionally take years. We will continue to see the benefits of these transformations in the post-pandemic era.
It is not just healthcare that has had to move quickly. The workplace – both offices and industrial spaces –had to adapt to remote and hybrid working, new consumer trends, and other unpredictable shifts. Our homes, too, will reflect a new way of living in the post-pandemic era, following months of living in near isolation.
In the second part of this look to the future, I want to explore what our offices, manufacturing facilities and homes may look like in the years to come.
The future of the office
What the future brings: contactless technologies, voice interface, holographic meetings, spatial computing & universal translators
Today, digitization creates whole new industries and new jobs. It also gives people more choice as to where they work.  Work becomes, once again, an activity, rather than a place. In December, at the Cisco WebexOne conference, we announced more than 50 innovations for virtual meetings in a hybrid work environment.
Within the next few years, knowledge workers will be assisted by AI-driven new tools, including powerful digital assistants. Voice is becoming the new interface and advances in speech recognition and translation capabilities mean these assistants will be multi-lingual. They will have semantic understanding so that they can help summarise key topics from meetings, synthetise data and work with contextual figures. And then, "come" to you saying: "I made this chart to help with your decision".
As the physical and digital worlds blur, virtual meetings will gain, literally, a new 3rd dimension. Thanks to technologies such as spatial computing and holographic projection, our 3-dimensional selves will be sitting around conference tables or will listen to holographically projected speakers.  Without even the need for VR glasses. Teleportation, almost, coming true.
What the future brings: zero-size intelligence, new materials, robotics & AI-optimized manufacturing
During various phases of the COVID crisis, multiple manufacturing plants had to close and send people home. After introducing strict hygienic measures, many of them reopened. As factory workers return to operate production lines, technology is helping them re-adjust to a new work environment. Developers at Cisco Meraki, together with our partners, have quickly come up with new use cases for WiFi-connected smart security cameras. These are no longer used for surveillance only but can help ensure people wear personal protective equipment and keep social distancing – in factories and retail environments alike.
At the same time, increasing levels of automation and the use of IoT sensors and robots lead to an ongoing shift in manufacturing job profiles. Preventive and predictive maintenance, for instance, is becoming a widespread practice in production plants or the oil & gas industry, with tasks that can be fulfilled also remotely. Should there still be a component that breaks, a 3-D printer will be just round the corner to print the missing part and have the production line run again. Fix or print, so to say.
Come next: AI-optimized manufacturing, factories run by robots or cobots, meaning robots that are able to interact and collaborate with humans. The 2030 electric future is starting now: with exciting technology advances that will help the manufacturing industry come closer to environmental targets, incl. net-zero emissions.
Our future homes                                                                                                                                                            
What the future brings: blurring of physical and virtual spaces to create immersive experiences, home robots & smart kitchen appliances connecting to smartgrids

The proverbial smart fridge that keeps track of your supplies and orders groceries sums up what many people think of when it comes to smart homes. The first smart fridge appeared as early as 2000, a true pioneer, but yet too early for its time.

There is word of other exciting technologies to come, and that includes 3D printing of food, even more sensors to help make homes not only smarter but also greener and connecting them to a fast developing smart grid ecosystem.

Immersive, holographic projection promises to convert the living room sofa into front row seats in sports and cultural events, with both the resolution and price point of projection technologies playing to our favor.

At Cisco in the UK and all across the globe, we are excited about future technologies and what they enable for humanity. Foundational technologies such as networks, security, cloud and collaboration will play a key part in making these technology advances a reality, and we are proud of the part we can play in that, including building the Internet for the Future.

But we also know that our responsibilities don't end with technology. We believe that we can harness technology for good to step up to the world's biggest challenges, solve problems in times of crisis and create new possibilities for tomorrow.

Tags: