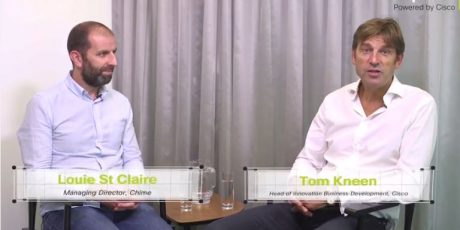 Start-up Hub
Cisco Start-up Hub: Tom Talks To… Louie St Claire, Chime
Whether delivering a pitch to investors or prospective clients, talking to the press or just trying to explain what it is you do at a dinner party, being able to tell your start-up's story is key.
Needless to say, that story needs to be compelling and, perhaps even more importantly, clear, concise and consistent.
This, broadly speaking, is what your start-up's communications strategy is all about. And it's more than just a means of engaging with external stakeholders (and dinner party guests): you need to be able to define your mission to employees too.
It's no secret that some people have more of a knack for telling stories than others, so, as is the way with the 'Tom Talks to…' series, we tracked down an expert for some advice.
Louie St Claire has been helping leading technology companies and SMEs to better connect with their customers and stakeholders for 18 years: no mean feat in an environment that's very fast paced and constantly shifting.
Communications, Louie told me, is just as much about working out who your key audiences are as it is creating and delivering a message for them. He also offered up some advice on how to go about developing a communications strategy and, importantly, when to start doing it.
As with anything like this, there's no 'one size fits all' approach available, but working out who your core audience is – be that investors, analysts, press or potential customers – will set you well on your way to developing a strategy for success.
For more from the 'Tom Talks to…' series, head over to the Start-up Hub playlist on the Cisco UKI YouTube channel.
So far in the series, we've covered media relations with journalist Guy Clapperton, intellectual property advice with Nick Boydell of Bird & Bird LLP, crowdfunding with Emily Mackay of Crowdsurfer, and flexible working arrangements with Helen Watson of People Puzzles.
—
Louie St Claire is Managing Director at Chime and has overseen a complete revamp of the brand. His integrated approach to communications has seen the practice treble in size over five years with his teams being nominated for 29 major industry awards in the last two years. Louie cut his teeth in the mobile and telecoms industry as the Head of Business PR for O2 UK and then looking after Business PR at Microsoft UK.
Do you know someone who would benefit from this content? Feel free to share with your social networks and help us spread the word.

Tags: