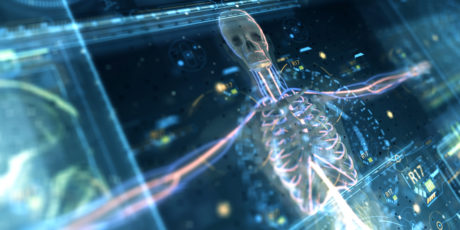 Cisco UKI
10 tech impacts – reloaded
In June 2020, I shared a few initial thoughts on the "next normal" in technology. At that time, we were just four months into the pandemic, and our days were packed with conversations with customers and partners on how we can work together and help navigate those first, intense weeks.
Now, after a year facing the pandemic, I felt it was time to revisit the new experiences, new norms and new priorities that emerged.
New experiences
Online has become the frontline and they blend into a hybrid experience
"The trends from offline to online were already here. E-commerce was already visibly eating into the sales of brick-and-mortar stores. But COVID-19 has accelerated everything." [1]
According to a report by Deloitte, the first half of 2020 saw five years of growth in online market share. By now, close to 30% of UK consumers shop online for food.
For those working in retail, this might mean a change in job profiles: online retail requires more administrative staff to process orders, work in customer care or warehouses, and of course in delivery.
New experiences for consumers range from veg boxes with online cooking tutorials to virtual dressing rooms. These new experiences are largely based on applications, forcing IT teams to prioritise on application performance. Which is something we know a little bit about.
The most digitally advanced retailers are looking into how the online experience can be carried into the physical space. This may include consumers checking in the store with their smartphones, receiving individual recommendations based on recent online or offline purchases, or recipes translated into grocery shopping lists.
Interfaces and interactions go contactless
"Emerging technologies will help limit the amount of physical contact people have with surfaces and each other."
Over the last year, we have seen a surge in the usage of voice and machine vision interfaces and contactless payment options. As offices re-open, there is thinking about a safe return to work, including how people can move through buildings by using only their smartphones or voice command. We have sensors in Webex collaboration devices that can detect the capacity of meeting rooms and announce if social distancing guidelines are not being met, for instance because there are too many people. The system offers an alternative conference room with a map showing the route and offers the option to automatically reserve it for the meeting.
In factories or retail environments, WiFi-connected surveillance cameras can send alerts if people don't wear personal protective equipment or keep social distancing. Integrated with building automation systems, you can even program doors not to open if someone wants to enter without a face mask.
Virtual health here to stay
"Remote care, telemedicine and virtual consultations will all revolutionise healthcare."
McKinsey reports that medical providers have scaled their telehealth offerings and are seeing 50 to 175 times the number of patients via remote access platforms.
Next, the use of sensor-based technologies for remote health monitoring will complement the current video consultations, giving doctors more specific data to diagnose patients.
3D bioprinting, digital replicas and the use of 5G, artificial intelligence and virtual and augmented reality define the path towards the future of virtual health.
The new norms to expect
The future of work is distributed
And hybrid, we should add. Several studies, including Cisco's own research, show the overwhelming majority (87%) of UK office workers want the ability to choose whether to work from home or the office.
Meetings will have at least one remote participant and the reasons for going to the office are also changing. Both our experience and research show that the main motivation for people to go to the office is to meet and collaborate with colleagues. As a result, office layouts are changing, with more community space for meetings and teamwork, rather than individual working areas. And the technology we use has to support a focus on people and experiences. At Cisco Live we announced new features to help empower teams and support a safe return to office.
Whilst we keep thinking about the immediate and profound impact on office workers, we should not forget that two thirds of people are not office based. Although the pace of change in the sectors outlined in this paper will not be as fast as the shift to home office, the long-term impact is likely to be just as significant.
Learning to e-learn
"From schools shut all across the world and over 1.5 billion children out of the classroom, education has changed dramatically."
Whilst teachers, children and parents have shown amazing creativity and adaptability over the past year, we have also seen the many challenges our society was facing when schools closed. And we learned a lot during this time, building a better understanding for the benefits and challenges of remote education. As a parent, I've seen my kids growing up tech savvy, but more recently, I've seen them acquire digital skills of a different kind, using video conferencing and productivity tools like a pro.
Thinking about the future, improved connectivity, more inclusiveness through distant learning and the development of engaging digital content will be paramount.
The day of hybrid events has arrived
For event hosts, the future seems a balancing act between experience and value for their audience and requirements for safety and security. Organizers of sports and cultural events will need to become experts in density calculations.
At the same time, we have learnt a ton about digital events over the past months. I have come across articles listing 100 and more trends for virtual events, from adopting tv show formats to gamification. Solutions such as those from Slido enable higher levels of user engagement―before, during and after meetings.
As predicted, we will see a steep rise in hybrid events where parts take place in-person and others are delivered digitally. Attendee ratios may vary – from as much as 80% of attendees online, and 20% physical, and virtual and physical attendees may even rotate, to allow for socialising and networking. At the same time, the digital format makes events more accessible and inclusive. An example is Cisco Live, which we hosted as a global, virtual event just under a month ago, with tens of thousands of our partners and customers from around the world. You can catch up on sessions from the event here.
We have new priorities
Experiments move to strategic choices
"Leaders need to develop strategic roadmaps towards their next normal – and creating more resilient and agile business models will be front and centre of that."
In this blog, my colleague and friend Gordon Thomson outlines six technology trends for 2021 and beyond that can inform those strategic choices.
For the future, one thing is for sure: the need for connectivity will grow as will the reliance of businesses on Cloud and Software as a Service (SaaS) solutions.  As CIOs prepare their organisations for a digital future, they are increasingly looking for flexible options and "as a Service", paying for the features and capabilities they currently need, with the option to scale. These models give organizations more flexibility and cost predictability to manage IT spend — something that 85 percent of CIOs and IT decision makers find important.
Digital infrastructure must be strengthened
2020 has given us a glimpse of what the future will look like. At the heights of the pandemic, there were concerns whether the digital infrastructure would be able to withstand the increased pressure. Thanks to the concerted efforts of service providers and their technology partners, businesses and consumers could, to a large extent, rely on steady connectivity in an unprecedented time.
Over the next decade, we need to get prepared for future generations of applications – driven by virtual and augmented reality, 16K streaming, AI, 5G, 10G, quantum computing, adaptive and predictive cybersecurity, intelligent IOT, and others not yet invented – and a complexity beyond the capabilities current internet infrastructure can viably support.
At Cisco, with our Internet for the Future strategy, we intend to push digital innovation beyond the performance, economic and power consumption limitations of current infrastructure.
Cybersecurity is at the forefront
"Organisations need to be even more vigilant and the need for networks to have robust cybersecurity baked into their design is critical."
In our latest Cisco Security Outcomes Study we made an attempt to map what works in security and look at which practices actually correlate with outcomes.
Advances in artificial intelligence, machine learning and automation are strengthening the cyber defence capabilities of organisations. In addition, the wide availability of biometrics in both consumer and business devices means we can start exploring what a world without passwords could look like.
Increased reliance on data, automation and robots
On February 18th 2021, many of us were glued to the screens watching images of Perseverance, a robot the size of a small car, landing on Mars.
Home on Earth, we come to realise how indispensable robots have become, from manufacturing plants to hospitals. Take the example of sanitization: it is simply not possible to sanitize large facilities, such as airports, train stations or warehouses with just human workforce.
In an attempt to take account of the countless impact areas of the pandemic, even just from a technology perspective, there is one area that I'd not like to miss: the environment. As skies started to clean up, we have come closer to our global climate goals than we could have imagined.
I believe in the role technology can play in helping those trends be sustainable: whether it's using data and automation to take more informed decisions, building more energy efficient data centers and devices that power down automatically, the use of smart sensors or contributions to a circular economy.
We know that the best ideas come from the most unexpected of places, and solving sustainability challenges will be no different, which is why earlier this week we announced a $100m investment through the Cisco Foundation to help support sustainability initiatives around the world.
I'm an eternal optimist, and am immensely proud to see how technology has shone a light on what is possible in so many industries this year.
[1] From: Today's 10 tech impacts blog: link