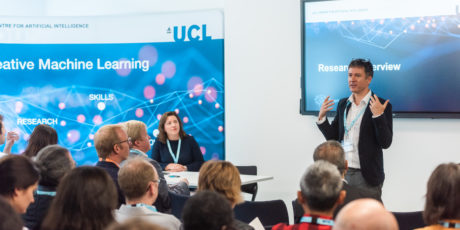 Innovation
The UCL AI Centre: helping shape the future of technology
10th September marked the launch of the UCL AI Centre, combining celebration with optimism about the many potential benefits of AI, in an important collaboration that will also create the next generation of AI leadership and talent.
AI – at the heart of our future
As I said last time, Artificial intelligence (AI) is changing everything – from the way we work to how we spend our leisure time and connect with loved ones, public services, businesses, and colleagues.
For the first time, machines are carrying out simple tasks that could until recently, only be done by human beings. The result is the potential to eliminate tedious work processes and solve problems. And it's all really exciting; the opportunities and possibilities know no bounds.
But AI and associated technologies are still in their formative years and currently have only limited capabilities. Many of the significant AI breakthroughs are still to come, so in order for future developments to be workable and beneficial, they must be developed responsibly and securely by specialists with the right skills sets.
The UCL AI Centre – shaping the future of AI
That's why I was so proud to be involved in the recent UCL AI Centre launch, alongside our own Tom Kneen, who announced the project last year. Since then as a founding partner, Cisco has helped establish what is set to become one of the world's leading centres for AI research, skills and innovation.
And this fusion of academia and technology expertise provides the perfect backdrop for fostering for future AI innovation.
Our long-term relationship with UCL has already demonstrated the power of academic and commercial collaboration. Over the past 30 years, we've worked together on several leading edge digital projects and over 100 UCL students have joined us as interns, allowing us to nurture tomorrow's developers, engineers, cybersecurity experts, etc.
UCL is recognised as a world leader in AI research, and the centre will focus on the fundamental challenges of AI and associated technologies like Machine Learning (ML).
Some of our leading engineers in AI/ML are sharing their skills and expertise on several research projects in progress ahead of the launch. We'll also be involved in training and skills development, including sponsoring a Cisco AI Masters Scholarship programme, further research funding, plus the creation of a programme to support start-ups and spin-outs based or created at the centre.
The UKI can lead the way
I'm really proud of our role in this important venture, working with UCL and other industry partners to understand the potential impact of AI across multiple areas, evaluating how it can be used in the most useful and valuable ways, and putting this all into action.
As Tom Kneen puts it: 'During what was an excellent event, UCL not only launched the new AI centre, but placed it firmly at the centre of its AI strategy. The leadership team – Geraint Rees, Vice Provost of AI, John Shawe-Taylor, Chair for AI UNESCO and David Barber, AI Centre Director – talked us through the strategy, while thanking Cisco and other fellow founding partners DeepMind and Adobe for our support and partnership.
'Participants were also fortunate enough to experience just a snapshot of the very exciting work already taking shape across the AI spectrum. This included some impressive start-ups formed alongside the Centre: DeepMind; Bloomsbury AI; Matrix Mill/Niantic and FactMata.
'Later in the day, we adjourned to the IMAX Theatre at the Science Museum for a lively, absorbing panel event hosted by Geraint Rees and moderated by Digital Catapult's Libby Kinsey, with a cross-discipline group of panellists representing a range of views regarding the future role and shape of AI.'
With the opening of this centre, the UK is well placed be an international leader in this field, helping determine the development and use of AI worldwide to ensure its benefits are felt by all. It marks the next step in shaping the future of AI, as AI starts to shape our futures, and is our chance to be at the forefront of AI development.
I can't wait to see what's next for this partnership and what we will achieve together.
Get started on your AI journey with our free white paper and check out our AI and Machine Learning webpage.
Tags: