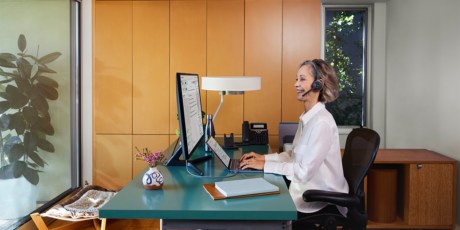 Our People
Tackling an age-old issue
Menopause – The unspoken topic in Business
In the last 20 years or more we have seen positive developments in promoting a more equal workplace, such as recognition for transgender colleagues and paid paternity leave. But there remain barriers and taboos. One is almost (but not always) age-related and inevitably directly affects women – around half of our working population.
Of course, I'm talking about menopause. Considering the impact it has on so many of our colleagues' lives, it's rarely acknowledged at work or included in gender or age discrimination discussions.
It can't be any coincidence that so many women retire relatively early, including those whose careers are just getting started after years of juggling childcare or other responsibilities with their jobs. It's also important to remember that much younger can go through menopause.
Some women leave their professions early rather than endure their symptoms at work.
Think of all the experience, skills and expertise lost to in workplace, just because of lack of understanding, inflexibility in the business environment or the unspoken topic. Imagine the value society and companies could get from women in their 50's with vast experience, as board members, in senior management or leadership roles.
Menopause impacts women health & lives on multiple levels – from mild to devastating. And this is not just a 'women's' issue; many men will have experienced it indirectly with partners, friends, or colleagues, so should be able to understand and see how grueling it can be.
From obvious symptoms like hot flushes and fatigue, to potential osteoporosis and mental health impact, it's an important health and safety issue that should be acknowledged by employers.
So, why is menopause ignored at work – and how can we resolve this?
A change in the workplace to support a change in life
Corporate social responsibility must include eliminating bias and creating equal opportunities for all workers. It's something many companies including ours, are working towards – but as we all know, culture change takes time to embed.
Yet it's something we need to address now, and firms can do so through measures that make women feel more comfortable, while also benefiting all employers and their business.
From commuting by train, bus or stuck in traffic on the motorway, to hours on end in packed, airless meeting rooms, our pre-Covid daily work environment was tough, but potentially intolerable for women experiencing menopause.
Positive changes over the past two years that are shown to enhance productivity include hybrid working and virtual meetings.
Any symptoms arising during the day more readily be treated at home and it's much easier to focus on a Webex call than sitting in a busy conference room, worrying about the awkwardness of suddenly feeling hot or unwell. These are simple changes that could improve lives and help prolong careers.
Back in the physical workplace, employers need to open up the lines of communication.
That's where line managers and other senior staff can help make change happen. In truth, I suspect many would like to support their valued workers, but don't know where to start, what to say, and worry about being intrusive.
Perhaps the first step is just for women to know that they can talk if they want to and won't be judged or discriminated against. Having one person within the organisation or department who will listen if needed demonstrates that the whole company understands.
We men must be part of the solution. Some may feel they don't have time or don't know what to do, but it's a joint responsibility, especially as men are more likely to be in senior roles and able to encourage these changes.
Next Steps
It's my hope and belief that future generations won't experience these difficulties. Today's young people are generally more open, less embarrassed and rigid in their opinions, and less judgemental
But it's up to us to get things started and leave a positive legacy.
As I said at the start, there have been many improvements at work over the years. Hybrid working is just one equaliser, and I'll have more on this in my next blog.