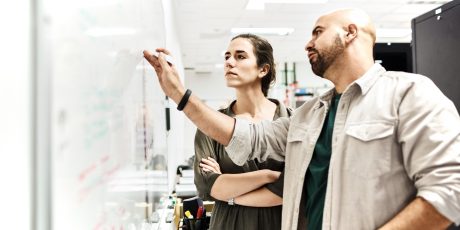 Enterprise Networks
New network? Don't forget the processes
DNA is a fundamentally new way of operating a network. It gives you powerful new insights and control, and automates away formerly manual tasks. To take full advantage, you need to change your operational processes, not just technology alone. We can help.
Hidden costs are all around you.
Question: how much does your network cost?
Answer: more than you think.
Network costs are like an iceberg. You can easily see the invoice for the switches and cabling, the software and support subscription, but in fact the vast majority of the money you spend on your network is not in buying hardware and software — it's in running costs.
You've got teams of people sat there, manually configuring boxes. Scrolling through log files trying to troubleshoot a bug. Patching and updating hardware. Copying and pasting between spreadsheets. Even in the slickest of IT departments, it all takes so long… and, of course, time is money.
If you've ever looked around at all the faces hunched over laptop screens and thought to yourself there has to be a better way… Well, now there is.
SD-Access, part of our new Network. Intuitive breakthrough, promises to slash the cost of managing networks. We found that customers trialling SD-Access cut opex by 61% and reduced time to provision by 67%. Some tasks that used to take hours or days you can perform in minutes.
Sometimes "better" isn't enough.
You can't make step-change efficiencies like these simply by refining the status quo. So the intuitive network is not just an evolution; it's a fundamentally different approach to the network models you've always known.
With SD-Access, network management workflows around configuration, provisioning, segmentation and troubleshooting are highly automated based on policies, profiles and business rules. Formerly painful, convoluted, error-prone tasks like standing up new sites can now be done from DNA Centre with drag-and-drop, literally in minutes. You don't have to dig into multiple CLI tools (unless you want to, of course).
Tear up the rulebook.
So now you can configure (or reconfigure) an entire campus's worth of switches, routers and access points at the click of a mouse. Isn't that cool? But there is one problem: all of your network-management processes and documentation are suddenly completely out of date.
Your well-thumbed flowcharts and checklists governing change management, configuration and release management, availability, performance and monitoring has to change. As does your toolset. Your skills. Even your team structure.
If you've been thinking of moving to the intuitive network as another hardware refresh, such operational changes might be a bit more dramatic than you were expecting.
Don't worry — we've got you covered.
Two words: operational readiness.
In my last blog I gave an overview of the technical migration process we'd typically walk you through when adopting SD-Access, in terms of scoping and designing your solution and the actual implementation of the hardware and software.
But today I want to tell you about an advisory service we offer that looks at your operational readiness, including organisation, staffing and skills, process and policy, metrics and tooling, all to make sure that you're prepared to get the most out of your SD-Access investment.
It's called, logically enough, SD-Access Operations Planning, and it's designed to answer all the questions you might have at the outset of your project.
Here's how it works.
The devil's in the detail.
We kick off with an on-site discovery workshop bringing together all your functional teams to look at your current process maturity, define your future-state in the world of SD-Access, and identify any gaps. We follow this with several further workshops, delivered remotely, each diving into specific areas of network operations like incident management, availability management, and change management.
When we come back to you with our conclusions, we take a holistic view of your operating model from a perspective grounded in ITIL and DevOps practices. We look at people, process, metrics and tooling together.
What you get is not only strategy recommendations about changes you need to make, but the in-depth stuff you need to put those recommendations into practice. That includes process documentation templates, roles and responsibilities matrices, org charts, training templates, example metrics and other useful assets to help you redefine your organisational structure, build training and development plans, and refresh your process flows. We can't build your new operating model for you, but we're there to help set you on the right path.
These activities, and the follow-on work around training and process design, can all happen in parallel with the solution design and validation, implementation and testing on the technical side of the project.
Of course, you could do all this by yourself, or by calling in a third-party consultant — but, being frank, nobody knows SD-Access like us and our partners, and the best practices we share can help you get to your future state operating model faster and with much less stress along the way.
Ready to start?
To find out more about SD-Access Operations Planning and the other services we offer to support your journey to DNA and the intuitive network, check out our services listing, or get in touch with your account manager or Cisco partner.

Tags: