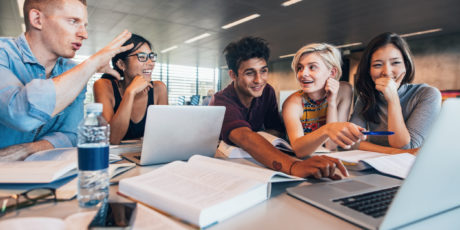 Security
Networking Academy – commitment to digital skills in action
Our introduction to Cyber Security and Cyber Security Essentials programmes are offering students at Gower College Swansea a head start in their university studies
About Cisco Networking Academy – recap
Just in case you don't already know, Cisco's Networking Academy is a not-for-profit education programme, launched in 1997 to address digital skills gaps. Over the past 20 years, Cisco academies have trained more than 9,260,000 students in digital skills across 180 countries. In the UK, we collaborate with schools, colleges, universities, and apprenticeship training providers – and in less traditional training environments such as prisons, libraries and homeless shelters – to improve digital literacy.
Through our Computing for Schools programme, we work with teachers and university academics to support delivery of the new Computer Science curriculum. The content and organisation of topics is based on the Computing at School (CAS) Computing Progression Pathways guide. Schools wanting to use these materials as part of the National Curriculum can do so free of charge. Additional teaching resources to help manage classes and run quizzes are also available at no cost to schools that register to become a Cisco Academy.
Gower College Swansea – cyber security training in action
We're very proud of the ways in which we are supporting schools and colleges and giving students a head start in their digital skills education. I've talked before about how this is working in schools, and we're delighted to see similar successes in further education. Take Gower College Swansea for example. Despite being a relatively new Cisco Academy, it is already seeing great progress among Level 3 BTEC students and HE students studying Introduction to Cyber Security and Cyber Security Essentials.
IT Lecturer Neil Griffiths explains:
'We feel that the content aligns perfectly to some of our BTEC course units. We cover units like Managing Networks and Network Security, and the NetAcad materials fully enhance our courses, bringing the learning right up to date with the industry. Many of our students go on to university to study network security and computer networks and these skills prove invaluable when they start their new courses. University tutors have remarked that our students are already ahead of other learners who have not benefited from the Cisco NetAcad courses.'
Inspiring careers in networking and cyber
Cisco Networking Academy courses are also helping Gower College Swansea students achieve learning outcomes and have inspired many students to consider networking and cyber security careers. It also gives them a head start in terms of developing their digital skills. As Neil explains:
'Some universities will count the Networking Academy courses as credits towards their courses, making the start of their students' new journey into higher education a little easier. The labs contained within Networking Academy have been an excellent resource to give students practical skills – and students have actually enjoyed the experience of preparing for the final module assessment. It also provides invaluable experience for exam preparation.'
Cisco Packet Tracer – bringing networks to life
Packet Tracer is also proving to be both popular and successful in schools and colleges, and Gower College Swansea is no exception. Packet Tracer is an excellent tool for simplifying the complexities of networking, and clearly shows students how to design a network and all its components, from configuring routers to correcting hardware and cable selection, adding computers and laptops, and configuring IP addresses and subnets.

'I have found that students enjoy using Packet Tracer and are always fully engaged during lessons,' comments Neil.

It's great to hear that our courses are helping students prepare for the next step in their education, that they are inspiring young people to work in highly technical areas such as cyber security and networking. And knowing that they are enjoying their studies is equally important.

Tags: