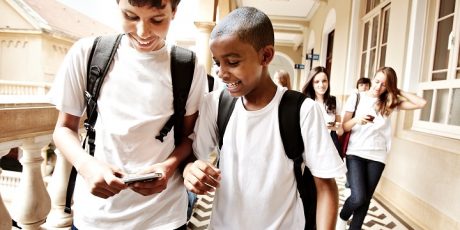 Cisco UKI
Cyber success for the Priory School, with Cisco's Computing for Schools Programme
Networking Academy – committed to digital skills
Cisco's Networking Academy is a not-for-profit education programme, launched in 1997 to address digital skills gaps. Over the past 20 years, Cisco academies have trained more than 8,000,000 students in digital skills across 180 countries. In the UK, we collaborate with libraries, schools, colleges, universities, and apprenticeship training providers – and in less traditional training environments such as prisons and homeless shelters – to improve digital literacy.
Through our Computing for Schools programme, we work with teachers and university academics to support delivery of the new Computer Science curriculum. The content and organisation of topics is based on the Computing at School (CAS) Computing Progression Pathways guide. Schools wanting to use these materials as part of the National Computing curriculum can do so free of charge. Additional teaching resources to help manage classes and run quizzes are also available at no cost to schools that register to become a Cisco Academy.
Cyber Security training for schools
The Priory School in Hertfordshire is a fairly new Cisco Academy, but has been quick off the mark to explore and take advantage of the Cisco Networking Academy's extensive training offerings.
As the school's Computer Science teacher, Sam Hankin, explains:
'Like many schools in the UK faced with the challenge of teaching a new Computer Science curriculum, we're committed to ensuring our students have the right education, leading to the right academic qualifications. Cybersecurity is a case in point. Not only is it an area of great importance, but worryingly, it's been estimated that by 2021 there will be a global shortfall 3.5 million cyber security professionals.
'In 2017, we introduced the Networking Academy's Introduction to Cybersecurity course to our year eight and nine pupils. The course covers cyber security in general and explores cyber trends and threats. Students are taught how to protect their personal privacy online and learn about the cyber challenges faced by business, Government and the education sector.
'The course has offered us a great way of delivering cyber training. It is available online and can be taught as part of a lesson plan or as part of students' own study. This reduces the teaching burden but at the same time, increases the resource base for all students. Importantly, it's aligned to the national curriculum, which outlines which topics must be taught in Computing classes, but doesn't elaborate much further.
'Encouragingly, our students really enjoyed their studies, and have been very enthusiastic, learning in their own time and completing lots of revision. Every student achieving 50% or more in a quiz at the end of the course, receives a certificate of completion, which has been a great incentive for them. And while some areas of the course might be a little bit too high level for very young students, they've relished learning and working in a different way.'
Networking made easier
'Our school also teaches the Computing for Schools' networking courses, which are excellent for GCSE Computer Science. One very valuable, free of charge resource is Packet Tracer, which allows students to build and configure a network using software that replicates a real life network, as if the physical equipment was in the room. We've found this tool really helpful in demonstrating how networks actually work – without having to invest in lots of expensive equipment.
'And we've delivered other, more advanced networking courses to our GCSE and A level students. Although these courses weren't taught to completion, their content is very useful for schools in order to review and assess exactly what their students need to study.'
Tomorrow's cyber experts?
'Returning to our younger students, completing and passing the Cisco 'Introduction to Cybersecurity' course has been a huge achievement, so well done to all 81 of them!'

For more information about Cisco's Networking Academy and Computing for Schools Programme, contact us: netacad–teamUK@cisco.com.

Tags: