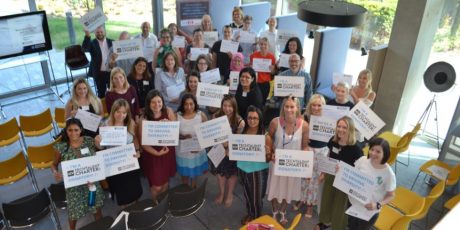 Innovation
How Tech Talent Charter is driving diversity across the country
Last week I had the privilege of attending the Tech Talent Charter Regional Event, 'Driving Diversity: Returners, Retraining and Retention'.
This was a working breakfast event held at our very own Mi-IDEA in Manchester. We gathered together to look into practical measures to help companies include and retain diverse talent.
Diversity – and the lack of it in the tech industry – is a particularly important issue at the moment. Last year the World Economic Forum's equality gap between men and women widened for the first time since records began. If we're going to solve this glaring problem in our industry, we have to start now.
To that end, I wanted to share our learnings from the Tech Charter Regional Event a little wider than just those in attendance.
What is the tech talent charter?
The Tech Talent Charter (TTC) is an industry collective, working to address the gender imbalance in technology roles. As well as organising events and raising the equality agenda, the TTC engages tech organisations by signing them up to a pledge to improve recruitment and retention of women.
Cisco has signed up to the pledge. It's part of our commitment to multiply the power of our people, which includes working towards male/female equality in everything from representation to pay.
These moves towards equality couldn't come at a better time.  The tech industry is experiencing a digital skills shortage – reported that a lack of highly skilled employees is causing them problems.
When you consider this shortage alongside the under-representation of women in the tech industry, the answer becomes clear:  we should look to the untapped pool of female talent to solve the digital skills crisis.
Recruiting more women into the tech pipeline is not just the right thing to do from an ethical standpoint – it also makes good business sense.
Returners, retraining and retention
The TTC Regional Event aimed to provide attendees with a toolbox of ideas to help tackle inequality in their organisations.
This involved a series of panel discussions and break-out sessions where we looked into the ways different companies have of encouraging diversity (very inspiring for all of us attendees to hear!).
Jenny Scherler-Gormley, HR Lead for UK and Ireland and EMEAR Corporate Functions at Cisco, spoke about the value of training and education initiatives, like Cisco's Networking Academy (NetAcad). The aim is to increase the number of NetAcad participants by two million a year. In this way, Cisco can hope to play a part training a new generation of women to enter the tech industry.
Anna Holland-Smith, Programme Manager at the THG Institute of Technology, highlighted the importance of recruiting talent from new industries. She discussed her own career transition from criminal law to tech, talking about the retraining process.
Lots of her skills, like negotiation, research and client handling, were easily transferable. On top of this, coming from a legal background means that Anna brings a new perspective to her work at the Institute of Technology. This is a big advantage – and it's something that all tech companies should look out for.
Finally, Kerren Daly led a discussion about a simple step all workplaces can take when it comes to improving diversity: have a conversation.
Laws and policies are all very well and good, but the priority should always be talking to your employees. When an employee's situation changes – when they go on maternity/paternity leave, for instance – they should be able to talk to their employer before, after and during the transition back to work.
It's a basic principle, but when we have open and frank conversations about inclusivity and employee needs, it leads to real change.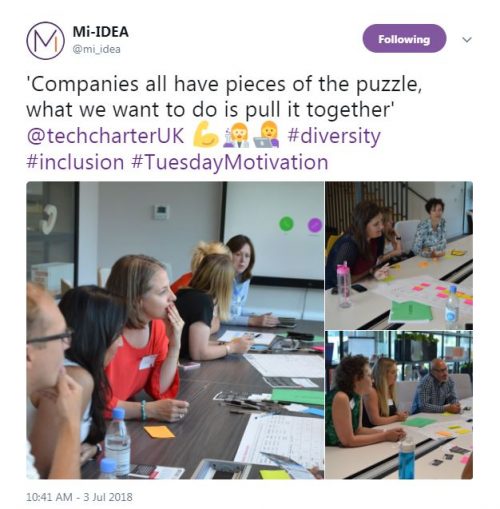 Driving diversity is a form of innovation
The tech industry is all about innovation. But it's important not to forget that innovation comes in many forms – including the way our businesses operate.
Advancing diversity and inclusion is exactly this type of innovation. It can have a fundamental impact on the fortunes of your organisation – research from McKinsey shows that for every 10 percent increase in gender diversity on the senior-executive team, earnings before interest and taxes rose by 3.5 percent.
This means innovation in diversity and inclusion is just as valuable as the kinds of technological or procedural innovation – even though businesses tend to focus their money and time on the latter.
Being inclusive of regional talent
For me, it's especially important to take these learnings beyond just the capital. After all, talent comes from everywhere, and is not region-specific! This is why we offered to hold the event at Mi-IDEA in Manchester – one of Cisco's many co-innovation centres where we have connected to communities of entrepreneurs in the North.
But we want to do more. In my role as Head of Small Medium-sized Business (SMB) Sales, I want to extend our reach across the UK. If we touch more of the country, we can build a better and stronger network of businesses supporting each other.
So attending the event in Manchester was a good opportunity to bring Cisco into the orbit of some SMBs that might not be aware of us yet or how we're tacking this challenge.
Driving diversity in new ways
It was wonderful to be part of the TTC event, and listen to so many talented women share their experiences and wisdom about how to solve the biggest challenge facing our industry.

With the oncoming digital skills shortage, bringing more women into the tech pipeline will be crucial. This means engaging with women who are at the start of their careers – through initiatives like NetAcad – those who are re-training.

It will also require us to take a broader view of talent, looking up and down the country for the best people.

But ultimately, it's important to remember the smallest actions can prompt big changes – even something as small as having better conversations.

It all adds up to build a better world for the women and men who work in tech.

Tags: