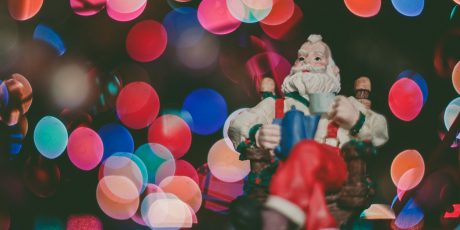 Giving Santa a helping hand with our smart tour of the globe
When it comes to Christmas, we all have our own ideas about what makes the perfect festive break, whether it's visiting family, going on holiday, or a white Christmas at home by the fireside.
And when it comes to creating sustainable smart cities and communities, each has its own priorities. For some, that might be reducing traffic congestion, while for others it could be cutting lighting costs or making their streets safer.
So, in a year when we've been named the top smart city supplier by Navigant Research and with 2017 drawing to a close, we're offering Santa helping hand. As he makes his list, checks it twice and prepares for his annual mission to deliver everyone's gifts in time for Christmas, we're taking our own quick world tour of just some of our many successful smart city projects around the globe to guide him on his way.
Smart environments at ho, ho home
Right here in the UK there are fantastic examples of innovative thinking and smart implementation. Southend on Sea's ambitious digital strategy includes air quality improvement, while Swindon is working to ease congestion and send real-time traffic updates to commuters. And in Manchester, CityVerve is demonstrating how wireless networks can support countless smart applications, from parking to social care to emergency services support.
Continental Europe
Over on the Continent, 200 wireless devices and sensors have resulted in a smart parking system for Nice's Boulevard Victor Hugo, together with a mobile app to help drivers locate and pay for parking, while in Barcelona, sensors direct drivers to available parking spaces and send alerts when meters expire.
A little nearer to Santa's headquarters, congestion charging has helped Stockholm cut traffic by 20 percent in some areas, easing toxic emissions and increasing the use of public transport, while Copenhagen is using sensors in a variety of ways, from waste collection to easing traffic congestion, improving parking, and monitoring air quality.
Across the pond
In the USA, Kansas City has integrated smart meters as part of a large-scale initiative, for full visibility across its utilities, from pipes and power plants to waste collection. Emergency responders in Houston are using smart technology to reduce non-emergency calls and emergency room visits by 80 percent, saving the city around $928,000 annually and helping its workforce work more efficiently. And Santa might be interested in New York City's interactive digital kiosks, which offer street directions, restaurant suggestions, and public transport timetables, as well as collecting data on air quality, public safety, traffic congestion, etc.
Around the globe
Smart lighting should also help him navigate the world's cities; in Adelaide, it's playing a major role in the city's carbon-neutral strategy and has the potential to save any town or city £millions each year. And he'll be reassured to learn that 1200 video cameras plus a state-of-the-art command and control centre are helping cut car theft and other crimes in Pune, India – a reduction of up to 27 percent where cameras have been installed.
Dreaming of a smart Christmas
We hope our whistle-stop tour helps Santa and his reindeer on their way to a safe, congestion-free journey – while you're waiting for him to arrive, watch our video for further information on creating smarter communities.

It may be the season to be jolly, but it's never too soon to start planning your own smart journey. So contact the leading smart cities supplier to get your transformation on the road in 2018.

Tags: