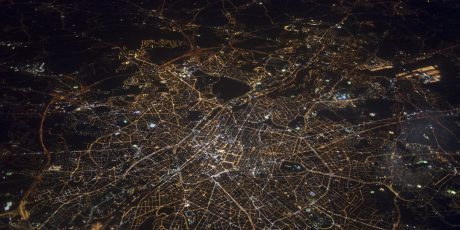 Public Sector
Smart ideas for more intelligent towns and transport services
We've all been there; stuck in traffic, sometimes for hours, anxious and frustrated, knowing that we're going to be late for work, miss that important appointment, or not see our children before bedtime.
Once confined to major cities and motorways, traffic congestion is no longer just an urban issue, but one that now also plagues towns big and small across the UK. It's stressful for commuters and damaging to the economy, with traffic congestion forecast to cost the UK more than £300bn over the next 16 years. And traffic jams don't just waste time and money. Our roads continue to be the main cause of  transport emissions – greenhouse gases and air pollutants, resulting in compromised air quality and a detrimental impact on our health and the environment.
These are just a few of the many reasons why I'm so pleased to be involved in a project with Swindon Borough Council (SBC), local SME CartoConsult, and our partners Davra and Block.
Setting off
It all began back in September 2016, when SBC approached Cisco to bid jointly for a proof of concept project funded by the Department for Transport (DfT) – Cooperative-Intelligent Transport Systems (C-ITS) and Smart Infrastructure Competition – to explore ways of easing traffic congestion and communicating real-time updates to local people, visitors and businesses.
Our proposal concentrated on improving traffic flow around the A4312 / A420 corridor, a vital section of Swindon's commuter network that is also near to several large businesses dependent on Just-in-Time (JIT) supply chains.
Our vision took several elements of the Cisco Smart and Connected Communities (S+CC) portfolio, and focused on the use of digital roadside monitoring equipment to gather real-time data. This information would be fed to an analytical software platform to assess traffic conditions against established baselines, and used by transport managers to assess congestion issues and alert road users, directing them to alternative routes using real-time updates to traffic signal systems.
The proposal also included plans to deliver real-time online traffic information to local people and commuters – and possibly via a smart device app – to help them avoid congested areas, as well as making this data available to fleet managers at local assembly plants, allowing them to plan around any delivery delays caused by traffic problems.
The road to success starts here
In January, we learned that our bid had been successful and that SBC had been granted £237,500 to start making this concept a reality. Starting with a 12 month prototype that we hope will eventually be rolled out across the Borough, the DfT's target for completion is March 2018. This is great news, as it demonstrates how seriously it takes this project. However, the deadline is ambitious, so the hard work starts here.
From easing road congestion to improving air quality, from creating a more sustainable environment to establishing locations that businesses want to invest in, most UKI towns and cities are dealing with very similar issues.
That's why our digital prototype could work in any congested location.
We see this as a first but very significant step on the long road to improving travelling conditions and quality of life for commuters across the UK and Ireland, whether using their own cars or public transport, by making roads safer and cutting congestion and pollution.  And in the longer term, we'd love to extend this proof of concept to include more of Cisco S+CC portfolio including – for example fleet management and air quality monitoring.
That's for another time however – so for now, watch this space!
In the meantime, find more about how smart cities are good for manufacturing – and why it's particularly important for Swindon.


Tags: