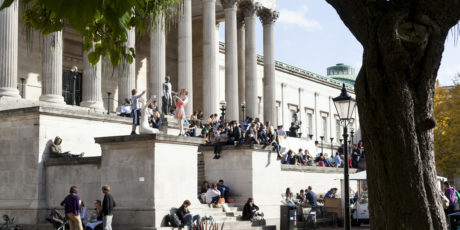 Innovation
Furthering the UK's ambition in AI: the Cisco x UCL Centre of Excellence in The Future of ML and AI
It's fair to say that we've been champions of technology's role in driving benefit for the UK for some time now, but last week the air was rife with talk of the future, of what needs to happen now and next.
From London Tech Week to the publishing of the National AI Strategy, the focus is now on the next decade to position the UK as leaders, innovators and most importantly beneficiaries of all things AI.
It then feels like the right time to share our latest investment in the UK. We're excited to be able to announce that we are expanding our collaboration with UCL in the field of AI.
The Cisco x UCL Centre of Excellence in The Future of Machine Learning and AI will build on a long-standing partnership between UCL and Cisco. A history of collaboration, which in recent years, has focussed largely on the field of Machine Learning and Artificial Intelligence.
Cisco were proudly a founding partner of the UCL AI Centre announced in 2018 and launched in 2019, which has become a hub for UK innovation in AI. We're also a partner of the UKRI Centre for Doctoral Training (CDT) in Foundational AI, central to producing PhD graduates capable of leading research breakthroughs in AI for the benefit of people and planet, more vital than ever in the year that COP26 comes to the UK.
According to Professor David Barber, a Professor of Machine Learning at UCL who leads both Centres, the Cisco partnership is 'demonstrating how AI can be a transformative technology to make a positive impact on the planet and be a force for good in the world.' And we couldn't agree more. From startups, to students, gender diversity and now applied research – our work with UCL is based on an ambition to foster a community of leading AI development and research; with the best talent in the world.
In the last three years alone, Cisco has helped to support 18 AI Masters scholarships for under-represented groups with UCL, and through an initiative to help encourage girls into careers in AI\, Cisco and UCL welcomed 150 sixth-form aged females onto a custom programme.
A key strand of the UK strategy shared last week, is to support the transition to an AI-enabled economy, and we believe that the way we will do so, is not just in the wild and wonderful use of robots or algorithms, but through the application of AI to solve challenges – in industry, and across it. At Cisco, we look to AI and ML to solve real problems in a pragmatic way; to drive business outcomes.
As part of a programme from Cisco Research to create global Centres of Excellence between Cisco and leading universities around the world, this partnership will see us providing research funding for UCL PhD students and researchers, focused on the application of AI, primarily in the fields of collaboration technology, networking and cybersecurity, enabling us to scale up our AI and Machine Learning research for mutual and wider societal benefit. Enlisting some of the greatest minds to develop applied uses of AI to address opportunities for the UK, both today and tomorrow.
Ramana Kompella, Distinguished Engineer & Head of Research, Emerging Technologies & Incubation at Cisco has been instrumental in this partnership "Over the past year, Cisco Research has created Centre of Excellence agreements with a number of top universities within the United States and funded several research projects through these agreements. The first university that we considered outside of the US for a Centre of Excellence was UCL, which has the reputation of hosting some of the most eminent faculties in the world. We were impressed by the cutting-edge research happening in AI/ML and have already started to fund projects with more in the future as we systematically explore other areas of interest."
If it wasn't enough that UCL Computer Science is the #1 department in the UK according to the Government's Research Excellence Framework (REF) assessment, we've seen first-hand the expertise and ingenuity of its students and researchers. We're excited to be working with one of the UK's leading universities in this field. Professor Geraint Rees, UCL's Pro-Vice Provost of AI, is just as excited about this announcement as we are, describing the new Global Centre of Excellence agreement as 'extremely exciting, with potential for the research to help address some of the greatest challenges our societies and the environment face'.
Find out more about Cisco and AI in the UK.