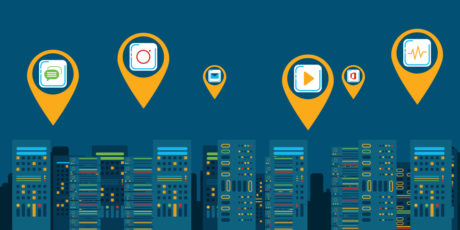 Data Centre
Do you want more data centre opportunities with Cisco?
Businesses want to modernise their IT and embrace the multi-cloud world. Demand for data centre, cloud infrastructure and automated IT systems means there's $11.2 billion of opportunity right now in Europe, Middle East, Africa, and Russia (EMEAR).
If you're looking to increase your profitability and win competitive deals as a Cisco Partner or distributor, you've come to the right place.
We're excited to announce our New Account Breakaway Plus program. Launched exclusively to Partners and Distributors in EMEAR, this programme gives you a preferential position like never before on all validated new customer opportunities.
Programme benefits include:
The highest deal registration rewards to recognise your efforts in developing and winning new customers
Significant increase in deal protection to support your proactive approach
An additional boost to your profitability with the Value Incentive Program (VIP) bonus when a deal is registered and closed through Account Breakaway
You can get started by registering your deals today – before someone else does! (a Cisco Partner login is required). If you're not yet a Cisco Partner, join us.
There's plenty of reasons to dive into the realm of data centre with Cisco, because digital transformation is well underway, and applications and business computing infrastructure are evolving at pace.
Edge-Cloud Continuum
As the main interface between a business and its customers, the app is king in the digital economy. But virtualisation means apps are no longer tied to one place. And nor is the data.
So, data centres need to be wherever the data is.
Connected, intelligent, and automated devices known as the Internet of Things (IoT) are everywhere. Self-driving cars, drones, and wearables are just a few examples. To support these devices in real-time, more computational processing and decision-making takes place at the edges of the network without connecting back to a centralised data centre or cloud.
This fundamental shift does not mean the end of centralised data centres and hybrid cloud models. Instead, what IoT and technologies such as artificial intelligence (AI) and machine learning (ML) do is extend their boundaries and sphere of operations to what we call the "Edge-Cloud Continuum". The latter integrates the best aspects of both the edge and centralised models.
Gartner predicts that by 2025 the number of 'micro' or 'edge' data centres will quadruple due to innovations such as 5G and hyperconverged infrastructure (HCI). HCI consolidates servers, storage, networking and software within a single pane of glass, making it ideal for small remote office and edge deployments needing less storage capacity and fewer compute resources and features.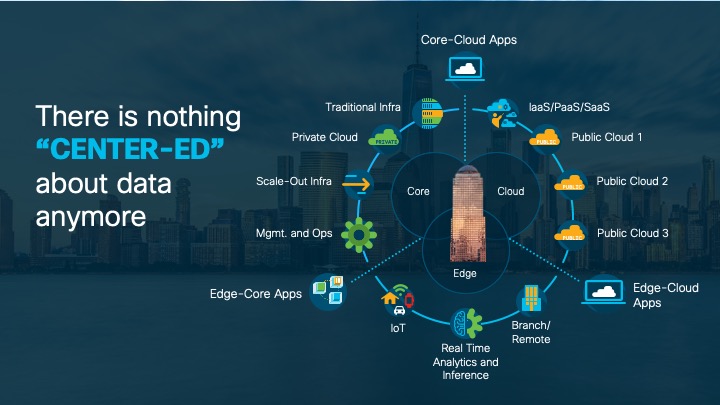 Multicloud strategies
It's not just the shift in computing topology that's driving data centre evolution. Many businesses have adopted a hybrid cloud model. They're doing this to get best-of-breed solutions and avoid vendor lock-in.
Gartner says more than 80 per cent of businesses use two or more public cloud providers. This is what we define as a multi-cloud environment. It's one that app developers expect and demand as they tap into the innovation today's many cloud providers deliver.
However, running new and legacy together is tough. It creates more complexity because corporate IT needs to connect users, devices, applications and data across a broad landscape where 'islands' of technology coexist. The impact of this can mean:
Reduced visibility of apps and data
Losing control of costs
Increased compliance risk
A poor customer experience
Businesses need central visibility and insight of their apps, workloads, security policies, and network to overcome these challenges. With central visibility they can apply AI and ML to drive more simplification and automation into their IT operations lifecycle.
The move from components (compute, network, storage) to converged and now hyperconverged has been the industry's response. IDC reports that businesses are using converged solutions to provide standardised, software-defined and highly automated data centre infrastructure as the on-premises backbone for a seamless multi-cloud world.
The software stack that sits on top also continues to evolve through bare metal, hypervisor and, now, containers. Management tools are merging between operations and development – aka DevOps with 'infrastructure as code'. Here, AI and ML will be key ingredients in enabling greater automation and simplification, turning telemetry data into insights that drive informed action.
Go anywhere the opportunity is
We understand the challenges faced by the computing industry. We changed the game with the launch of our revolutionary Unified Computing System (UCS) back in 2009. Designed from the outset as programmable infrastructure, today UCS is one of the industry's most reliable and proven server platforms trusted by more than 55,000 organisations worldwide.
See how Cisco's revolutionary Unified Computing System (UCS) delivers infrastructure that's good for today and ready for all the innovations needed in the future:
We created infrastructure that's good for today and ready for all the innovations needed in the future. Cloud computing, converged and hyperconverged, infrastructure as code, software-defined everything, and digital transformation.
And we continue to pioneer the full data centre stack. Our Data Center Anywhere portfolio integrates best-of-breed Cloud orchestration, SaaS IT operations management, analytics, automation, and policy-driven security.
Crucially, it ensures your customers can blend the best of private, public and hybrid cloud. It assures your customers the broadest possible choice to suit their strategic vision, free from the risk of vendor lock-in.
With Cisco Data Center Anywhere, you can go wherever the opportunity is and grow like never before.
To find out more about helping your customers lead the digital transformation, check out our latest webinar series.
Tags: