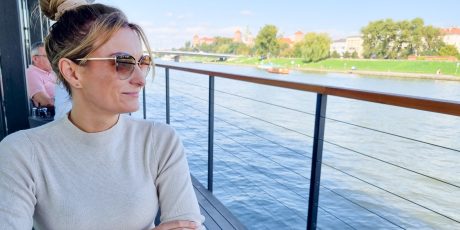 Our People
One Company, Many Careers – From High Touch Operations Manager to People Leader in Krakow – meet Katarzyna Ślęzak
_
_
Over the years, Cisco has practised #internalmobility promotion, encouraging employees to move and develop within the company. Cisco is all about retaining and supporting top talent to pursue their passion. Under the motto #OneCompanyManyCareers, we will be sharing the success stories of our employees throughout the whole year!
This week's story is about Kasia Ślęzak – People Leader in the Digital Experience team.
Tell us what has been your career journey at Cisco so far?
10 years ago, I started at Cisco as a High Touch Operations Manager. I was looking for a way to secure my future within the company, hence I decided to take charge and apply for the IT Service Lead position in 2013. I studied telecommunications & engineering, so the position was aligned with my background and goals at the time. Later in 2018, I shifted my focus towards development and joined the HR IT team as a Technical Project Manager. I wanted to learn and grow in the domain, moreover, the team I joined had established an excellent brand. I also played a Scrum Master role in the Workday implementation program. When it went live in 2021, I was ready for the next chapter.
What or Who inspired you for the change?
I always wanted to become a people leader, I believed it was the right path to be professionally fulfilled. Furthermore, my managers and coworkers were very encouraging, boosting my confidence to achieve the goal.
When I decided I was ready for a change, I explored options within my own team. I had an open discussion with my manager, who was incredibly supportive, but there were no internal team opportunities at the time. Then I turned to my network as I had met many people through my project work and stayed in touch with some of them. One of the programs I oversaw was the Workday transformation for which I led engineering teams responsible for Workday integrations. The program brought together many different teams and there were opportunities to meet leaders and teammates from areas outside of IT, such as HR or People Support. I connected with one of the leaders I met along the way, and it was such a coincidence he was opening a Workday Solutions Leader position for EMEA. Knowing the team and being ready to fulfil my personal aspirations I decided to apply.
I was given the opportunity to prove myself without having leadership experience on my resume, I couldn't be happier and I took the role.
What was your biggest learning through the transition?
I admit that the transition from Service Leader to a People leader took me ten years. That may appear to be a long time, but I used that time to explore, observe and learn from other leaders. I did evaluate my project management experience to identify if there were any transferable skills I could use in the new role. Pretty quickly I felt confident that in fact some of the skills I acquired by leading projects – such as communication skills, empathy, listening, and motivating others – are the attributes of a great leader. Moreover, I always fostered a trusting and safe environment, in which those involved in the projects could feel good, motivated, and creative.
What advice would you give to those who are thinking about a change but are still hesitant?
To be successful, I believe you should make time for yourself. Think about your future, your development, and your goals. Consider what you want to accomplish within the company as this will help you drive your career. Engage in a candid discussion about your goals with your leaders so that they can offer support and guidance.

Tags: