Digital Transformation
Cisco at Defcom India 2015 – Innovate in the digital era
With technology at the core of business strategy, Cisco helps to innovate new business models in this Digital Era.
Cisco, as a Technical Exhibition sponsor, looks forward to participating at the DEFCOM INDIA 2015 in New Delhi, India. In today's highly dynamic digital world, every industry is experiencing transition at an unprecedented pace. Businesses know that technology must be at the core of their business strategy in order to differentiate themselves and define their futures. As a technology leader, Cisco will show how we partner with our customers helping to innovate new business models and succeed in this digital era.
Visitors can Attend the Cisco sessions taking place on 23rd November.
Sesstion Title – Futuristic Battlefields Networks : Realization of Digital Army in the TBA
Speaker Name: KPM Das
Date: Monday, 23rd November
Time: 11:00 a.m. – 01:00 p.m.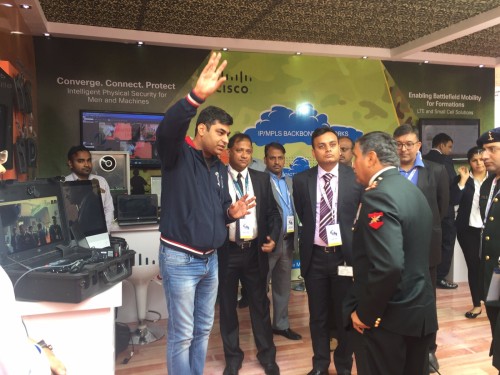 Location: Stein Auditorium
Description: The Connected Battlefield concept is based on a desired and extensive range of foundational capabilities and validated designs for the network, which are mature and proven in the tactical battlefield environment. This framework includes a tiered structure of architectures and vertical solutions applicable to functions of units and HQs in the battlefield. At the lower levels of this framework are more detailed business architectures and technical designs aligned to the capabilities and solutions of infrastructure components. This talk will provide a conceptual outline of the tactical network that forms the heart of military operations where combat forces are applied to derive success in tactical missions. It details the operational vision, design principles and technical / functional features of Connected Battlefield. It establishes the foundation for delivering mobile tactical networks, security and best practices that address organisational challenges from an operational, systems and end-user perspective and includes the increasing role of IOT and Fog Computing in the tactical arena.

Cisco will host customers walkthroughs throughout the duration of the show – 23rd November Tuesday through 24th November 9:00 a.m. to 6:00 p.m for below demos –

Demo-1: Collaboration: Key Message: Improve collaboration with technology that empowers people to engage and innovate — anywhere, on any device.
Products to be showcased: Unified Communication Solutions, IPICS and Collab end-points (DX80 and DX650)

Demo-2: Connected Safety & Security. Key Message: Protect and Prevent by applying Analytics to Video Surveillance

Demo-3: Cisco Security. Key Message: Threat-Centric Security: Advanced threat protection – before, during, and after an attack
Visit Cisco Booth #23,24 to explore how Cisco's solutions help networking India's Bravehearts and search for #CiscoatDefcom on Twitter for Live updates.

Date: Monday, 23 November – Tuesday, 24 November

Location:
India Habitat Centre, Lodi Road,
New Delhi

Duration: 2 Days

Attendance: In Person

Tags: