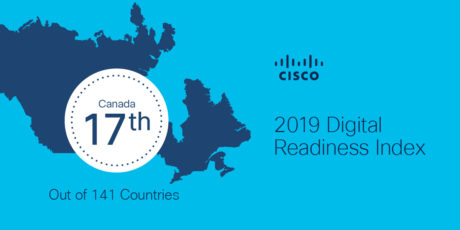 Canada Perspectives
2020 Digital Readiness Index: The path toward building a more inclusive, digital economy in Canada
In our digital world, where technology is advancing at lightning speed, it's more important than ever that people are getting connected to the knowledge and tools they need to succeed in the digital economy. From ensuring students get the right real-world skill sets and career connections, to creating spaces and developing infrastructure for local innovation to flourish – an inclusive approach to building our digital economy can have massive benefits to people around the globe. That makes it critical for us to understand how not just Canada, but countries around the world, are tracking towards that goal.
Cisco recently released the 2019 Digital Readiness Index, measuring the digital readiness of 141 countries across seven areas including business & government investment, technology adoption and technology infrastructure. The research uncovered key insights to help build our understanding of what it means for a country to be digitally ready, as well as possible opportunities to advance readiness.
According to the Index, Canada is in the 'Amplify' stage of digital readiness, meaning we're ranked amongst countries that have made major strides in developing the parts of their economy that support digital maturity. But the numbers aren't good enough – and we still have work to do.
While Canada has reached an advanced state of digital maturity, ranking 17th overall and second in the world for Technology Adoption, we're falling behind in several key components: including:
Ease of Doing Business (18th);
Technology Infrastructure (18th);
Business & Government Investment (20th);
Startup Environment (26th);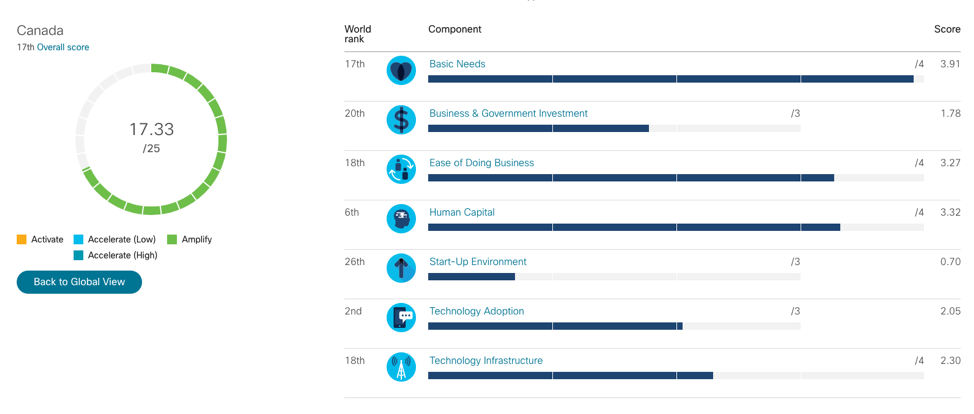 Canadian businesses, post-secondary institutions and all-levels of government must continue to take action to develop our digital readiness – or risk falling behind the rest of the world in competitiveness. Addressing the areas where Canada lags requires greater partnerships between the public and private sector to ensure a more inclusive future for our country.
Advancing Digital Readiness in Canada
Cisco's purpose is to power an inclusive future for all. The use of technology for good is critical to this future; a future that has the potential to create new opportunities, open up new possibilities for everyone and  give everyone the opportunity to participate.

At Cisco Canada, we've been doing our part to help shape an inclusive future because we know that increased connectivity correlates with economic growth. We've made significant investments in programs that directly accelerate Canada's digitization, contribute to building a highly skilled workforce and improve Canada's overall digital readiness.

These include:

We believe technology plays an essential role in advancing society, and that nobody should be left out of the opportunities it offers due to lack of access. We all need to do our part to build an inclusive future together. Cisco has been making investments to achieve this goal, but a holistic, collaborative approach is critical for reaching that common objective. So ask yourselves: how am I contributing? Together, we can make a true impact. Let's get it done.

Tags: