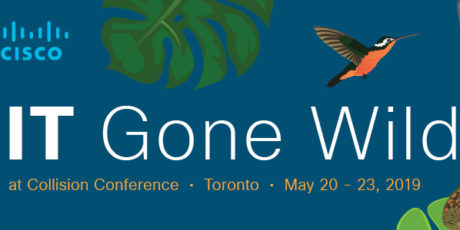 Small and Midsize Business
Tame your IT Jungle with Cisco for Small Business at Collision Conference
From May 20 – 23, Toronto will be the hub of technological innovation and disruption as it hosts the fifth annual Collision Conference at the Enercare Centre. The fastest growing tech conference in North America, over 25,000 people will attend from the world's largest tech companies, emerging technology companies, start-ups, and small businesses, the backbone of the Canadian business landscape.
So why is Cisco Canada excited? There's almost too many reasons to fit in this one post, but we'll try.
Everybody is all in one place
Want to network with like-minded industry people? This is the conference for you. Want to network with different-minded industry people? This is the conference for you. Interested in companies disrupting the technological landscape? This is the conference for you. Interested in the tech giants? This is the conference for you.
And it's not just about networking – there are over 400 speakers and 17 different learning tracks, from data analytics to marketing to fintech to start-ups to investment capital to SaaS. Get ready to learn from experts from every field.
Cisco is your guide through the small business IT jungle
Our booth will showcase our small business portfolio – a one stop shop for your networking, security, and collaboration needs. Don't just take our word for it, we'll be hosting live demos so you can see for yourself how these products work. You'll walk away knowing how Cisco helps simplify IT: securely, reliably, affordable, and, of course, simply. And you might just get a sneak peak of our new Cognitive Collaboration capabilities….
Did you know that the Cisco Canada office in Toronto is home to the only Cisco Innovation Center in North America?  Its sole purpose is to help businesses experiment, test, and co-create solutions to solve real-world business challenges. Visit the Cisco booth to learn more. Who knows? It could be the start of a beautiful relationship.
Tuesday May 21st will be Cisco day
We will also have two, can't miss-speakers on Tuesday: Karen Walker and Rola Dagher.
Karen Walker, Chief Marketing Officer, will deliver the afternoon keynote on Tuesday May 21st. Covering lessons learned from putting the customer first and making big bets on technology, she will look into the evolving role of digital marketing for businesses big and small.
Rola Dagher, president of Cisco Canada, will explore female leadership in the digital age in a thought-provoking fireside chat with Goldy Hyder, CEO of the Business Council of Canada.
Free stuff!
Yes, you read that right. And we aren't doing just one giveaway! You can enter to win a ticket to the conference, giving you access to all the exhibitors and learning tracks, simply by filling out this form. The contest closes on May 5th at 11:59 PM PST and winners will be notified via email.
We will also be giving away a prize just for saying hi. Visit out booth and have your attendee badge scanned to be entered to win a Cisco Meraki MR33, an access point which makes cloud-managed wireless simple and easy, and a 3 year licence.
We'll see you there. You can't miss us – we'll be the ones with the living plant wall.