Digital Transformation
Ryerson University Tackles Canada's Mining Industry Challenges
Guest blogger Hiba El Chaarani is Research Marketing and Communications Coordinator, Faculty of Science, Ryerson University.
As part of our commitment at Ryerson University to advance applied knowledge and research as well as involve our broader community to offer real world solutions, we have scoped Canada's growing industries and innovated its mining industry. Bringing together passionate students and start-ups from all over Canada, we organized one of the first hackathons in the Canadian mining sector. The event, which took place at Toronto's CISCO Innovation Centre, was hosted by the Canada Mining Innovation Council (CMIC) and sponsored by Hatch, McEwen Mining and Agnico Eagle.Building on our extensive experience of the innovation ecosystem, we demonstrated our integral role and momentum for innovation, growth and advancement.The result? Real world solutions, excellent networking opportunities as well as thousands in prizes and awards.
Welcome and Teaming Up
On May 12th, 13th and 14th, we hosted over 40 participants from start-ups and universities across Canada as well as over 20 expert mentors and judges from a wide spectrum of specializations. The hackathon aimed at shedding light on various opportunities in Canada's mining sector and offering tangible real-life solutions to two main challenges: ore transportation as well as reducing the volume of mine tailings.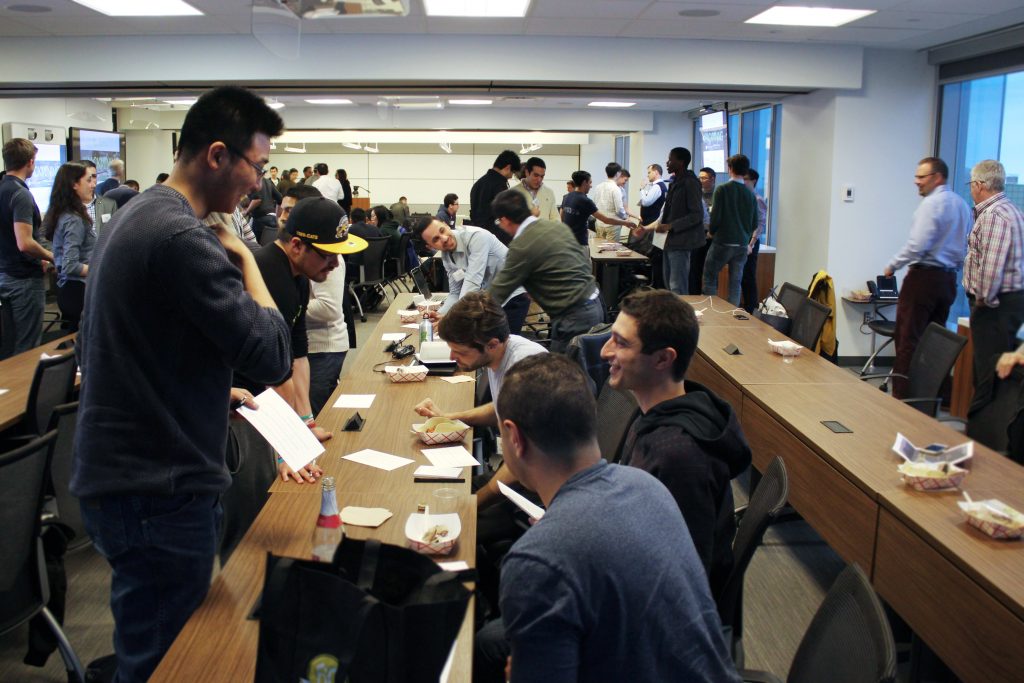 Edyta Pacuk, President of MarchFifteen Consulting, joined us on the first day as keynote speaker. By showcasing the various challenges that are facing the sector, Pacuk emphasized the need to innovate to help it thrive. She also highlighted the hackathon's main value in bringing together youth with diverse backgrounds, knowledge and perspectives to collaborate and present innovative solutions. Her words of encouragement reiterated the importance of the participants' contributions to the sector.

45 Hour Challenge

After getting the chance to network and choose their own teams, our participants then started their two-day journey to explore and hack the mining industry. Ideas, collaboration and a team spirit were the key. We also hosted a speed mentoring session which was an excellent opportunity to learn from mentors who offered valuable feedback and insights to the teams.

The third and last day kicked off with an inspiring presentation by keynote speaker Michael Wekerle, Founder & Chairman, Difference Capital Financial & Dragon in CBC's Dragons' Den, who inspired the teams before their pitches. Wekerle fascinated the crowd with valuable business and leadership insights and sparked the importance of innovation, resilience and transparency to succeed in business. The teams then pitched their ideas to the judges whose role was instrumental in posing all the right questions, providing inspiring feedback and selecting the hackathon's well-deserved winners.

We've received heartwarming feedback from the participants, mentors and judges on their experience. According to Alex Gill, co-founder of Ryerson's Social Ventures Zone "hackathons like this take people and give them expressed permission to think differently and come up with new ideas so you never know what's going to happen." This hackathon was a showcase of Canada's future talent and its ability to solve the industry's challenges as well as the role we have at Ryerson University to address real-world challenges and engage the community to develop innovative solutions.

For more information, visit Hackmining's website: http://hackmining.cmic-ccim.org/

Tags: