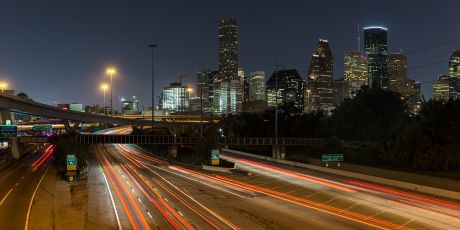 Enterprise Networks
"Don't Fight the Old" with Digitization
I can recall not so long ago when the terms 'SDN' and 'NFV' first emerged—at the time, these were loosely defined buzzwords that had the industry absolutely floored… even if no one knew quite their impact would mean in the long run.  Fast forward to 2017 and we've come a long way since—witnessing the network gradually becoming flatter and less siloed.  And now companies across all industries are going digital at varying degrees to meet the needs of today's enterprise landscape.
ZK Research studies have found that organizations are 64% more profitable that ones who have not embraced this shift.  So, what exactly does a 'digital-ready' network look like? Here's a shortlist to see how you measure up: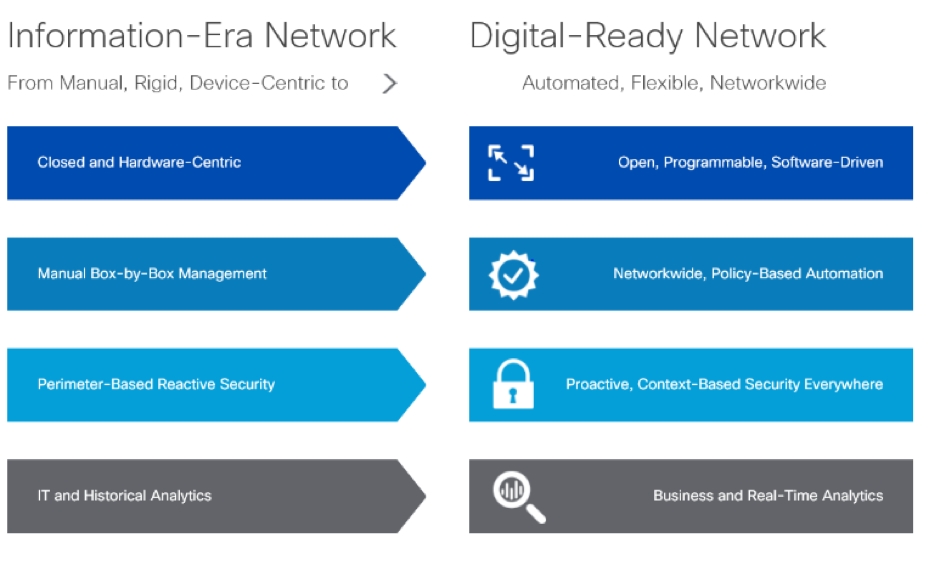 It encompasses elements of both cloud managed and on premise
It's simpler to deploy and easy to manage
It lowers security and compliance risk
It delivers quality insights and experiences
In short: although your legacy equipment may be running smoothly on the surface to get the job done, outdated hardware is simply not designed to handle today's digital challenges. It's time to get forward thinking and explore your digital capabilities to work safer and smarter, while creating better employee and customer experiences alike.
Kickstart Your Network into Innovation
Enter Cisco ONE Software, where hardware and software are decoupled to allow you to take the first steps towards digital transformation.  It provides a comprehensive solution that's easy to manage across campus and branch locations by combining hundreds of software features into an 'a la carte' / pay-as-you-grow model. This gives you the freedom to buy only what you need (when you need it), as well as the ability to transfer licenses from one device to another, enabling you to flexibly migrate at your own pace.   

Start at the Edge. Cisco ONE is enabled on the revolutionary Catalyst 3850 Series where the list of benefits include increased stacking bandwidth, support for up to 50 access points per switch, and convergence of wired and wireless over a single operating system.  Enhanced security with NetFlow data gives you access to the latest threat intelligence and detailed analytics, transforming your Network as a Sensor.  Plus, support for Cisco Catalyst Multigigabit technology delivers speeds beyond 1 Gigabit on existing Category 5e/6 cables to support 802.11ac Wave 2 –so no need to rip and replace cables.  So "switching it up" (see what I did there?) really has never been easier.

Unleash Your Branch Potential. The WAN is at the heart of digitization.  With more devices, more users, and more apps surging the network, manual configuration can't keep up—especially when dealing with multiple locations (not to mention those remote ones).  The Cisco ISR 4000 could be the answer to your routing woes. Also supported by Cisco ONE on a digital-ready platform, the 4000 series consolidates many must-have IT functions including network, security (built directly in the router – unlike it's predecessor) compute, and storage to give you end-to-end visibility.  With Gartner predictions for SD-WAN to explode between now and 2020, evolving the branch should be top of mind.

Socrates once quoted that the secret of change is to focus all of your energy not on fighting the old, but on building the new—and he couldn't be more on the ball in this case.  With support from the top of your organization, start with 'low hanging fruit' and smaller projects for early success.  The shift towards a more robust, intelligent, and digital-ready network remains on your terms, but first recognizing it as a key business imperative is crucial to maintaining a competitive edge.

Stuck in the past? Check out our 6 ways Cisco DNA is making your network edge future-ready.

Tags: