Cisco Canada
350 Students and 150 Days: I CAN Develop and the TORONTO 2015 Pan Am/Parapan Am Games
150 days to go until the TORONTO 2015 Pan/Parapan Am Games.
Less than five months for 350 students and instructors from 23 Cisco Networking Academies across the Greater Toronto Area (GTA) to participate in the world's third-largest international multi-sport Games … but these students won't be  biking, cycling or kayaking…they will make up an entirely different team… Meet Cisco's  I CAN Develop program!
What is the I CAN Develop program?
I CAN Develop is a Cisco initiative to support its Cisco Networking Academy institutions and students in the GTA and their participation as volunteers at the TORONTO 2015 Games.
How did it start?
23,000 … That's the total number of volunteers expected to support the TORONTO 2015 Games in July and August of this year. Some of those positions are in IT, ranging from basic venue support (customer support, printing, etc.) to advanced network installation and troubleshooting.
When we realized that our Cisco Networking Academy students are learning these very skills in their high schools, colleges and universities, we saw the opportunity to connect the TORONTO 2015 volunteering group and Cisco Networking Academies together to create a unique learning experience.
Who is participating?
Twenty-three Cisco Networking Academies in the GTA have agreed to participate and provide mentorship and support to their students volunteering in the games. As of January 2015, around 400 students and instructors have submitted their volunteering applications to TORONTO 2015: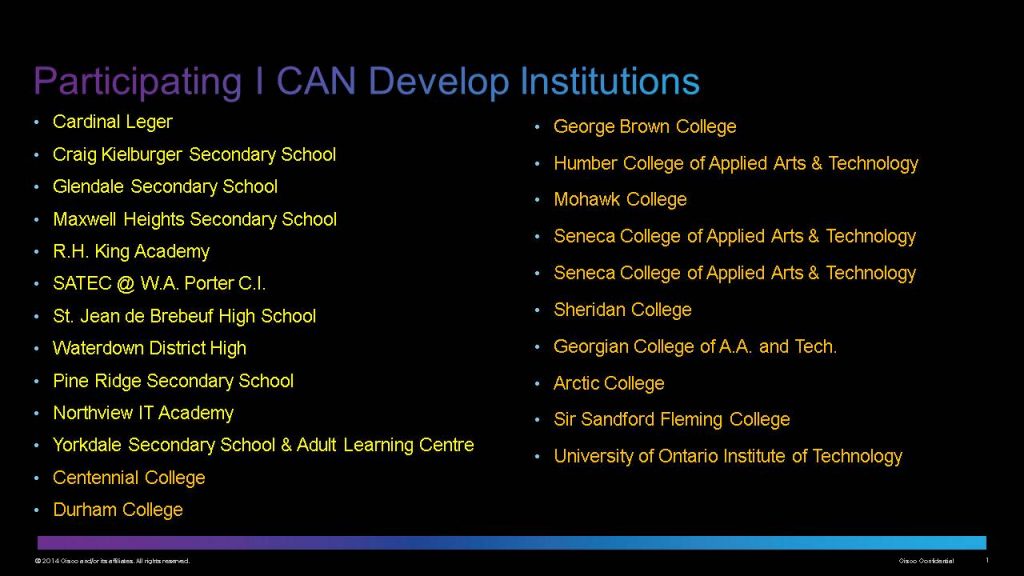 In addition, we are also proud to have special participation by the Arctic College in Iqaluit, with one instructor and a few students participating as I CAN Develop volunteers.
What's in it for everyone?
This is really the best part!
Students get real-world mission critical experience, resume building  opportunities, volunteer work for high school and college studies,  mentoring by Cisco Systems Engineers AND exposure to potential workplaces (Cisco, resellers, corporate customer sponsors). In addition, students who volunteer for the Games receive OSAP interest- and payment-free grace period extensions, or reduced pre-study contributions.
High schools, colleges and universities get institutional visibility (press releases, marketing, Cisco partners and corporate customer awareness), dedicated Cisco engineer mentoring with instructors and the obvious benefit that comes from interaction between high schools, colleges and universities: attracting students to further their studies.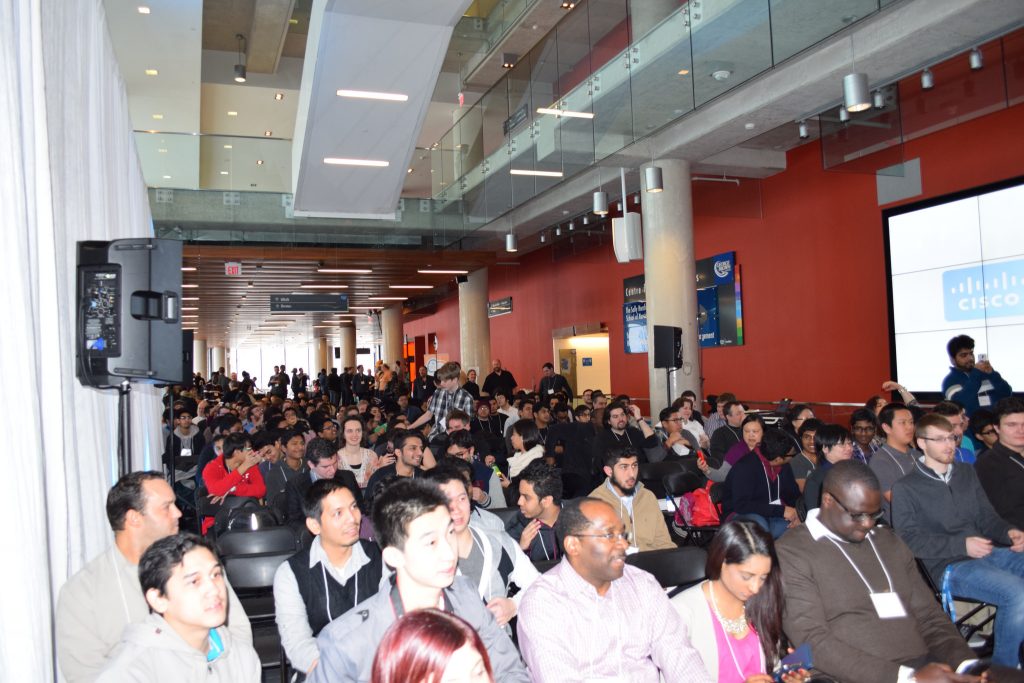 I CAN Develop participants attend the February 7th kick off event.

What was the February 7th kick-off event about?

It was a massive gathering and a great opportunity for all Cisco Networking Academy participants to catch up, meet the TORONTO 2015 organizing committee and the Cisco team of engineers and employees participating in the Games! We also shared a lot of important information about the logistics behind the Games and held a series of workshops to provide volunteers with the latest information on their participation and role this summer.

What are your thoughts on the I CAN Develop program? Leave a comment below or contact me directly if you have questions.

Tags: