Education
Students Showcase Innovation at Polytechnics Canada
Earlier this month I had the pleasure of attending the 2014 Student Applied Research Showcase, presented by Polytechnics Canada and hosted by BCIT in Vancouver.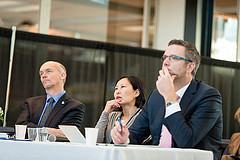 When we think about research in science, technology, and engineering, we typically don't think of Canadian Colleges play a very active and relevant role. Nothing seems to be further from the truth: in the 2013/2014 school year, 11,927 students at the Polytechnics Canada college undertook 1,789 applied research projects. Some 1,643 faculty/staff participated in the applied research, helping develop 946 prototypes among other commercial ventures.
Eleven of these 1,789 research projects were highlighted at the Student Applied Research Showcase on November 14th. For the 2nd year in a row, I was part of the jury that heard, questioned, and reviewed these eleven amazing student project presentations (one from each of the eleven College members of Polytechnics Canada) that exemplified creativity and ingenuity in applied research from Canadian colleges. The tweet capture below highlights the projects of each of the participating colleges. The whole Showcase day and the gala the night before were designed to celebrate and stimulate applied research within the Canadian college system, with a strong call for continued focus on science, technology, and engineering.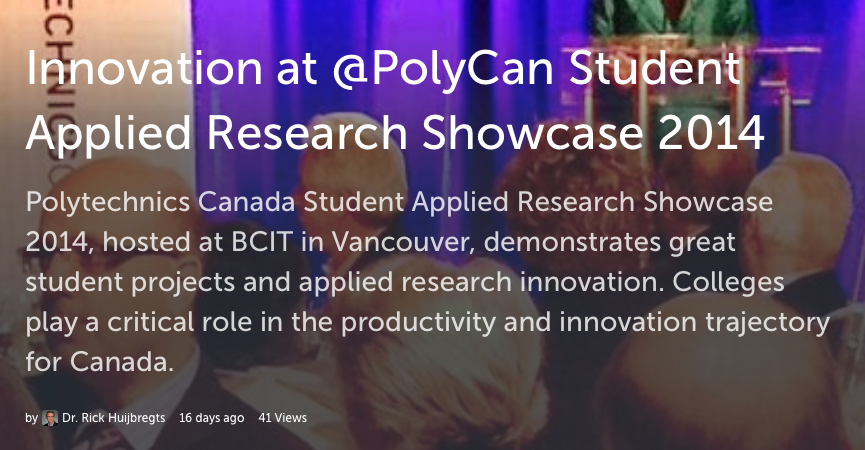 Both Bob MacDonald–a science enthusiast and host of CBC's Quirks and Quarks–and several Provincial and Federal government dignitaries argued the relevance of science and applied research for the productivity and innovation trajectory of Canada. Bob went as far to claim that the future of our country depends on it. He beautifully stitched together the recent experiences with the landing of the Philae lander on the 67P/Churyumov-Gerasimenko comet earlier this month with the innovation we've witnessed in the automobile industry and the inventions the world is waiting for to help us protect mother earth as we know her. His call to act and innovate was directly aimed at the many students that attended the Polytechnics Canada event and the great Canadian colleges.

Although the advancements we've seen in the last hundred years are nothing short of phenomenal, we are just at the beginning of the innovation acceleration curve. And it is not all just for fun. It is required if we want to create a safer, healthier, more productive, and sustainable world for generations to come–and we need it more than ever before. This job is not just for Universities and R&D organizations. It's critical for the private sector to engage in applied research, together with the 10,000s of college students that want to get exposed to solving real-life problems and challenges. When we all roll up our sleeves and evolve science, technology, and engineering, we truly have the ability to make a change for the better, and put the foundation in place for a economic, environmental, and socially sustainable future.

Tags: