Service Provider
Canadian Mobile Data Usage on the Rise, Inspiring Innovation for Service Providers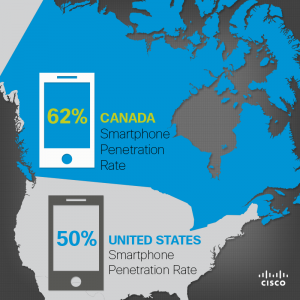 It's no secret that Canadians love their smartphones and mobile devices.
Over the last five years, Canada's mobile network has significantly evolved as smart phone adoption rates among Canadians have skyrocketed. In fact, Canada has the world's fastest growth rate for smartphone adoption and the third-highest smartphone penetration rate among the mobile phone population, at 62%, according to a recent ComScore study. Compare that figure to the 50% penetration rate in the U.S.
This extreme growth rate in smartphone adoption is also responsible for the massive consumption of mobile data through mobile video and Internet applications. So what does this increased mobile data usage mean for Canadian service providers?
According to the 2013 State of Broadband report, mobile broadband use will be triple the number of fixed broadband subscriptions by the end of this year. The report shows mobile broadband uptake is growing at 30% per year, and will be the fastest growing technology in history. Here are some other interesting stats:
Canada has the 12th highest fixed broadband penetration worldwide at 32.9%
Canada is ranked 32nd for mobile broadband penetration at 50%
According to Cisco, Canadian users generated over 77% more mobile data traffic per subscriber in 2012 than the global average.
Some reasoning for the rapid uptake of smartphones can likely be attributed to competitive pricing among service providers in Canada. In 2013, the price of mobile phone services fell by 13%, a trend likely to continue as carriers such as Wind, Mobilicity, Public Mobile, and Videotron introduce more affordable mobile plans.

As smartphone prices continue to fall and mobile usage rates rise, service providers will like encounter a host of challenges if their networks aren't properly prepared for the data being generated. However, the ever-increasing mobile broadband is generating innovation in Canada. Service providers are seeking new ways to accommodate the surge in mobile data traffic. As smartphones in Canada multiply, so do the opportunities to strengthen relationships with customers by delivering a superior subscriber experience.

Interested in finding out more about how Cisco Canada can help ensure your mobile network infrastructure can handle increased mobile broadband use? Visit our solutions page here.

Tags: