Corporate Social Responsibility
Experiencing 100th Grey Cup Madness Firsthand
Cisco had the pleasure of meeting the family of Steven Rodehutskors, two-time Grey Cup Champion, at the 100th Grey Cup Train Tour in Calgary. The family travelled to Toronto for the 100th Grey Cup. Tracey (mom) shared the family's four-day experience with us.
I don't really know how one sums up an "experience of a lifetime". Four days, two football games: 100 years in the making. And three very lucky, very excited individuals who were granted an opportunity to experience history. Yup, this should be a piece of cake! 
We are flying to Toronto!
Suitcases packed – check. E-tickets printed – check.  Extra coats, boots and mittens – check. Get lots of sleep before the trip – Ha, who was I kidding? We are going to the 100th Grey Cup in Toronto, the most historic Canadian football game, there was no way sleep was going to happen!
Vanier Cup Game
If you were to ask my oldest son Justin what his favorite part of the weekend was, he would say the Vanier Cup game. The game itself was great football; but I think it also had to do with the energy outside the stadium that night, which was amazing. All those people waiting for the doors to open; waiting for this momentous weekend to officially begin! McMaster vs. Lavalle fans et al…  It seems college kids really know how to party – who knew?!
I recall walking through the door to the box where we'd be watching the game and seeing the giant, green football field stretching out before us. The players had started to warm up- we were so close we could almost reach out and touch them!
I also met some memorable Cisco employees. I learned first-hand of the technological feats that were accomplished in making the Grey Cup Train so interactive and fun for its visitors. This was only the tip of the iceberg in terms of the magic that Cisco's employees created.
Saturday November 24th 2012
Saturday we were free to enjoy as we pleased. We immersed ourselves in downtown Toronto Grey Cup festivities; the three of us dressed head to toe in blue and gold – Winnipeg's colors. Although Winnipeg wasn't playing in the Cup; it's our adopted team; and we maintain solidarity for the Blue Bombers, even though we hail from south of Calgary. It's not that we don't support the Stamps; but Thomas' dad, Justin's step-dad – played for and won, two Grey Cups with the Bombers; and he will forever remain a constant force in our lives.
What a sense of community there was downtown! Every team in the CFL was represented that weekend. We walked through the streets with hundreds of other revelers – shouting, "Go, Blue" to all the Bombers fans whose paths we crossed. Here we were, all strangers, but all together, a part of this huge CFL community. The boys absolutely loved it! And later on that day, we were even lucky enough to run into some of my cousins and their contingent who, apparently, do Grey Cup every year. Hmmmm, what an interesting idea…
Sunday November 25th 2012
We rose early and made our signs for the game. Thomas created a fantastic red and white "Go, Stamps, Go" banner, despite an earlier decision on his part to cheer for the Argos (since his Dad had briefly been an Argo in his football career). You can never hang your hat on the decisions of a six-year-old. – they are ever-changing and quixotic.
Another gift for me was seeing Justin work on our "We Remember Steve" poster. Although he hasn't said very much about the loss of his step-dad this past 5 years, this trip revealed Justin's quiet pride in Steve and the personal memories that Justin keeps close.
There were so many festivities to choose from that weekend; it just wasn't possible to take part in everything. I thought the boys would most enjoy the pep rally, so we trekked to Nathan Phillips Square to wait for the Grey Cup. We were literally the first ones at the square, so it was a long wait. But it was great fun watching the pep rally unfold; being a part of the crowd as it gradually grew to fill the square. We had our faces painted, we chatted with new friends; we were there together – our little unit in a much larger mass of humanity, all celebrating the same thing.
When the Grey Cup parade finally arrived at the square, we were in the coffee shop bathrooms way across the street – victims of too much coffee and pop. We rushed out and joined the march, holding our banners high and cheering. Watching a parade is one thing; but being in one of that magnitude?  That was an amazing memory.
Grey Cup Madness
The rest of the day was a blur. We marched through the streets with the Cup. Reaching our hotel, we stopped to marshal our resources for the game. We grabbed our balloons and banners, and joined the throngs of people on the streets. I thought we had already seen crowds; but the walk to the stadium was complete and utter madness. There was nowhere to go but in the direction of the crowd. Justin put Thomas on his shoulders; and I held onto Justin for dear life. There was just enough wind to keep our helium balloons blowing right in the faces of the people around us. I'm sure they appreciated that!
Reaching Rogers Centre, we found a small patch of unoccupied territory outside, looked at each other, all smiles; and let our balloons go, taking our written messages up to the skies in Steve's honor. It would have been so easy at that moment to fall apart; and I do remember wishing he was really with us, not just in spirit. But there's no better way to honor someone's memory than by living the moments he didn't get to enjoy.
I haven't seen my Justin smile so much as in those 4 days. I mean, he's 16; he is morose, sullen and silent 90% of the time. I remember being that age and it wasn't pretty! But there he was, genuinely happy to be in the midst of everything we experienced, hugging his little brother. What a gift!!
Recap
My dear sister offered this advice just before we boarded the plane: "Be where your feet are". If life is made up of moments, then it behooves me to relish every single one in a trip like this! And there were so many, many moments to remember!
I can close my eyes and see the Vanier field; the CN Tower at night; the Grey Cup held high by RCMP officers; Justin's wide smiles; Thomas' fortitude and wonder; and I hear the crowds singing "Oh Canada".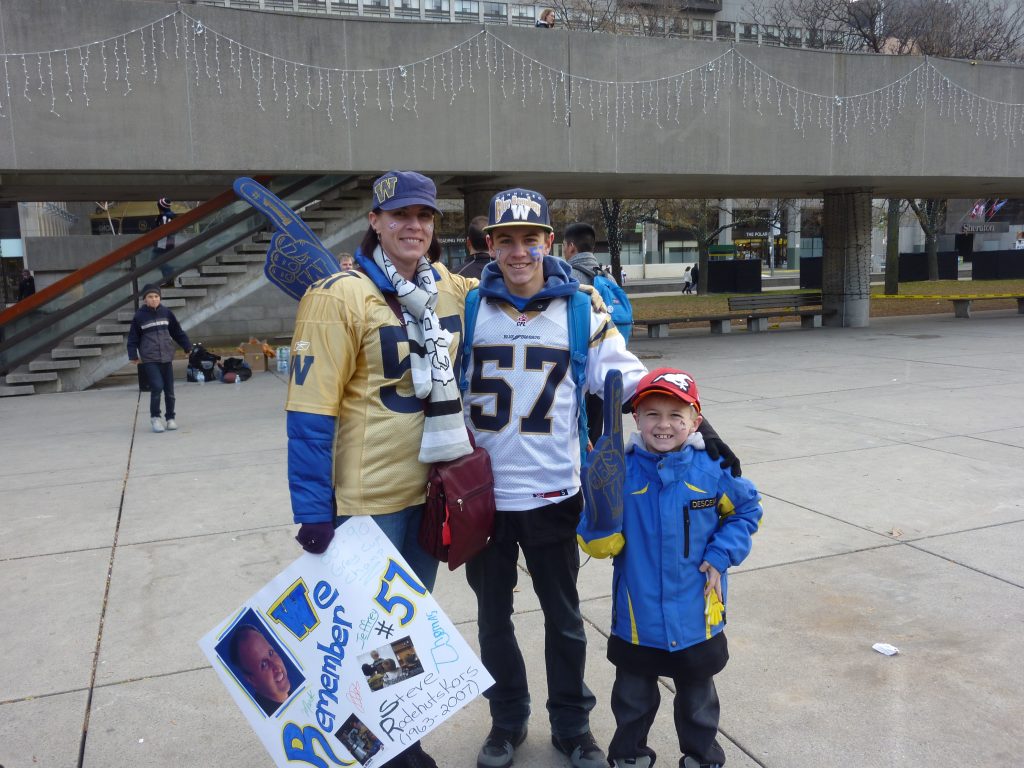 And even though the Grey Cup trip is over, it's kind of a new beginning for my family. We have our memories of the train, and those 4 days in Toronto; and now we have a new tradition to look forward to every year, because the boys and I have decided that we will join the festivities every November. No matter where the Grey Cup goes – we will follow it; to share that bond as a family, and remember our Steve all at the same time.

Thank you

Our weekend in Toronto has reminded me that it's important to try to be fully present as often as possible; and to appreciate the good moments.

I know that Cisco and the CFL are both big organizations, with many employees. But it turns out, those organizations are made up of fantastic people: really great; generous; quality people.

I will always remember those initial seconds when we met the two gentlemen who were instrumental in my family's trip to Toronto. When I received that telephone call informing us we were going to the 100th Grey Cup, I wondered about those people responsible for making that happen. We will be forever grateful.

As much as that weekend revolved around football; that's not what it was about. As Vince Mammoliti. Director of Strategic Investment, told us: the Grey Cup Train; the Grey Cup games; the 100th celebration: they are all about people. As Canadians, we love the Grey Cup, we love football. It's our opportunity to celebrate, together. And boy, oh boy that was truly one amazing celebration!

Tags: