Uncategorized
Men and their hair
Hair – it's a topic, that let's face it ladies, is something we tend to know a lot about. From the latest trends and styles, to celebrity hits and misses, the topic of hair, at least for me, is never a boring subject. A couple of weeks ago, I received one of the worst haircuts of my life, notwithstanding the horrendous perms of my youth, which set me complaining to any female friend that would listen. And, as was to be expected, I received in return, understanding looks and shared experiences of haircuts gone wrong. Conversations about hair, partners not noticing a new do, or appointments that recall memories of Edward Scissorhands, are most often the domain of women. But around our office, and many others, November has turned into a month all about Men and their hair. 
Movember, the month formally known as November, has ushered in a new phenomenon where normally clean shaven men take great pride in sprouting a wide range of impressive, and sometimes barely there, moustaches and devote time and care to crafting the perfect look – Handlebar or Walrus? Lunchtime conversations have been reserved for comparing, soliciting donations, and an occasional jab at the less efficient growers. And everyone seems to be getting in on the trend; from radio and TV stations offering up advice, to rookies on how to grow the best Mo, to store shelves stocked with Just for Men moustache color, and Wikipedia educating us all. While it may cause us ladies to cringe and start counting down the days till December, it's all in the name of a good cause – raising money and awareness for Prostate Cancer Canada.
With employees participating from our offices across Canada, the Cisco Mo Bros, and a few Mo Sistas, have raised the bar once again, with a goal of $50,000. They even implemented special incentives for team members to pull their fundraising weight.
For Cisco Canada, this year, the trend of men and their hair didn't start and end with Movember. One of our brave executive team members, Joe Deklic, also offered up his pride and joy (his hair) for a good cause. In a late night bet, one that he might now be regretting, Joe agreed to shave his head if the Cisco Canada family raised $10,000 in support of Kids Help Phone. The prize, the highest fundraiser (team and individual) got to man the clippers and shear off his luscious locks. We exceeded our challenge, raising $11,805 and through our foundations matching gifts program we turned it into $15,479!  On December 5th, employees from across Canada, and even a few from our headquarters in San Jose, joined live via Cisco TelePresence to witness the historic event. It was a day no one, especially Joe, will forget! He was, of course, presented with the clippers in case he decided he likes the new look.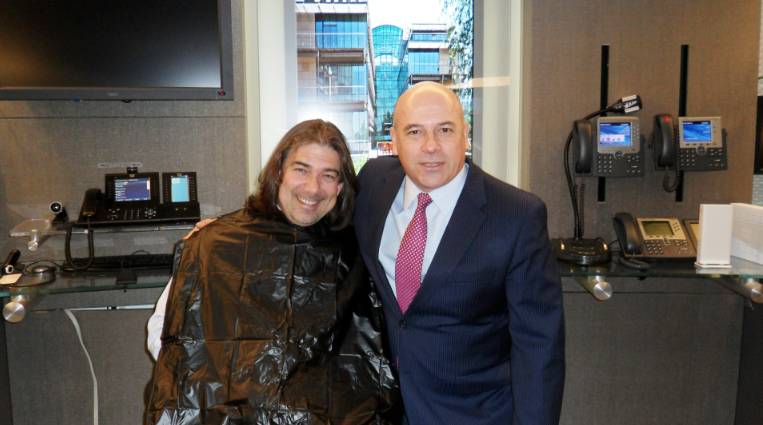 Before (Joe is on the left!)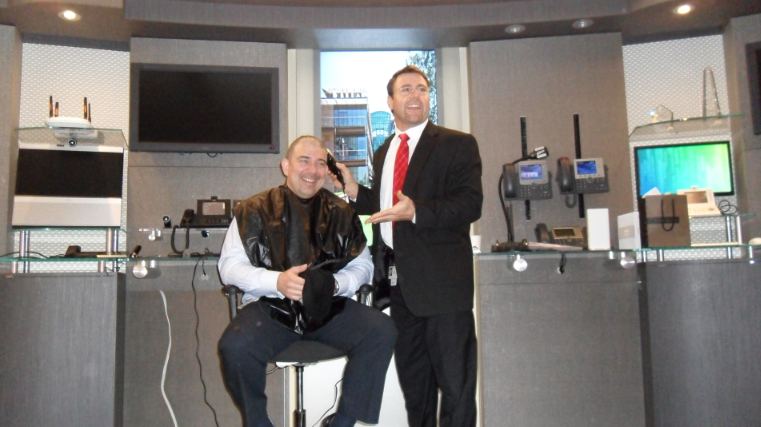 After

November (Movember) was a tremendous month of giving back at Cisco. Our employees never cease to amaze us with their generosity and competitive spirit. A special thanks goes to the Cisco men for encouraging us all to give back this month, making us proud and making a difference. I raise a razor to you!

Tags: