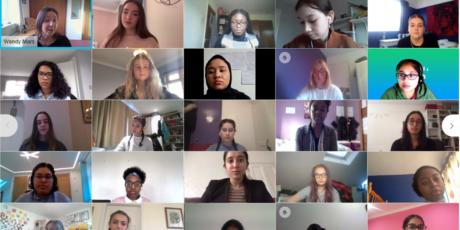 Corporate Social Responsibility
Young Women's Work Experience – #ChooseToChallenge
Why are there more men in the IT industry than women? Not just a few more but, according to this year's Tech Talent Charter (TTC) report in the last quarter of 2020 women made up 19% of the UK IT industry. Cisco is a TTC signatory and amongst TTC Signatories, women represent 25% of the technical roles. Here at Cisco right now we have the highest level of gender diversity to date in the UK. Nevertheless there's still a long way to go.
At Cisco we choose to challenge the status quo by ensuring we have a 50/50 intake for our two Pathway to Your Future (PTYF) work experience for students age 14-16 programmes and then we have our PTYF programme specifically for young women and those who identify as female* age 16-18. The young talent pipeline from these programmes has hit some great milestones. We are proud to say that of our apprentice intake for Fiscal Year 2021, 47% are young women (28 women) and 28% of them came through our work-experience programme. Since Fiscal Year 2019 we've provided 28-60% of our overall female Apprentice intake.
From time to time I'm challenged as to why we have a young women's work experience programme. "Well that's sexist!" they say and "What about my year 13 son?" are amongst the common questions we are challenged with. This can be an uncomfortable conversation, but essentially until we have a more equal gender balance in Cisco we will continue with the programme. We know now that reaching young women when they're making these life choices is important. One of the purposes of our Pathway To Your Future work experience is to inspire young women into taking the path less trodden and making it the main road.
And this is never better realised than with the young women's programme. We continue to choose to challenge and in February half term we held our most recent programme. It was the third of our programmes to go virtual and although we had the experience of running virtually back in July and October, this programme is a different challenge altogether.
The earlier programmes are much more about taking a broad, high level look at what goes on in a global IT company. (Read more about our first virtual programme.)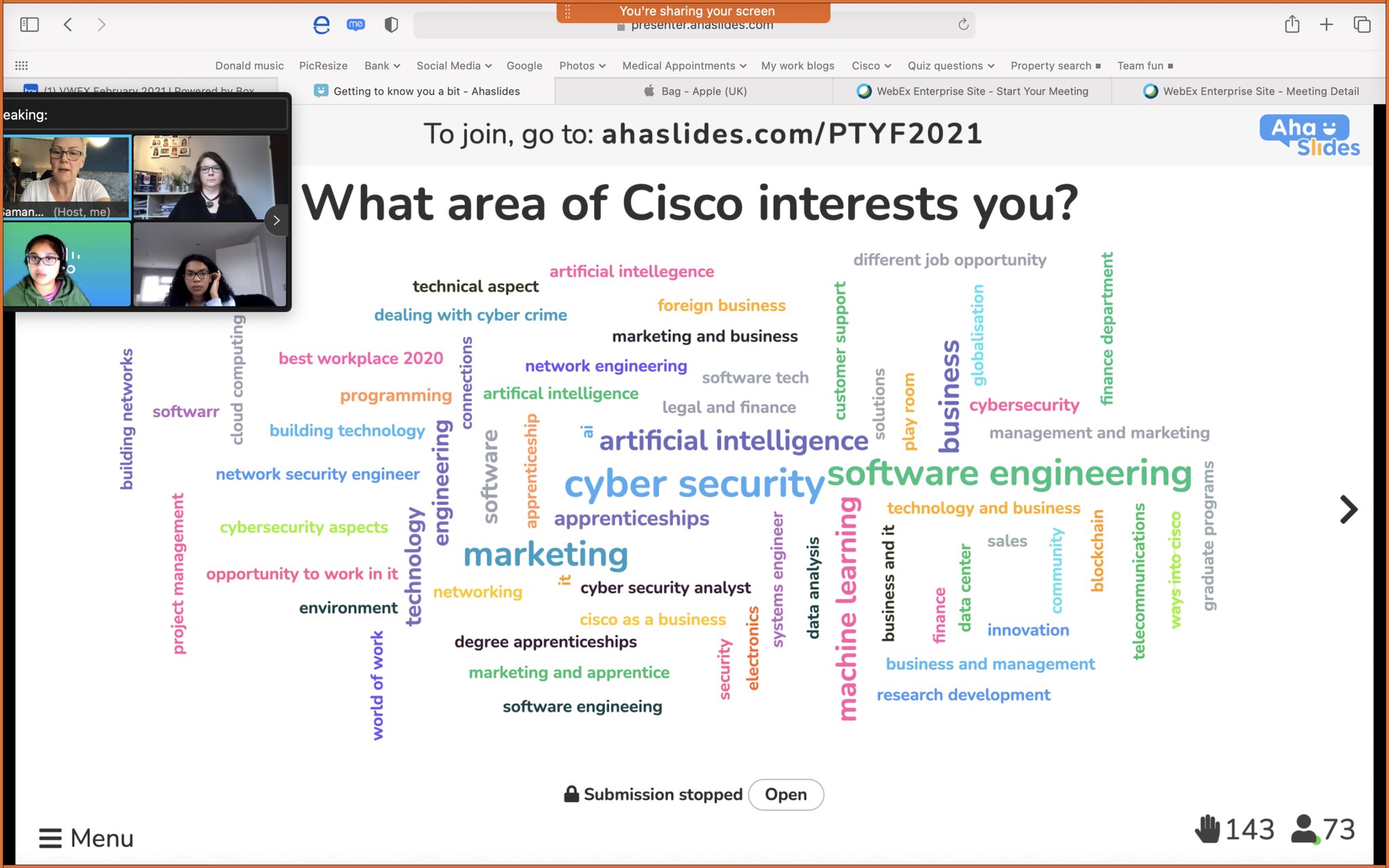 For this programme we wanted to ensure that it would still deliver the in-depth experience of shadowing a Cisco team that we offer with our face-to-face programme. And we did this by offering 15 Insight in-depth sessions with Cisco employees – taking a closer look at what they do and getting stuck in with real work activities. We covered functions across the board from engineering, IT, and cybersecurity to sales, marketing, finance and more. We covered technical and business roles plus roles that crossed over. Students were able to select two areas to learn more about in small groups, direct from Cisco employees
As with our other programmes we partnered with MyKindaFuture and their online platform Connectr in addition to partnering with Hounslow education charity Spark! to deliver sessions on employability. And, of course, with many, many of our own employees volunteering their time to deliver sessions about Cisco: facilitating daily project based teamwork, doing mock interviews and delivering the Insight Sessions. At one point we had 127 employees and students in a Cisco Webex meeting split into 14 breakout rooms! Webex worked brilliantly for this type of collaborative activity and the students regularly gave feedback that they really enjoyed working in the breakout rooms as it gave them the opportunity to meet each other in smaller groups. Many have made new friends and they even set up a chat group so they could all keep in contact.
So what did we cover over the three days? We kicked it off by interviewing Cisco EMEAR President Wendy Mars. She talked about her career path, whether she's always known what she wanted to do for a career, how challenging it was working in a sector where there are often more men than women and finally, she offered advice for people starting out in their careers. My key takeaway? When a door opens, walk through it. It was a rare chance for these young women to learn from someone who has lived experience.
We took a look at the numerous functions it takes to run a business and we compared this with Cisco. We also covered employability skills. Our early in career recruitment team came and gave some great CV and interview tips and tricks in the lead up to the mock interviews, plus a teamwork project that built towards our very own 'Dragons' Den' pitches at the end of the week. Other sessions looked into how salaries work. It's surprising how many young people don't know that the gross salary is not what you take home. In addition we had the fantastic self-led modules on Connectr covering professional skills including a brand new module, "Managing your development", aimed specifically at these students.
Feedback from all sessions was excellent, scoring 4.5 to 4.9 out of 5!
"I found it very useful to have a speaker like Wendy Mars talk about her career and life advice. Thank you."
"I loved it, Very inclusive and fun."
"Really fun, loved the break out rooms so that the session was interactive."
"Got much more of an understanding about what i would like to do in the future… know more about my options."
"Really good session and enjoyed the breakout room discussion, she was really good at being engaging!"
"This made me feel much more confident for the future."
"Excellent, employability skills session was very good and great advice was given!"
"It was great! I learnt so much about degree apprenticeships as well as the standard route into marketing. Something I particularly liked was learning about how marketing has adapted due to covid."
"Really enjoyed it, the presenter was very engaging and kept us involved and made it relatable. Learnt a lot from it and I am going to go on and research more into finance :)"
"Really helpful for advice on how to do well in interviews."
"Both of my interviewers were lovely and really gave me food for thought in terms of the degree apprenticeship programme. They also gave me helpful advice of my CV."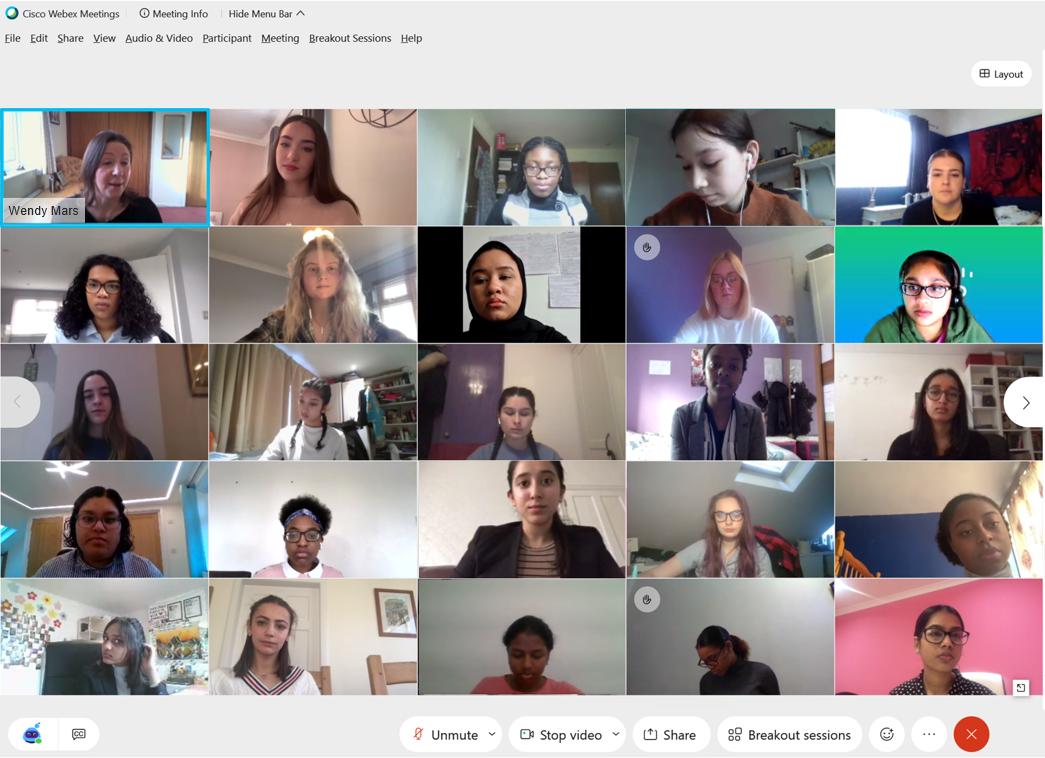 As ever we are looking forward and planning for our next work experience programme. It will be 5-9 July 2021 for students aged 16/in Year 11 or equivalent and will be virtual. We hope by October this year to be able to have a virtual programme and also invite people back to our offices for a face to face programme.
However we deliver these programmes, we will continue to #ChooseToChallenge and continue to work to increase the number of young women choosing a career in the IT industry.
You can follow us on Facebook, Twitter and Instagram to find out what programmes we have coming up and when applications open.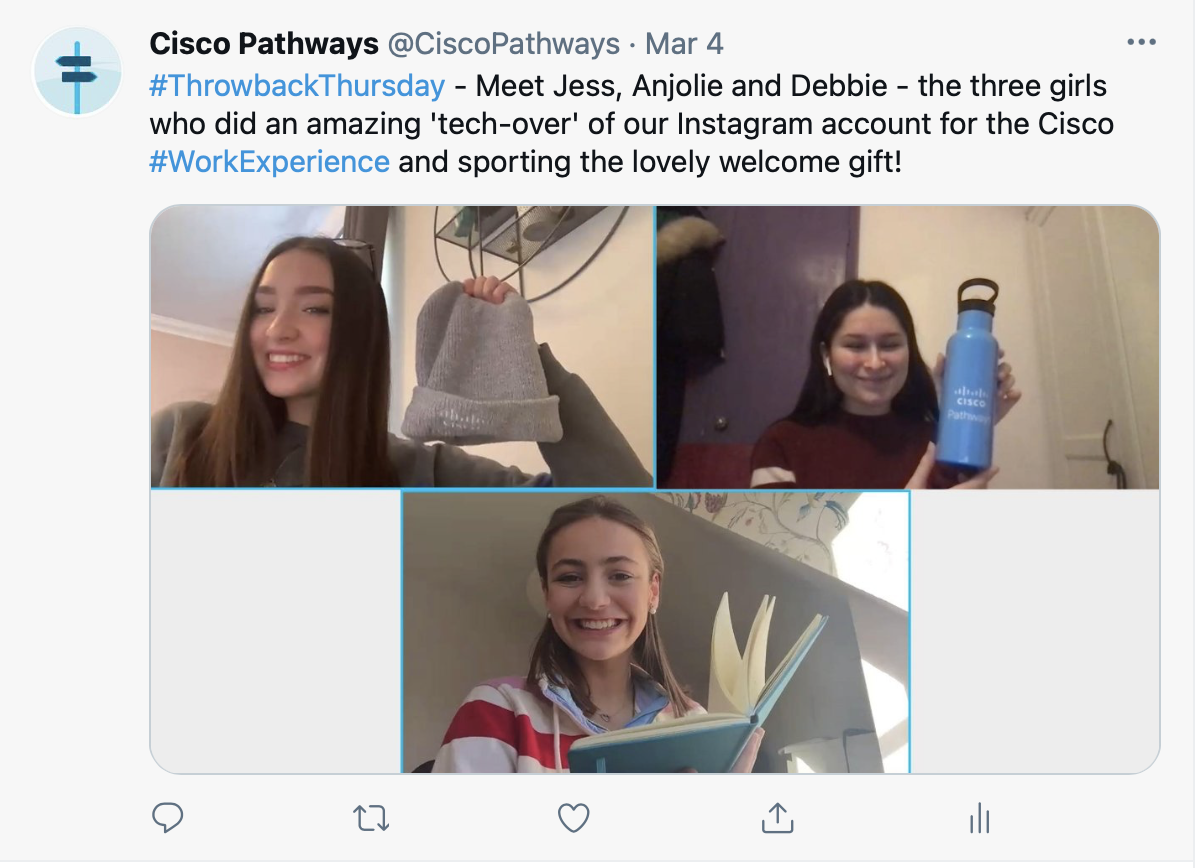 *Cisco respects that gender is on a non-binary spectrum, places on this programme are based on the student's self- identification and are open to those who identify as female or non-binary.

Tags: