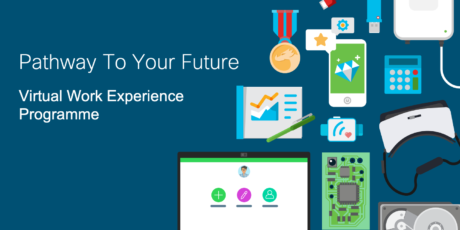 Digital Transformation
Cisco Work Experience Goes Virtual
The upside of being in lockdown due to the global pandemic is we're all learning to do things in a new way.
For nearly six years we have been running a successful work experience programme twice a year for a week in two locations, for students in Year 10 & 11, with around 50 students attending each week. We had a programme planned for July; a week in our Bedfont Lakes office in Feltham and a week in our Green Park office in Reading. Applications were in and we were just a couple of weeks away from offering places. Then the country was put into lockdown. At this point Cisco employees were already working from home and our offices were closed.
Suddenly we had to accept the reality of what this meant to us as individuals, but also what it meant for others – specifically the students we were preparing to see for work experience. Students in exam years were told they would not be sitting exams and this really left them at a loose end, feeling unsettled and unsure about what to do next. So to give them some encouragement after their school year ended so abruptly, we decided to convert our scheduled work experience to an online programme for Year 11 students. But is there any value in bringing a group of students together, who can't meet each other, and won't get to visit our corporate offices to feel what it's like to be there?
We contacted students who'd already applied to let them know we would be replacing the programmes in Feltham and Reading with a one week virtual programme. We reopened applications and advertised that students from across the UK could apply. Being a virtual programme meant that location no longer needed to be a critical factor. And we did in fact have students join us from as far away as Scotland and Northern Ireland, delivering our first bit of added value.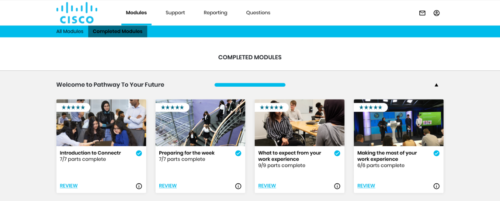 In partnership with MyKindaFuture (MKF), who we already worked with on our Pathways schools' programmes, we planned the weeklong virtual programme. It would run Monday – Friday 10am – 4pm. We decided that instead of having a technical stream and a business stream, all sessions would run consecutively so everyone could attend everything if they so desired. There would be compulsory sessions and 12 selectable sessions that could be chosen based on an area of interest. Students would have to complete a minimum of six sessions but they could attend more if they wished. And many of them did! At last it meant that students could have an interest in Cyber Security but still be able to attend the Sales session. So that was another benefit realised.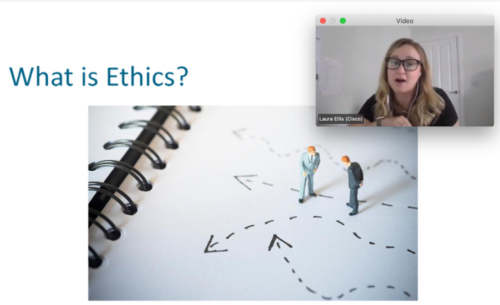 This virtual experience was starting to feel like a really viable option. In many ways this may actually be better preparation for the future given that more of the world will be online. With this mindset we very quickly identified areas that might need to be different but would be no less valuable. Speed interviewing could still happen and our Dragons' Den inspired project would still go ahead. We decided on a mix of live and pre-recorded content. MKF provide online hosting along with the standalone modules on their Connectr platform. Cisco employees deliver all the live sessions using our collaboration tools – Webex Training, Webex Meetings and Webex Teams.
Using MKF's Connectr platform meant that students could sign up and get prepared up to two weeks before the programme. It also meant this content and the other modules were available to them at any time and students were able to complete the online modules at their own pace. We hoped that students with limited access to a computer could prioritise/schedule attendance for the live sessions and then complete the modules at a time that was convenient to them.
With all sessions being delivered by Cisco employees we had a lot of volunteers to find. We needed multiple volunteers for speed interviewing and to be team facilitators. When we reached out for volunteers our next benefit was realised. People were more readily able to sign up to support as they were no longer constrained by the need to be in the office and could take part from anywhere. We saw many people volunteer who'd never been able to before.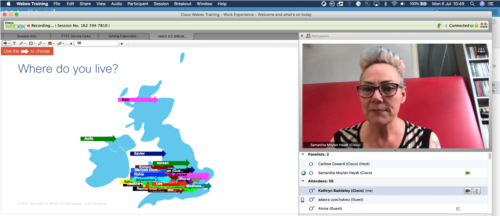 As always, we had twice the number of applications than we had places. We selected 60 students and offered them a place.
At 10am on Monday 6 July, we were ready to roll! The programme was kicked off by the Cisco UK & Ireland Chief Executive, David Meads and across the week we had live presentations from Cisco employees from right across the business.
These sessions gave an overview of the many roles within a global IT company and some useful snippits for anyone interested in learning more about Cisco, the IT industry and business as a whole. From Sales & Marketing to Engineering, Cyber Security and Ethics & Compliance, learning opportunities abounded. MKF's Connectr platform hosted daily quizzes and each day a new module was made available to students. The modules were on Communication, Teamwork, Job Applications and Personal Brand. Now this already sounds like a great week but there's more! Each student practises their interview skills and is 'speed interviewed' by three Cisco employees and receives feedback. Throughout the week students work on a Dragons' Den project
that involves them working together in groups of six to create a product or service that meets a social need.
Each day kicked off with a 10 minute prep call about the day ahead, and closed with Dragons' Den project work and a 10 minute wrap up to discuss how the day had been, answer any questions and do a feedback form. The gathered feedback helps us to improve the programme by hearing what works and what doesn't.
It was a learning opportunity all round. A chance for students to learn about Cisco and the IT Industry and for us to learn about delivering remote learning. We learnt and improved as the week went by and the students did too. But did they enjoy it?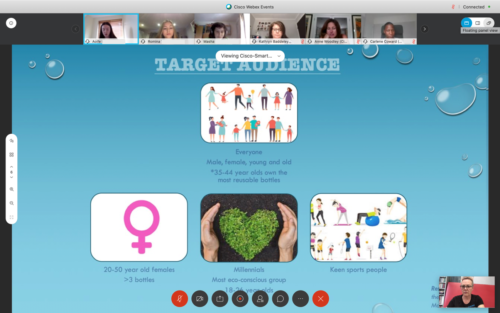 Did they learn anything? Well I'm pleased to share with you that the feedback from students was outstanding, telling us that it was 'better than normal work experience', that they'd made friends that they would be keeping in contact with, that we'd opened their eyes to options they'd never thought of, that they'd been able to join only because it was virtual and that they wanted to come and work at Cisco in the future. The feedback rankings showed the Dragons' Den project was chosen by the majority of students as their favourite part of the week. Interestingly the session scored 4 out of 5 on the Monday but by Friday it scored 4.9!! Really demonstrating how the more time they worked together the more they enjoyed it.
But what did we learn? We learnt that not all connectivity is equal. Issues with WiFi or audio not working led to difficulties joining the sessions and limited some students' ability to interact. We learnt that sessions with a practical element need to be longer and if things overran slightly, students would have no time between sessions and were having to finish one and go straight to their next with no time to let the learning settle. We learnt that students were more ready to ask questions than when they're face to face and that they loved interacting with the built in emojis and polls in Webex Training. All these factors are being used to create an improved timetable for the autumn term programme.
So that was our first ever virtual work experience programme. Our first but most definitely not our last! Cisco has taken the decision not to hold any onsite events for the rest of 2020 so we will need to hold our autumn term programme virtually as well. However, the programme was so successful that our virtual pilot will become an extra string to our bow rather than an alternative one. The plan is to run virtually in the autumn term but to run a face to face week in Bedfont Lakes and a virtual week towards the end of the summer term next year. We also have a girls' only programme for years 12 & 13 and we're yet to decide on the best way to do that. It's quite a different experience but do keep an eye out on our Facebook page facebook.com/ciscoworkexp for all the latest plans and to learn of related programmes that may be of interest.