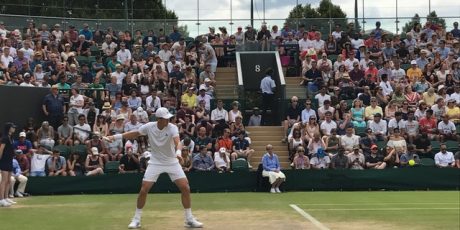 Security
How can your data be more helpful? The Wimbledon story
Ahhh Wimbledon. The best two weeks of the year is unfortunately starting to draw to its inevitable conclusion, and I for one am going to miss it more than a portion of strawberries would miss the cream.
What a two weeks it has been. We've had proud performances from the Brits; Roger and Venus looking back to their best; and not one, but two severe breaches of Wimbledon's strict all-white dress code policy…each involving the chair umpire having to call for a selection of tightie whities to be sent courtside.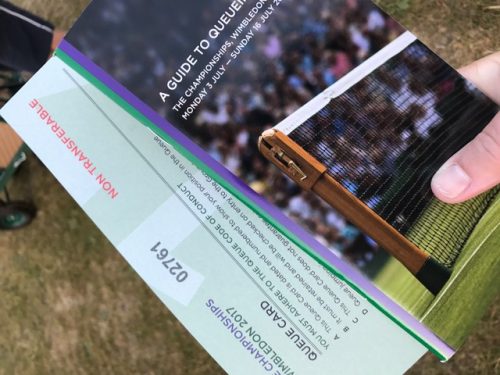 I travelled to Wimbledon earlier this week for 'Manic Monday'; the day when all the remaining singles hopefuls compete for a place in the quarter finals. It involved a 4am start, 6 hours of sitting in a field, and a 30 page booklet entitled, 'A Guide to Queuing' (you just don't get more British than that…)
But wow, it was worth it.
I spent most of my day on Court 3, and I was fortunate enough to get a front row seat for Tomas Berdych's dramatic 5 set victory over Dominic Thiem. (Although ultimately I did question how lucky my seat selection was, since I was directly in the path of Berdych's killer 140mph serve and only a well timed duck saved my forehead from sporting the imprint of Slazenger).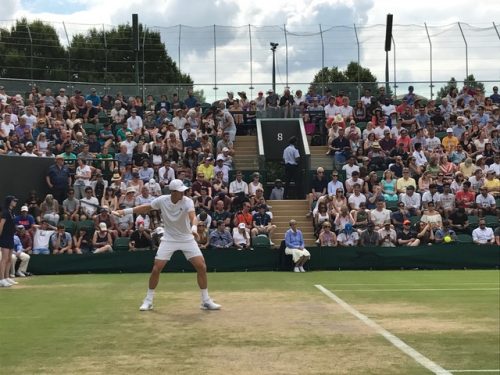 It's been a while since I'd been to see top level tennis live, and I had forgotten just how much faster it is than it looks on the TV. I struggled to fathom how returners even got a racket to most of the serves that came their way.
Perhaps it's all in the prep. There is an extraordinary amount of data available to the players today, which is designed to help them play their best game against each opponent…140 mph serve or otherwise.
IBM's Slamtracker tracks millions of data points, and before each match it picks three 'keys' or 'targets' for both players based on their past performances…these can be the percentage of serves to return, or a percentage of points to win with the first serve.  There are many possible options.
If all three keys are met, then that player should win the match. In theory.
It's all about using data and knowledge to transform the outcome. But is that all it takes? A huge amount of data?
Let's look at the Slamtracker information from Johanna Konta's semi final match against Venus Williams yesterday.
The scoreline was 6-4, 6-2 in Williams' favour, which isn't the most flattering scoreline in the world. If you didn't see the match, you'd be well within your rights to assume that Williams dominated Konta throughout.

However, when you look at the stats in a bit more detail, it's a lot more equal than the scoreline suggests.  And that's because it was.
Williams' and Konta's average first serve speed was exactly the same – 104 mph.
Their average second serve speed was in 1 mph of each other. Williams averaged 91 mph, and Konta averaged 92 mph.
From those stats, William's victory probably wasn't down to the power of her serve.
But then again, maybe it was…
When you look at the return of serve, Williams returned far better. She won 43% of the points on Konta's serve, whilst Konta only won 26% of Williams' serve.
The difference between winning and losing was, it seems, on the ability to return a serve of exactly the same power.
This is useful information for Konta as it allows her and her coach to focus on her training needs. But was it this that cost her the match?
Whilst Konta's return record certainly didn't help, I believe there was another factor at play – something that the stats couldn't possibly tell you – which ultimately caused her 2017 Wimbledon journey to come to an end.
So much of tennis is about the mental game, not just the physical. Konta has worked extremely hard on this side of things for the past few years, which is a large part of reason why she has gone from majority first round exits to making the semi finals of two recent grand slams – the Australian Open and Wimbledon – in such a short space of time.
Yesterday's match was a particularly high pressure situation for Konta. She was playing her idol, Williams, who had not dropped a set on her way to the semi final. She had the hopes of a nation on her shoulders who hadn't witnessed a British woman in the Wimbledon finals since Virginia Wade in 1977. And, as her coach Wim Fisette admitted, she is relatively inexperienced at playing at this level:
"It's all kind of new for her…She has never reached this far at Wimbledon before, so it's a completely new situation. She's learning how to handle these situations."
On the other hand, if you'd seen Konta defeat no.1 seed Simona Halep on Tuesday, you'd have believed she had absolutely no problems in the pressure department. Having lost the first set on a tiebreak, she was actually two points away from losing the entire thing in the second tiebreak. But she held steady, made her breaks, and took full advantage in the third set.
So what changed in the Williams match? Well, Konta had two break points in the middle of the first set. She failed to convert either of them, as Williams, sensing danger, demonstrated exactly why she's a seven time grand slam champion.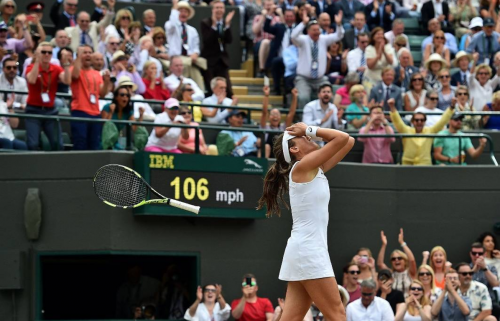 After that, it all started to go a bit wrong. Konta lost her service game immediately after those missed chances, and you could tell she was still rueing them.  The first set soon evaporated from her grasp.
In the second set, those breaking opportunities were few and far between. As Wade herself said in the post match analysis, "I thought Jo played really well but every time she had a bit of an edge, Venus came up with something better."
No doubt Konta and her coach will be working on how she can better convert opportunities when she's up…but you wouldn't know that by looking at the data alone.
After all, in tennis, it's not necessarily about winning the most points. It's about winning the right points, at the right time.
As I was watching the Konta match yesterday, I thought about how important it is to properly interpret the data that you have in front of you, and be prepared to look for patterns that aren't necessarily visible on the surface…whether you're facing a formidable opponent on the tennis court, or in your business.
To put this in a Cisco context, this is one of the reasons why we have such a large and accomplished group of threat intelligence researchers (our amazing Talos team). Their job it is to 'think like the opponent' and to trust, but question and verify the data.
So much of defending your business against cyber crime is in the 'mental game'.  What motivates hackers? What tricks do they have up their sleeves? What are the newest ways they are trying to evade detection?
The whole point of this is to put our customers in the best possible position to protect their valuable data from unsanctioned access.
We have to understand the mental game played by cyber criminals…because they certainly understand their targets (down to their likes and dislikes and how they conduct business). They exploit any weakness they find ruthlessly…and they don't just use technology to do this. They are cunning, and their plan is to mislead and distract (just look at the rise of DDOS attacks).
1 in 3 UK businesses receive over 50,000 security alerts on a daily basis. Most businesses have no idea that they receive so many, and that's why half of these alerts are never investigated.
If it's what we can't see that can cause the most damage, this is a situation that surely needs to change.
The good news for Cisco customers is that Talos maintains the largest threat-detection network in the world, using leading-edge detection and prevention techniques designed to discover, assess, and respond to the latest trends in hacking activities, intrusion attempts, malware, and vulnerabilities…and those pesky mind games!
Within Talos, a handful of closely knit teams focus on different fronts in the fight. The outreach team constantly scans for emerging threats. Other teams reverse-engineer new malware and vulnerabilities and create protections for our customers. Still others focus on getting the word out, issuing public security reports and communicating directly with customers, IT vendors, and service providers – even competitors.

They question the data, make sure it's telling the truth, and remediate that intelligence in stunningly quick timescales for our customers.

Advantage customer.

Learn more about our threat intelligence capabilities.

Tags: