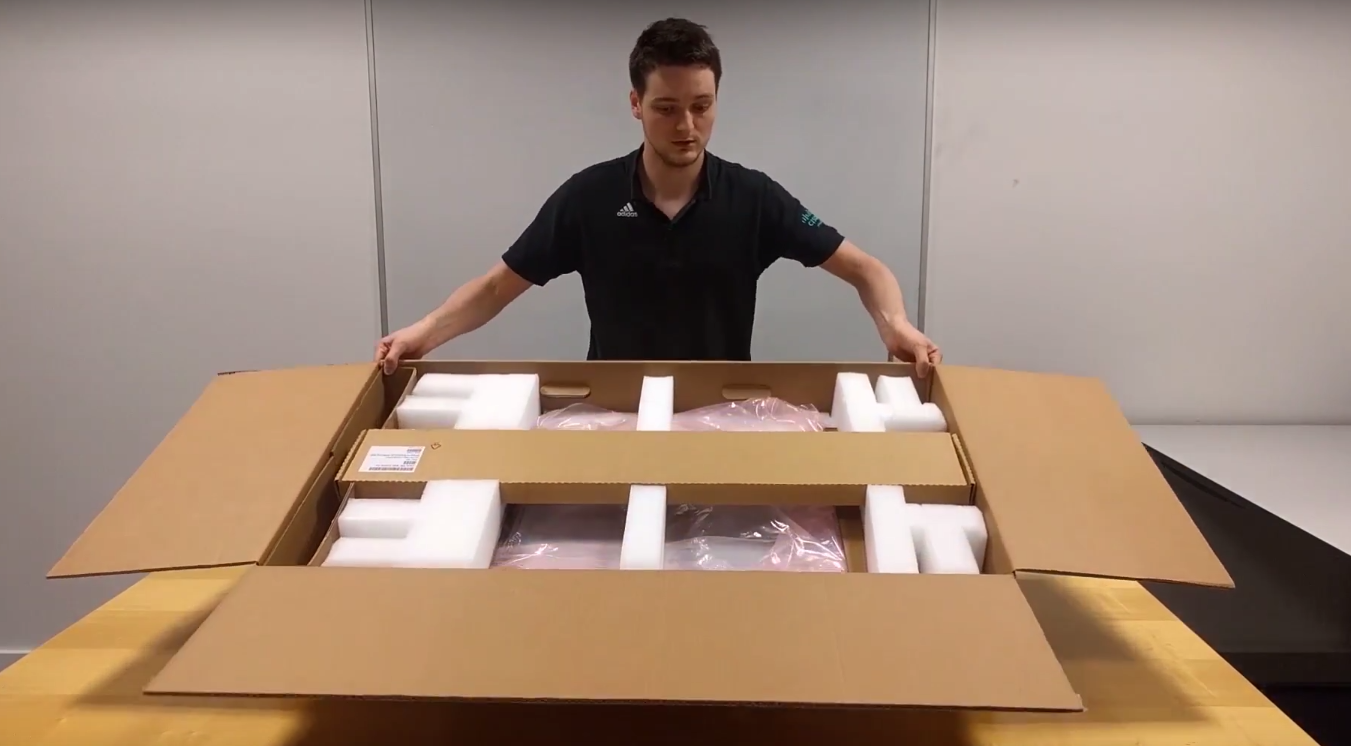 Data Centre
What's in the box?
Get ahead with hyperconverged and avoid surprises
Hyperconverged delivers on the promise of moving at the speed of business. It brings agility and the pay-as-you-grow economics of cloud to on premise datacentres by fusing compute, network, virtualisation, storage and data protection into a single platform. One that's deployed in under an hour and managed with simple and well-known tools.
You can start small and grow as and when needed. You can do more and spend less. And you can act faster – whether to harness new opportunities or transform the way you work.
Good things come in small packages. So what's not to love?
Watch Phil our intrepid engineer unbox and install HyperFlex in a jiffy…
Batteries not included
We're all familiar with the phrase 'batteries included'. There's nothing more frustrating than unboxing a new gadget only to find it's missing those simple commodities that give it power.
Or nearing a crucial stage when building flat-packed furniture only to find you don't have enough of those special bolts.
Or putting together a jigsaw that looked impossibly difficult when you tipped the pieces out of the box. But which you've put together at impressive speed and then come to a full stop because there's one piece missing.
Okay, you get the picture (or not in the case of the jigsaw). However, if you've been looking at hyperconverged, or clicked on the ads stalking your every move on Facebook, you could be forgiven for thinking it's the answer to your every business need.
But what many firms don't realise is that hyperconverged is not the best fit for every type of workload. There's also several well-known platforms missing a vital ingredient in the hyperconverged stack – the network.
Bill shock
Adding network as an afterthought can be costly. Although it can take just 30 minutes to install the appliance and 15 minutes to configure it, what some sales teams won't tell you is that you'll need to buy and configure the network separately.
It can take a week to get the network into production. Professional services are often required, adding more cost overall. This wasn't some cunning ploy by vendors. It's more a by-product of how hyperconverged evolved.
First-gen systems were designed for both simplicity and speed. They delivered these in buckets. The ability to support key storage functions such as snapshots/cloning, replication and flash acceleration without the need for storage SAN expertise proved a game changer.
Yet they also lack features vital to fulfilling the long-term promise: a comprehensive computing solution that's easy to manage and scale.
Don't believe us? If you're in discussions now, ask your potential vendors a few questions:
Do your consoles work with our current tools?
Can your solution be orchestrated across traditional, converged and hyperconverged?
They might argue these are loaded questions. But the fact is many firms buying first-gen solutions have ended up with new silos. They also run into performance issues when they try to scale.
Innovation not revolution
Choosing hyperconverged that includes network by design means you have a truly converged and tightly integrated solution. That's exactly what you get with Cisco HyperFlex. Every single cluster or appliance comes with x2 Fabric Interconnects (FIs). There's no nasty surprises because the network comes built in.
We've got solutions to suit small footprints, as well as to address capacity or compute heavy workloads. They're available in simple bundles, are configured to order, and come with an annual subscription for the smarts.
Crucially, you own the hardware. At the end of your subscription you have a choice. Renew and get access to the latest and greatest innovation, or continue with a bare metal node you can use for whatever you want. Either way, you're not locked in.
Buying Cisco means you are de-risking your investment. Not just in terms of flexible deployment, but because HyperFlex is an innovation based on standard x86 architecture. And if your workload isn't suitable for hyperconverged, fear not, Cisco has a broad datacentre strategy with a tightly coupled portfolio that's all complementary.
Those of you that already use UCS will be well aware of the benefits. A common platform and policies for managing many architectures with a route to SDN, automation and orchestration, and the cloud – whatever path you wish to take.
It's cool to be late to the party
In the old days IT was an enabler, today it's a differentiator. If you have a digital agenda, think about the apps you're looking at to drive the business, the infrastructure you have currently and where transformation is needed.
There's a reason why we took our time to enter the hyperconverged space. It's because we wanted to ensure we'd deliver the high-quality experience users have come to expect and rely on.
Firms the world over are finding our hyperconverged systems great for:
Virtual Desktop Infrastructure (VDI) – low upfront costs, consistent performance, predictable scaling
Server Virtualisation (VSI) – reduce operational complexity, adaptive scaling, always-on resiliency
Test and Development (Mode 2) – agile provisioning, frequent iterations, instant cloning and snapshots
Large Remote Branch Office (ROBO) – simple deployment, centralised management, no "fly-and-fix" missions
Ultimately, we've built a complete hyperconverged solution that's true to our vision for a datacentre defined by applications, driven by policy and delivered as a service.

HyperFlex is unique in the way its smarts see the logical computing resource as one – cache, capacity and storage. There's no sense of app location because it strips data across all these layers. This makes it simple for the platform to pull the performance it needs, while recovery is immediate should a node fail.

It's also unique in the way it can scale compute and capacity independently. If you've invested in hyperconverged from another vendor and you find you've 50 users that are compute intensive, you'd have to invest in another node for your cluster. That will mean adding both server and storage – and you pay for that.

With HyperFlex, you simply buy what you need to match the workload – whether that's a single rack or blade or more.

There's never been a better time to start your journey with Cisco. Working with us means you benefit from our heritage, experience and thought leadership – safeguarding your investment and ensuring you're prepared for the digital future.

Register here to take a HyperFlex for a test drive.

Tags: